626 Golden Streets | Mission to Mission is this Sunday!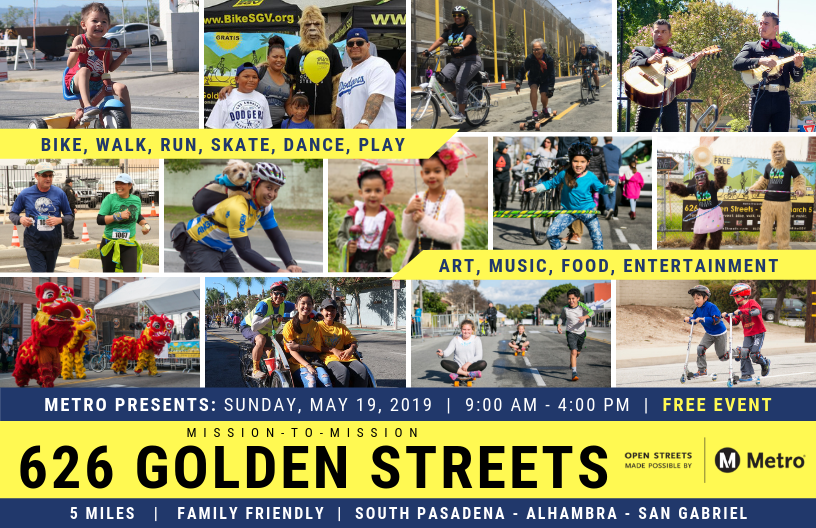 #626GoldenStreets | Mission-to-Mission presented by Metro Los Angeles is a FREE, family-friendly ciclovia opening streets to Walk, Run, Skate, Bike, Ride and Explore the 626! The new event route will link the historic South Pasadena and San Gabriel Mission Districts via downtown Alhambra.
3 event hubs will feature a variety of FREE activities including live entertainment, cultural performances, inflatable obstacle courses, games and arts for kids, photo booths for all ages, electric bike demos, historic tours, and even an electric car test drive zone. See more details on event day schedule here: http://www.626goldenstreets.com/activity-hubs.html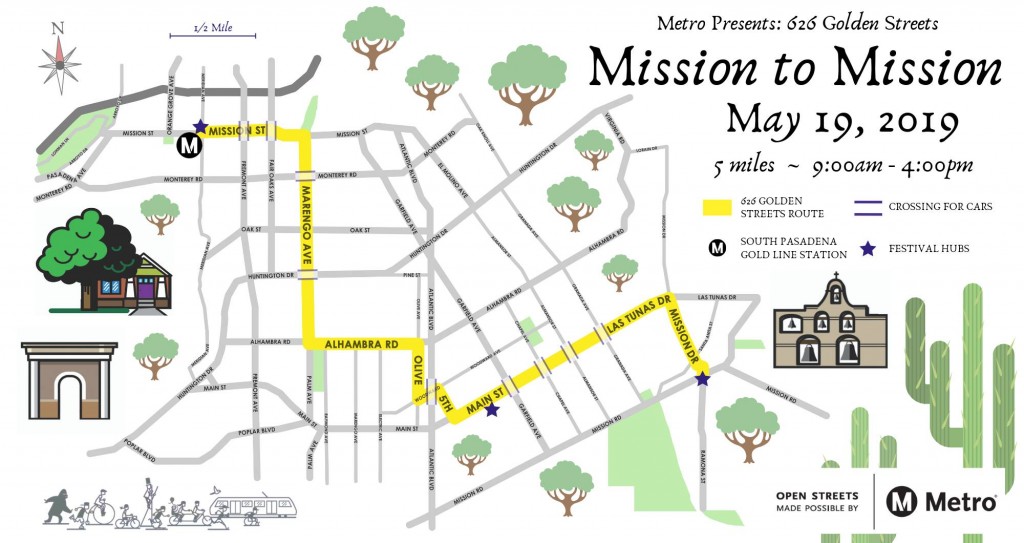 Activity Hubs
Activity zones and places to stop, rest, relax, and more will be interspersed across the event route, with at least one per community. Each activity hub will offer core services, including:
Live music, entertainment, and games

​​

Free bike and roll valet parking (for strollers, scooters, bikes, skateboards, etc.)

FREE city stickers (pictured below) – collect all 3 at event info booths while supplies last!

​626 Golden Streets SWAG booth

​

Vendors and exhibitors

Water, r

estrooms, and hand-wash stations
Hub Activities and Locations 
See below for detailed information about hub activities, programming, and exhibitors.
Alhambra Hub (8:30am-4:00pm) – 201 W Main St, Alhambra, CA 91801 (Main Street between Garfield and 4th)
San Gabriel Mission District Hub (9:00am-4:00pm) – 320 S. Mission Dr, San Gabriel, CA 91776 (S. Mission Dr. between Broadway and Mission Rd.)
South Pasadena Gold Line Station Hub (8:30am-4:00pm) – 1019 Mission St, South Pasadena, CA 91030 (Mission St. between Meridian and Fremont)
Six Key Facts about 626 Golden Streets Mission to Mission
1) Golden Streets is a FREE event! But bring a few dollars or ard card to patronize local businesses, sample some of the SGV's food, drink, and ride the Foothill Gold Line.
2) YOU get to decide where you start and finish. Check out as much or as little of the route as you'd like. There is no right or wrong way to experience the event.

3) All forms of non-motorized transportation are permitted, including walking, biking, skating, scooting, jogging, running, and strolling.
4) Golden Streets is NOT a race. There are no finisher medals or awards. Only smiles and miles of #OpenStreets.
5) Share the road. Please exercise caution so everyone can have a safe, enjoyable day.
6) Don't forget to stop, enjoy, and take a picture! Share your best snapshots on social media with the hashtag #626GoldenStreets for a chance to win special 626 Golden Streets swag!