"Queen of Katwe" Special Premiere + Chess Event
Over this opening weekend, 20 year old Grand Master Chess Player Daniel Naroditsky of San Mateo, CA, ranked #7 in the nation, will take on two audience members in simultaneous chess matches with El Capitan guests prior to each movie.
The audience will be able to cheer on as they view the games projected onto the big screen. Naroditsky will also share tips and tricks about chess. Following the film, Naroditsky will answer any questions they may have in the lower lounge.
About the movie ~~
QUEEN OF KATWE is based on the vibrant true story of a young girl from the streets of rural Uganda whose world rapidly changes when she is introduced to the game of chess, and, as a result of the support she receives from her family and community, is instilled with the confidence and determination she needs to pursue her dream of becoming an international chess champion.
Directed by Mira Nair from a screenplay by William Wheeler. The film stars Golden Globe nominee David Oyelowo, Oscar winner and Tony Award nominee Lupita Nyong'o and newcomer Madina Nalwanga.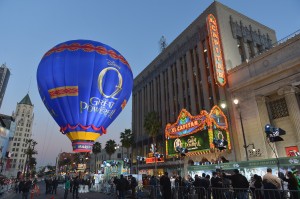 Dates: Friday ~ Sunday, September 23 ~ 25
Showtimes: 10:00 AM, 01:15 PM, 04:30 PM, 07:45 PM
Location: El Capitan Theatre, 6838 Hollywood Blvd, Los Angeles, CA 90028
Tickets:
VIP:$26 -Includes VIP Preferred Seat, Popcorn in a El Capitan Theatre Souvenir Popcorn Tub & 20 oz. Drink.
Adult Reserved:$16 Reserved Seat, No Concessions Included.
Child Reserved (3-11):$13 Reserved Seat, No Concessions Included.
---