Shanghai Acrobats Performs at Arcadia Performing Art Center ~ 9/23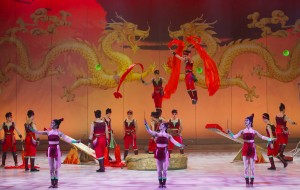 The Shanghai Acrobats perform a vibrant display of jaw-dropping stunts and including pole climbers, hoop-diving, contortionists and so much more.
Families will enjoy colorful, authentic costumes along with the bravery and expertise of every acrobat featured in the show! You will truly be enchanted by the state of the art lighting, sound, stunning backdrops, and thrilling musical accompaniments that energize every acrobatic performance.
This is an electrifying show that the entire family will love, from the historical and cultural displays, to the graceful, colorful performances of traditional Chinese dances, stunts, and modern acrobatic feats. From aerial displays to perfectly choreographed routines featuring plate spinning and juggling, the new Shanghai Circus is sure to have you on your feet cheering! If it's humanly possible – and even if it's not – Shanghai's acrobats, jugglers and contortionists do it with spectacular flair.
---
Date:9月23日星期五
Time:8:00pm (doors open at 7pm)
Place:Arcadia Performing Arts Center, 188 Campus Drive, Arcadia, CA 91007
Tickets:
$49.50 Front Orchestra
$39.50 Rear Orchestra Super Seats
$29.50 Rear Orchestra
$24.50 Dress Circle and Mezzanine Super Seats
$19.50 Mezzanine
Buy tickets online here or at the box office (M-Th 2-5pm, Fri 7pm, Sat. 9-11am)