Chinese American Museum Family Day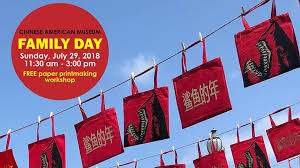 Celebrate the Chinese American Museum's latest exhibition, Don't Believe the Hype: L.A. Asian Americans in Hip Hop, by joining us for a paper printmaking workshop on Sunday, July 29, starting at 11:30 a.m.
Inspired by the silk-screened tote bags created by L.A.-based artist Shark Toof, this event invites kids and adults to create their own prints using paint on paper. Add your own artistic flair by etching your custom designs on foam printing plates. After completing your masterpiece, explore the museum and see the new exhibition. Admission to the museum and workshop are free. Materials will be provided.