Concert Violinist Maki Hsieh ~ a Junior Journalist Interview
古典樂也能創新? 顛覆你的觀念 讓我們一起認識 Maki Hsieh !
兩位丫丫小記者 Angeline 及 Karen 上週六 (3 月 17 日 ) 來到 Arcadia Performing Art Center , 訪問知名華裔小提琴家  Maki Hsieh ,讓我們見識到 Maki Hsieh 對音樂的熱誠及態度,及勇於將古典樂創新的勇氣,想知道集小提琴和鋼琴演奏以及女高音演唱家於一身的 Maki 到底如何堅持她的夢想,一步一步的邁向成功之路,讓我們一起觀看小記者的訪談內容。
About Maki Hsieh
Maki Hsieh is a classically-trained electronic artist who sings in 12 languages. Raised American in Asia, Maki adds a global perspective in her dual capacity as creative artist and corporate executive. In her previous life as a banker, Maki has closed $6.6 billion in transactions during her 10 years in media & entertainment and 9 years in finance & investment banking. Maki is currently working as the Executive Director of Arcadia Performing Arts Foundation.
Maki will debut her new album NEW MOON, which features original music plus fan favorites including "Palladio" with AHS String Quartet, and a breathtaking "You'll Never Walk Alone" with Chanteurs. Maki is bringing her chart-topping sound to a special solo concert at Arcadia Performing Arts Center on March 24. Guest artists are MTV Asia's Aukai Cain Dance Crew, Pat Benatar rock band Live from Earth, Beyonce's Kobi Rozenfeld Modern Dancers, LED hoopers GoGo Dance Stars, AHS Drum Line, AHS String Quartet, Chanteurs, soloists Camilla Leonard and 9-year old Aubrey Leonard.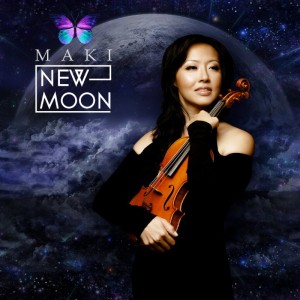 ---
Karen Shi
Sometimes, people who listen to classical music don't mix with people who listen to rock music. Or people who listen to country don't like people who listen to rap. In our modern world, where music is everywhere, there's always a barrier between the multiple different genres of music. Ms Maki Hsieh is hoping to break down some of those barriers with her own very interesting and unique kind of music.
I met Ms. Hsieh this Saturday the 17th at Arcadia High School Performing Arts Center, feeling very honored to be able to conduct an interview with her. She has a multitude of careers and occupations (such as the executive director of Arcadia Performing Arts Foundation), but perhaps she is best known as a singer-violinist. When you think of singer and violinist together, you would probably think her specialty genre is classical, right?
Actually, no. What makes Ms. Hsieh's music special is she uses electronic music and fuses it with her violin music and singing voice, so she can go from Phantom of the Opera to Led Zeppelin with only her violin and voice. Music is a place where she can seek comfort and relax.
I'm really looking forward to her debut album concert this coming Saturday at the Arcadia Performing Arts Center where she'll be performing fusion electronic, rock and classical music. She'll also be having a purple violin!! And that's just one of the amazing things to look forward to. Ticket are almost sold out so if you're interested be sure to hurry and purchase them!
Angeline Nim
Music is a way for people to escape, a way for people to believe, a way to inspire. Maki Hsieh inspired many people with her barriers and her journey to music. The way she interprets how to display her art is life changing.
Getting to know and interview Ms.Hsieh was an honor. I learned so much from this interview and I gained so much inspiration and hope for my journey with music. Maki Hsieh is best known for her astounding violin skills and her wide vocal ranges. She taught me how to stay calm during a situation and how to just improvise an idea to blend in with your environment. After talking to Ms.Hsieh, I see how she uses her ideas and incorporates it to be unique and special from other artists. She added an electrical component in an instrument known for making elegant, classical music. In her upcoming concert, I look forward to how she will deceive the audience.
When we look at Ms.Hsieh before she plays, she will be wearing a elegant white dress with a leather pullover and a striking purple violin. I want to see how she will use that look to make music to our ears and an idea that will be different to what we've been thinking inside our heads. She is a strong, empowering woman who will share her ideas of creativity to make the small moments in our life into something bigger. Something we can remember, something that will inspire, the way it inspired her.
---