Hollywood Christmas Parade
紐約有梅西百貨感恩節巡遊,洛杉磯好萊塢聖誕大遊行已成洛杉磯慶祝聖誕佳節的獨特方式。除漂亮花車和鼓樂隊表演外,耀眼的影視、歌舞明星也來捧場。今年特色是聖誕氣氛的巨型氣球很多,聖誕老人、聖誕襪、北極熊、聖誕餅乾等聖誕故事人物氣球飄揚在好萊塢上空。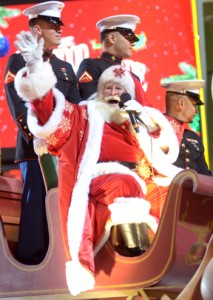 THE HOLLYWOOD CHRISTMAS PARADE!
We are proud to share with you that the City of Los Angeles will once again be presenting The Hollywood Christmas Parade! This year is the 84th anniversary of the parade, and will be the best year yet! We look forward to your support and participation in this year's Hollywood Christmas Parade.
WHEN
Sunday, November 29th 2015 at 5:00 PM
WHERE
From the Heart of Hollywood! Starting on Hollywood Blvd at Orange, the U-shaped parade route will travel east to Vine, south on Vine to Sunset Boulevard and west on Sunset, back to Orange.
Hollywood Christmas Parade Television, LLC ("HCP") is a for profit company that produces the Hollywood Christmas Parade and all related properties.
Any monies paid or other consideration given to HCP are not tax deductible and are not charitable contributions.
HCP owns and controls "The Hollywood Christmas Parade" Trade Marks and all related properties.