Junior Journalist: Isabel
Isabel Lau, Age 10
Rose Parade, Episode 2 Write Up
     So, continuing on my amazing sneak peek of the Paradiso parade floats, here's the scoop. Today, December 30, 2015, the four lajaja kids junior journalists went to Rose Bowl Pasadena to see Paradiso get ready for the Rose Parade.
     It was very noisy inside the Paradiso tent. The workers were working hard and putting the finishing touches on the floats. I wonder if they even have had any sleep for the past couple of days. 
     The Lakers float was so amazing! I saw a lot of orchids, roses, daises, lilies and chrysanthemums on the float. Did you know that Paradiso specifically picked those flowers to match the Lakers's team colors? That is so cool! Kobe Bryant and some retired Lakers greats' jerseys will also be on the float! That is so awesome! 
     The junior journalists had two challenges. We split into two teams. I was on Jessie's team.
     Our first challenge was to draw a dragon. The Princess of Yuan Dynasty judged our drawings for whose drawing was better. Sadly, Jessie and I lost that challenge.
     Our second challenge was to guess the flowers that were on the Rose Parade Floats. I learned that there was a flower called a China Mum. That was very interesting. I had lots of fun doing those challenges.
      Next, we got to take pictures with the Fresh Off the Boat stars. The reason they were there was because they were shooting a commercial of some sort. I was very excited to see them. (FYI, a huge fan of their show.)
     I am so excited to see all the amazing floats made by Paradiso at the Rose Parade! Make sure to see the Rose Parade and watch out for the Paradiso floats! If you ask me, I'd say that Paradiso made the best floats.
---
Rose Parade, Episode 1 Write Up
     Ever heard of the Tournament of Roses Parade? Well, you must have  been in a cave for the past 100 years if you haven't. I actually got to see some of the floats that will be in the Rose Parade. Well, part of it anyway .I got a sneak peek of some of the floats before January 1st which is when the Rose parade officially begins! Here's the scoop. On December 12, 2015 our LaJaJa Kids junior journalist team was invited to go to Paradiso, a company that designs some of the floats in the Rose parade. Here's some background information about Paradiso Parade floats. Paradiso has been in business for over 20 years and is owned and directed by Charles Meier. Mr. Meier also designs the floats that his company manufactures. He started designing floats when he was 9 years old. He made his first float when he was 13. He got the award for youngest float designer.
      Jaslyne and Jessica interviewed Mr.Charles Meier while Jessie and I interviewed Ms. Gwen Robertson. Her role in Paradiso is to be in charge of the writing and advertising for the company.Ms, Robertson told us that can take months maybe even years to sketch and manufacture a float. That is a really long time! 
     We got a tour of the Paradiso facility guided by Ms. Robertson. We saw all the floats that were in the process of being manufactured. There was one particular float that interested me the most. That was the Lakers float.There was a big metal basketball and hoop that was going to be put on the float. The Lakers cheerleaders will be on the float and maybe even have the great Kareem Abdul Jabbar on there. Kareem Abdul Jabbar is a retired Lakers star player who played for the Lakers for 20 seasons. I would love to see him on that float on January 1st at the Tournament of Roses (FYI, I'm a huge Lakers fan).
      After the interview, all 4 junior journalists even got to participate in cutting the flower petals.Those flower petals will be used on their floats for the Rose Parade. It sure was a lot of fun, but just not sure if I cut right!
     Going to Paradiso was a fun and educational experience. I learned that it's not easy to build a float. You have to get every single detail of the float. Make sure to come to Paradiso to check out the floats! 
---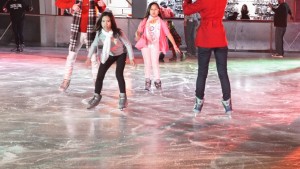 You guys! You've got to go to the Queen Mary CHILL! It's so cool! It's cooler than cool! It's CHILL!
Here's a breakdown on the events that the La JaJa Kids Junior Journalists did on Friday night at the Queen Mary CHILL Media Preview. First, Evelyn, Karen, Jaslyne, and I went to the blue carpet to see, meet, and interview our favorite stars like Aubrey Miller from JUST.ADD.MAGIC, Harvey Guillen from Eye Candy, and Zachary Haven from Airplane vs Volcano. I was so excited!
Next, we went to go explore at the Queen Mary CHILL. We saw some people singing Christmas carols. They sounded really good! I saw tons of Christmas lights. They were on the trees, streetlamps, even on the food trucks.It was so beautiful!
Then, all four of us went to have an interview with the Queen Mary's commodore. We got to learn about the Queen Mary's history and how he became the Queen Mary's commodore. It was very interesting.
Afterwards, we all went snow tubing. There wasn't real snow but we still had a whole lot of fun! Jaslyne and I liked it so much, we went on the ride 5 times!
At last, we finally got to do what we were all waiting for. The Ice Kingdom!But before we could go inside, we had to put on a huge jacket called a parka. It felt like a million degrees wearing that heavy load! my parka was so huge, it touched the floor!
When we went inside, we immediately stopped sweating. It was around five degrees Fahrenheit. It was super cold! We saw lots and lots of sculptures. Everything was made out of ice. Including the walls! They sure brought Charles Dickens book A Christmas Carol to life and just in time for the holidays. I saw ice sculptures of the ghosts of Christmas past, present , and future. I also saw a sculpture of Mr. Scrooge himself. We also went down an ice slide before existing the Ice Kingdom. The only thing that I didn't like was that my camera was so fogged up that I couldn't take pictures clearly. Other than that, it was lots of fun.
There's also this giant rocking horse that we rode on. It was humongous! It took two people to rock the horse on the bottom. 
And we also did ice skating outdoor. Surprisingly I didn't fall once even thought there's a huge crowd of people skating. We all had a great time.
To sum it up, I had a blast! So make sure to come check out the Queen Mary CHILL in Long beach. It will be open throughout the entire holiday season.     
---
8sian TV Anchor Workshop
On September 4, our Lajaja Kids Junior Journalist team was invited to 8sian Media in Arcadia to get some hands on training on news reporting and editing at the studio.
First, we met the company vice president Adam Chou. Adam gave us an introduction and overview of his studio. Their business is to put TVs in restaurants and Spas and use them to show advertisements to earn money. All the advertisements are uploaded with the computer in their studio and broadcast through the internet to all locations. 8sian hires a special group of sales to find the locations for them. 8sian Media currently has business in Los Angeles, San Francisco and New York. They are planning to expand to Chicago and Houston in the near future. 8sian is also showing on Youtube and they get 250 million hits per month. And with that many hits, its has to be good!
Next, we were split into three groups with 4 people per group. There's Team Apple, Team Banana and Team Cookie. I was put into Team Cookie which was perfect, I love cookies. We all went into the news anchoring room. The back of the room has a green curtain and the front has 3 cameras aiming at different angles and 2 big bright lights on each side. Team Banana got to operate the cameras and someone was the floor manger. If you're the floor manager, it means you are in charge to give the cue to the news anchor 3, 2, 1(silent) as the cue.
When it was my turn, I stepped in front of the cameras with a tiny microphone clipped to my chest. Once I was done, I went out to edit my video. The director showed us how to slip in background and add our names. When we finished editing, we all received awards. I got an award for less than 30 minutes of work, not bad at all!
Then, it was time to leave. We took some group photos with all the crew members and thank them for their hard work. I learned a lot that day, how to operate cameras, edit videos and being the floor manager. I really got a good feel of what it's like to be an new anchor. It was so much fun.
---
Interview with Icy Smith
    On September 18, I was privileged enough to have the pleasure of interviewing  the famous Ms. Icy Smith. She is a children's book author and the founder of the East West Discovery Press.   
     Our interview was conducted at her residence. Her house was very big. It had a huge spiral staircase that led up to the second story. Inside the house also had a very nice fragrance smell to it.There was a gigantic bookshelf on the right. We went out into her backyard to practice slating. All in all, this is how I would imagine a famous author house should look like. I was very impressed. 
    Ms. Smith read a couple pages of her famous book 
Mei Ling In China City
 followed by questions from us.
 Mei Ling in China City
 is about a girl from 1942. Mei Ling lives in Los Angeles. She helps her family at their 
restaurant
 while worrying about her Japanese American friend, Yayeko Akiyama because Yayeko is taken away by the american soldiers.  
    I asked her who did she dedicate her first book to and why. Ms. Smith said that she wanted to dedicate the book 
The Lonely Queue 
 to all the Chinese Americans that were there during those hard times. 
The Lonely Queue
 is a history book about the Chinese Americans' 
attempt to make Los Angeles their home.
      I asked her if there are there any plans for any upcoming books. Surprisingly, she is currently working on a book that is about hard times in Vietnam. 
      I asked Ms. Smith of all the books that she wrote, which one was the most successful? She told me that all of her books bring their own special thing but, based on awards, 
 3 Years and  8 Months
 is so far the most successful. 
3 Years and 8 Months
 is about ten-year old Choi who lives in Hong Kong. He saw the Japanese bombing Hong Kong during WWII. Frightened, he sees soldiers barging in shops and houses and taking people away as prisoners. Choi gets home in time to see his mother being taken away by the Japanese soldiers. Therefore, he has to stay with his Uncle Kim. 
     We all got some snacks from Mr. Smith when we were about to leave.That was a very fun and educational experience! I learned that to be an author, your books must have an interesting plot and unique 
characters
. Well, I had lots of fun and learned a lot from this interview.
---
Cardboard Boat Regatta at Annenberg Community Beach House
On August 29, 2015 we went to the Annenberg Community Beach House for a very special event. The 4th Annual Cardboard Yacht Regatta! It was at 415 Pacific Coast Highway, Santa Monica. It lasted from 6:30 p.m. -9:30 p.m. The event was held in the pool.
     The regatta is a boat race where a team of two build a boat made with duct tape, cardboard, and glue. It is a fun event that brings family and friends together. The winner of each race gets a medal. But, all the participants get a souvenir. Registration is $15. There were three categories. The adult/adult, adult/child, and child/child.
     There was one boat that caught my eye. I just had to interview the designer of Party Boat which is the name of their team. The boat had a disco ball in the front. It was decorated with a lot of confetti and old party supplies. For some reason, it made me think of the 70's. I think a more suitable team name would be Boatie Night. Like the song Boogie Night. As it turned out, they won by a landslide. The other boats however, just sank to the bottom. 
     This was a fun event. I had a blast. I'm going to come again next year.
---
PBS Studio Tour
        On Wednesday, August 19, 2015 I went to PBS SoCal  studio tour. It was located at 3080 Bristol st.  Costa Mesa, CA 92626, The building was huge! In front of the building were a couple of fountains. Overall, the scenery was very appealing. When we went inside, we turned right. We met up with our tour guides named Christine and Allison.
        We were in the lobby. There was a desk on the left  and some green sofas on the right. There was a cardboard statue of Elmo. I found out that PBS stands for Public Broadcasting Service. Next, we went into the video sound check room. There was a huge control panel. Turns out you have to go to a tech school to learn how to work the control panel. That must be a lot of work! There are also three clocks in the room. One shows how long you've been filming. Another one shows what time it is. The last one shows how much longer you have to film.
        After that, we went into the sound effect room. There were a lot of buttons on the tables. I also learned that usually one person controls the sound effects, but if they need help, then it's two people. Someone also noticed that the windows were made out of clear glass. It's built to provide people inside each room to see each other. If you need to talk to someone you can contact them visually.
        We went into the makeup room. The light around the mirror were blinding . Reason being that filming is done in HD and actors are able to put makeup in very details that makes them look good on camera. 
        Our last stop is the studio. It was a very spacious room. It contained two couches and a lot of enormous cameras on the side which is use for interviewing celebrities and famous people. Christine asked us to look up and we saw about two hundred lights up in the ceiling. We also saw a lot of computers and headphones. Behind that, we saw a green screen! It's used to slip in backgrounds in action movies.
        Overall, this was a very fun and educational experience. Our 2 tour guides did a exceptional job despite they're only been working at PBS for a few months.  I'm sure the will pass probation with flying colors.  I enjoyed this tour very much.