【講座推介】台大教授藍佩嘉南加演講:Raising Global Families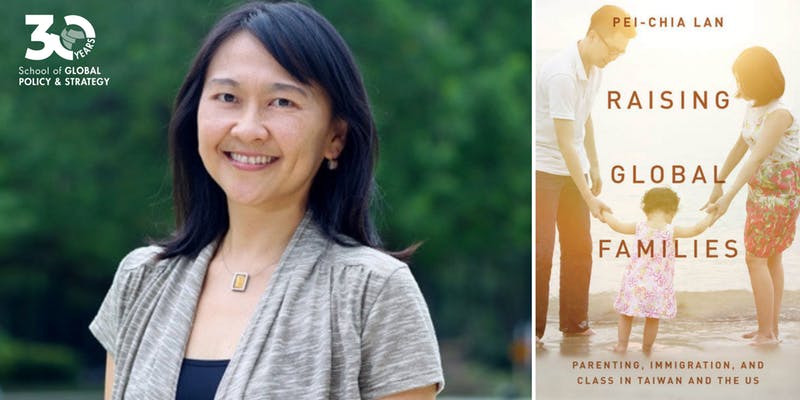 公視戲劇《你的孩子不是你的孩子》引起社會熱議,中產階級父母明明資源比上一輩豐厚,為什麼我們總擔心做得不對、不夠?
台灣大學社會系藍佩嘉教授用十年時間,訪談了居住在台灣和美國的中產及勞工階級的一百五十組華人家庭。從社會學角度分析其教養叙,以英文撰寫《養育全球家庭》(Raising Global Families)一書。這一本書在 2018年 7月由史丹佛大學出版社出版,定位是給美國大學課堂使用的學術類教科書。
藍佩嘉教授這兩國星期在南加州將會舉行多場免費演講,其中明天(星期六)下午的一場在洛杉磯僑二中心舉行的講座將以中文舉行,講解其研究內容,幫助減低華人父母在教育上的焦慮感。活動免費入場,有興趣的家長請踴躍參加!
In her book "Raising Global Families: Parenting, Immigration, and Class in Taiwan and the US", Pei-Chia Lan examines how ethnic Chinese parents in Taiwan and the U.S. negotiate cultural differences and class inequality to raise children in the contexts of globalization and immigration. Lan's cross-Pacific comparison demonstrates that class inequality permeates the fabric of family life, even as it takes shape in different ways across national contexts.
Pei-Chia Lan is Distinguished Professor of Sociology at National Taiwan University. She is the author of "Global Cinderellas: Migrant Domestics and Newly Rich Employers in Taiwan" (2006), which won the ASA Distinguished Book Award.
A reception will be held after the event.
This event is co-sponsored by the Chuan Lyu Endowed Chair in Taiwan Studies.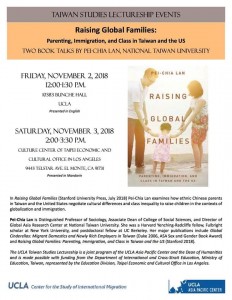 演講日期/地點:(免費入場)
Friday, 11/2, 12:00- 1:30pm
Center for the Study of International Migration, UCLA
Saturday, 11/3, 2:00-3:30pm
中文演講
洛杉磯僑二中心 Culture Center of Taipei Economic and Cultural Office
9443 Telstar Ave., El Monte, CA 91731
Tuesday, 11/6
Department of Human Development, Cal State, Long Beach
Thursday, 11/8
School of Global Policy and Strategy, Classroom 3201 (directions), University of California, San Diego
Tickets:  https://www.eventbrite.com/e/raising-global-families-tickets-50378528535
藍佩嘉
國立臺灣大學
社會學系特聘教授
社會科學院亞洲社會比較研究中心主任
學經歷:
美國西北大學社會學博士 (2000)
加州柏克萊大學博士後研究 (2000-2001)
紐約大學傅爾布萊特訪問學者 (2006-2007)
哈佛大學 Yenching-Radcliffe訪問學者 (2011-2012)
研究領域:
跨國遷移
工作與家庭
質性研究方法
性別、種族、階級不平等

〈新世代教養挑戰:不想跟我爸媽一樣!〉,親子天下雜誌第87期 : 
http://homepage.ntu.edu.tw/~pclan/columns/17_03_generation_gap.pdf