Jurassic World Fan Fest at Walt Disney Center ~ 6/13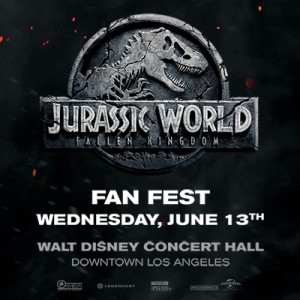 JURASSIC WORLD: FALLEN KINGDOM Free Fan Fest and special screening, available on a first-come, first-served basis. For the first time ever, Universal invites fans to experience the footprint of a Hollywood premiere. Event includes: photo-ops with production props & dinosaurs; larger-than-life LEGO®  builds with Velociraptor Blue; VR experiences including the Voyager VR theater showcasing Jurassic World Blue, Jurassic games area featuring demos of Jurassic World Evolution, Jurassic World Alive, Jurassic World VR Expedition, Rocket League's Jurassic World Car Pack and Pinball FX3's Jurassic Pinball Tables; design-your-own T-shirt stations; and food trucks. There will also be a Twitch Prime members' area, where members can receive exclusive Twitch Prime swag.
Fan Fest culminates in a special screening at the Walt Disney Concert Hall. A select number of screening tickets will be given away on the hour, every hour.
日期:Wednesday, June 13, 2018
時間:12:00 PM Open; select number of screening tickets given every hour on hour!
5:00 PM Screening ticket line opens
6:00 PM Fan Fest closes
7:00 PM Screening begins
地點:outside of Walt Disney Center, Downtown LA,
111 S. Grand Avenue, Los Angeles, CA
Parking entrance is at 655 W 2nd Street, Los Angeles, CA 90012
網址:www.jurassicworld.com/news/jurassic-world-fallen-kingdom-fan-fest
Jurassic World: Fallen Kingdom
In Theaters June 22, 2018
Story
It's been three years since theme park and luxury resort Jurassic World was destroyed by dinosaurs out of containment. Isla Nublar now sits abandoned by humans while the surviving dinosaurs fend for themselves in the jungles. When the island's dormant volcano begins roaring to life, Owen (Chris Pratt) and Claire (Bryce Dallas Howard) mount a campaign to rescue the remaining dinosaurs from this extinction-level event. Owen is driven to find Blue, his lead raptor who's still missing in the wild, and Claire has grown a respect for these creatures she now makes her mission.
Arriving on the unstable island as lava begins raining down, their expedition uncovers a conspiracy that could return our entire planet to a perilous order not seen since prehistoric times. With all of the wonder, adventure and thrills synonymous with one of the most popular and successful series in cinema history, this all-new motion-picture event sees the return of favorite characters and dinosaurs—along with new breeds more awe-inspiring and terrifying than ever before.