A 9-year-old published author – inspired by her little sister with special needs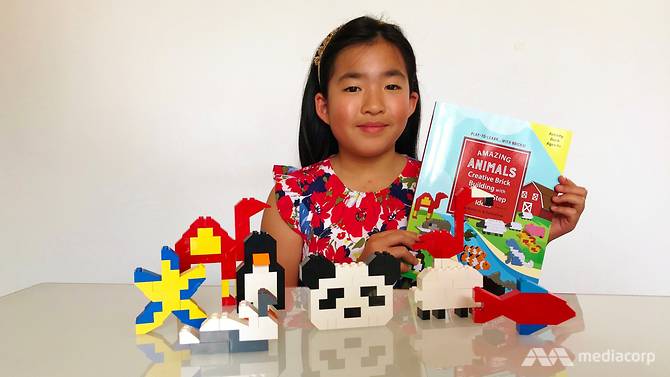 At the age of nine, Sofia Chen made history last year by becoming the youngest Singaporean author to land a major publishing deal in the United States – with a Lego how-to activity book.
And it all began because she simply wanted to help her six-year-old sister, who has Down Syndrome, build brick toys.
Sofia is the young co-author and co-designer of Amazing Animals: Creative Brick Building with Step-by-Step Ideas. Published by Post Hill Press and distributed by Simon & Schuster, it is the first title in a brick building series for children aged four and above, and will be officially launched worldwide next month.
The book, which is not officially endorsed by Lego, contains simple-to-follow instructions on how to create 30 animal characters – brick creations that are perfect for Sofia's special younger sister, Natalie.
"I was into Lego before and she was my inspiration for the book," said Sofia. "Natalie likes building Lego but she needs more help, because she learns slower than other kids. So I wanted to make little animal projects easy enough for her and other kids like her to be able to build," she said.
Click here to view her recent interview with Channel NewsAsia:
https://www.channelnewsasia.com/news/video-on-demand/first-look-asia/lifestyle/9-year-old-author-sofia-chen-10105978
---
MAKING THEM KID-FRIENDLY
The book Amazing Animals was an equal collaboration between the two co-designers.
After her "Uncle Paul" designed the animals, Sofia would step in to offer suggestions and tweaks, such as choosing which animals would be easy to make (Penny Penguin? Easy. Rally Ram? Advanced) and what colours kids would find more attractive (A brown camel? Let's make it red and yellow!).
Most importantly, she was able to streamline the instructions to make it easier for young children to follow – something that adults fail to understand, said her mother.
"She'd tailor it to make it kid-friendly," said Kositchotitana, pointing out that many of the how-to books in the market are often too complicated, even for adults.
"Sofia was instrumental in making sure that whatever was done, she tested it and made sure each step is easy enough to follow."
Plus, Sofia also makes sure that she lets her younger sister try them out too. "Natalie can do it in 10 minutes if I help her, because she doesn't know multiplication," she said.
Sofia also designed the book cover.
ONE BRICK AT A TIME
That doesn't mean the precocious youngster sticks to simple Lego creations herself. In fact, the more complicated, the better – from Lego creations in school that employ robotics to "limited edition things" at home with her father.
Sofia's brick-building passion stems not just from the fact that she's surrounded by Lego enthusiasts at home (her mother's brother is also one) but also because technology isn't allowed.
"Except for an old tablet that is only used for playing bedtime music. But I'm fine because my mom buys me a lot of toys," quipped Sofia.
Her mother added: "She has no phone or iPad. She already uses Chromebook in school and that's enough. I feel kids should be kids and their natural state is to tinker and play. This is the age of curiosity so you feed them things with a lot of sensory input and create something out of nothing."
And from the looks of it, Sofia will have her hands busy on more brick-building projects. The next book in the series will come out later this year and will focus on creations related to the holidays, such as Christmas and Halloween.
The young author also added they're working on a separate indie book, this time on pets. "Like a hamster face, a whole snake, slugs, and a goldfish in a bowl!" she said, with a smile.
For her mother, Sofia's brick-building adventures have been truly heartwarming, not least because it has been truly a family affair, with her affection for Natalie at the core.
Said Kositchotitana: "I always say I feel very proud of her because she's been such a great sister to the little one."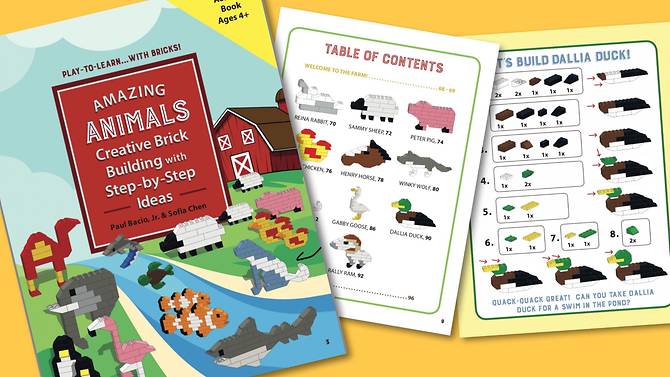 文章來源 https://www.channelnewsasia.com/news/lifestyle/9-year-old-singapore-author-inspired-little-sister-special-needs-10098134