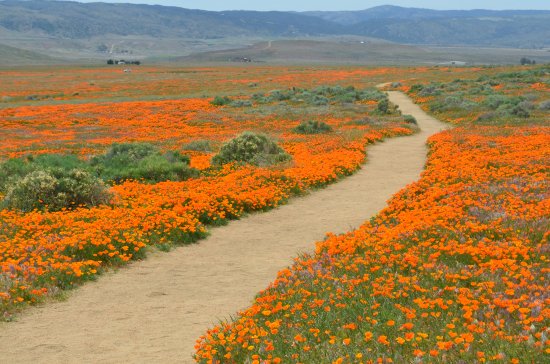 Spring is in the air ~
This season might not deliver a superbloom, but the rain that has finally turned up at the end of winter could still paint some parched hillsides in colors worth posing the family in front of. There are several locations known for spectacular annual displays of spring wildflowers in Southern California. ( Information as below)
Antelope Valley Poppy Preserve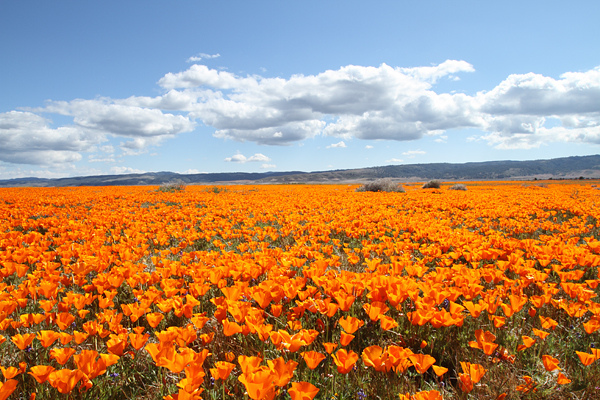 Have you seen photos of fields covered in orange poppy blooms? Antelope Valley is where many of those photos are actually taken. It's no surprise that the California Poppy is the most widespread wildflower here, turning the landscape into a field of orange in good years, but other flowers are also present. The interpretive center is open during wildflower season (typically mid-March through mid-May).
website:http://www.parks.ca.gov/?page_id=627
location:15101 Lancaster Road, Lancaster, CA 93536
Chino Hills State Park
This day use state park 10 miles northwest of Corona offers Angelenos a variety of landscapes without driving too far from home. The park does have a discovery center (open weekends only) to use as launching pad, and this season brings an unusually colorful variety of plants and flowers, offering home to plenty of nesting birds (watch for red-winged blackbirds). Also watch for bobcats and coyotes, both of which have been spotted by hikers along the parks many trails. Be prepared for some steep climbs, but the reward can be a view all the way to Catalina on a clear day.
website:http://www.parks.ca.gov/?page_id=648
location:4721 Sapphire Rd. Chino Hills, CA 91709
Saddleback Butte State Park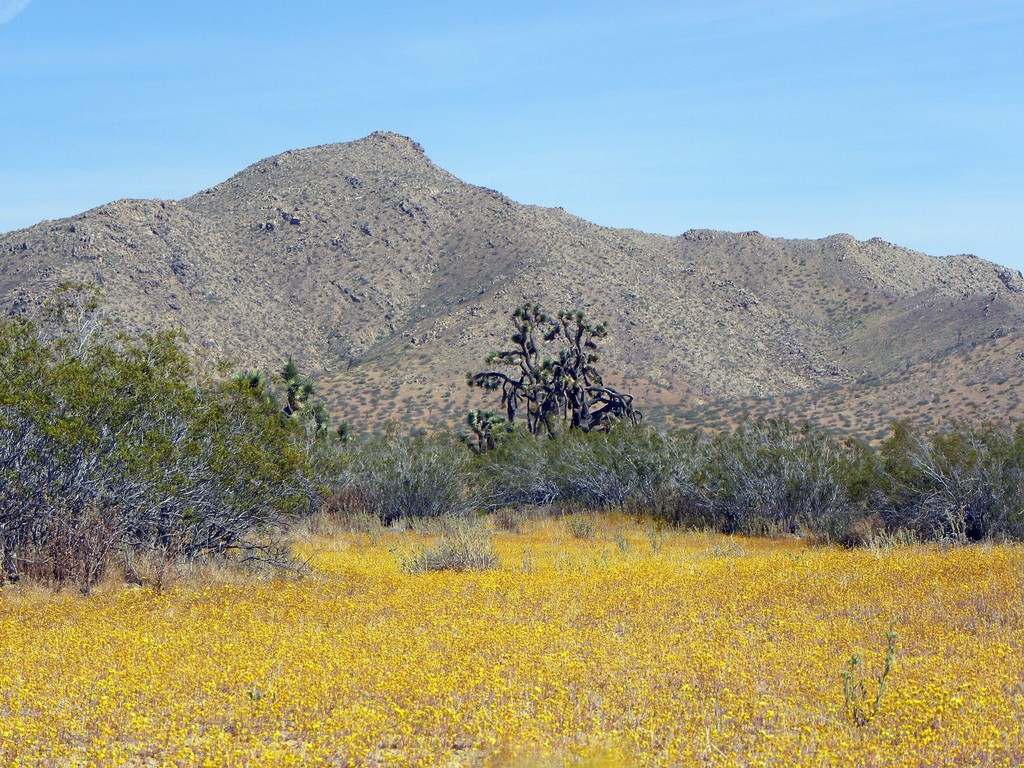 Located 18 miles east of Lancaster, near the town of Lake Los Angeles, Saddleback Butte has a campground, picnic area, vault toilets, and several miles of hiking trails. A good year brings out fields of sweet-smelling yellow coreopsis, tidy tips, fiddleneck, and desert dandelions among the Joshua trees and creosote bush. A 1-mile easy unpaved trail from the picnic area to Little Butte goes through fields of flowers. Older kids can handle the hike to the peak—there are different flowers at elevation, but no large displays among the rocks. A short paved nature trail leaves from the picnic area, but does not make it into the wildflower areas.
website:https://www.parks.ca.gov/?page_id=618
location:East Avenue J and 170th Street East, Lancaster, CA 93535
Santa Monica Mountains National Recreation Area

The Santa Monica Mountains are not known for large fields of colorful blooms. However, if you are looking for a variety of flowers or riparian flowers (creekside), this is the place to come.
website:https://www.nps.gov/samo/index.htm
location:26876 Mulholland Highway, Calabasas, CA 91302
Point Mugu State Park
Point Mugu has lovely beaches and camping as well as trails up into the mountains above the coast. The devastating 2013 fire left these slopes charred and blackened and in many spots impassible for a few seasons, but recent rains show us how nature heals after a fire. The wildflower display along the Backbone Trail is absolutely breathtaking.
website: http://www.parks.ca.gov/?page_id=630
location:9000 West Pacific Coast Highway, Malibu, CA 90265
*source of the article https://mommypoppins.com/los-angeles-kids/free-activities/spring-wildflower-hikes-and-super-blooms-for-southern-california*