3M Young Scientist Challenge Opens for 5th~8th Graders
The 2018 3M Youth Scientist Challenge is now OPEN ! 
Starting today and no later than April 19, 2018.
This year's Young Scientist Challenge will award access to 3M scientists who will serve as mentors to help students pursue their innovative ideas. These "young scientists" will also be eligible to receive a considerable amount of money; the grand prize is $25,000. Finalists chosen through a video competition will travel to St. Paul, MN, where they'll receive a tour of 3M headquarters and meet with a distinguished panel of judges.
Finalists are chosen from among all entrants, based on the creativity, scientific knowledge, communication and overall presentation of the videos they submit. The 10 highest-scoring entrants are named as "finalists" with the opportunity to participate in a summer mentor ship program and final event activities.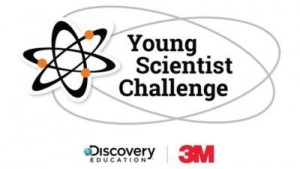 To enter the 2018 Challenge, students need to submit a one- to two-minute video in which they describe a new invention or solution that addresses an everyday problem that directly affects them, their families, their communities or the global population. The problems could surface in numerous areas, including manufacturing, energy, safety, healthcare or transportation
Who Can Enroll It ?
All legal U.S. residents who are students enrolled in 5th through 8th grade at a public, private, parochial, or home school located in one of the fifty United States or the District of Columbia.
About the entry video
Length: 60~12o seconds.
Must include
Explains the problem and how it impacts them, their families, their communities and/or the global population

Describes a new innovation or solution that could impact or solve the problem

Explains the science, technology, engineering and/or mathematics behind their innovation; and 

illustrates how their innovation could both address the everyday problem they've identified and have a broader impact locally or globally.
For more information please visit https://www.youngscientistlab.com/
---
---
2017 National Finalist: Gitanjali Rao