Hokkaido Gourmet Fair 9/15~9/25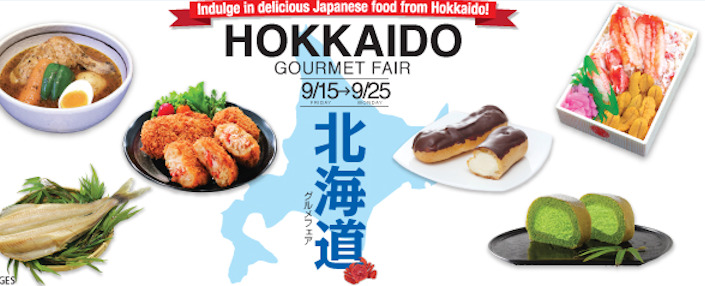 ,
一年一度的日本北海道美食約會又到了, 今年有「札幌蟹工船」蟹肉壽司飯便當、美味湯咖哩、「十勝豚丼いっぴん」、各類風味炸餅等,還有不少專程由北海道運來的美味食品。
北海道人氣最強的就是肉質鮮甜肥美的螃蟹,還有海膽和魚子,這裡的蟹肉魚子海膽壽司飯便當要二十多元一份,還是供不應求,而且,的確是美味得很,值得投資喔!很可惜今年夕張的軟雪糕和札幌的牛油拉麵沒有一起來,不過有獲獎的千層蛋糕,也是很開心的。
建議攻略:先巡視現場一週,鎖定你要吃的幾樣美食,分頭進擊(排隊),記得要派一個人專攻找桌子,否則有食物而沒有位子坐,是會讓人掉眼淚的。如果你時間充裕,也可以一樣一樣排隊來吃,但是要留意有些食品到下午3、4點有可能售罄,要小心喔!
日期:9/15 ~ 9/25
地點:Mitsuwa Torrance Store, 21515 S. Western Avenue, Torrance, CA 90501 [map]
Enjoy full of fruits of the sea and all Hokkaido harvests! Fresh food that only Northern region could afford and their specialties with freshly picked vegetables and fruits, and unique milk products will come to Torrance.
There are many wonderful items to look forward to at our Hokkaido Fair! Enjoy a variety of seafood options, such as various seafood bento boxes, ikameshi squid rice, gourmet crab items, and more! We will also have a succulent pork bowl for meat lovers, and don't forget dessert! There will be handmade Japanese confections, mille crepe desserts and more! Get ready for a taste of Hokkaido!
– Ikameshi Squid Rice, Mori no croquettes (Abe Shoten)
– Crab Gourmet Bento (Otaru Tachiuri Shokai)
– Wagyu Bento (Master Foods)
– Marinated Seafood (Yamacho Hasegawa Shoten)
– Japanese sweets (Okabe Seifunjo)
– Mille Crepes (Hokkaido Kokubo) and more!
– Baumkuchen (GRANVISTA Hotel & Resort)
– Golden Apple Camui (Tsuboya)
– Sanpouroku (Ryugetsu)
– Gagome Kelp (Kobayashi Foods)
– Butadon Pork Bowl sauce (Sorachi)
– Original Butter Cookies (Showa Seika)
– Yubari Melon Caramel (Sapporo Gourmet Foods)
and more!!