Last Chance to Win Harlem Globetrotters Family Tickets + 2016 Junior Journalists Review!
  
最後兩天的 2017 年新春好禮Giveaway!參加Harlem Globetrotters 花式籃球秀的家庭套票(共四張門票)的丫丫有禮了嗎?!上一年丫丫小記者Aaron、Ryan和Kyran坐了第一排近距離看花式球賽,並且現場親身體驗跟籃球員互動、學手指自轉籃球技巧、 獲取籃球親筆簽名,更有絕密專訪!按按看他們的特別經驗吧!
小編也有去看這個花式籃球秀,他不但有花式籃球看,整個過程都很搞笑!真得一家歡樂的節目!
---
《丫丫有禮》送出4張精彩花式籃球秀門票 。

1. Click "LIKE" on La JaJa Kids 丫丫園地's Facebook Page 
2. TAG 2 of your friends

3. SHARE this POST on your personal Facebook Timeline, and set it as "Public"
Terms and Conditions:
Deadline: enter before 2/5/2017 11:50 pm
One winner will be picked randomly and the winner will be announced after 2/6/2017 on Facebook.
Winner must provide full contact information including email address for La JaJa Kids to make email communication about ticket details.
---
現在的小朋友真是厲害,小編剛剛看到這個Colin Tjin的花式籃球表演影片時就呆住了!這位8歲花式籃球神童將會在2月9號2點到3點的Cheviot Hills Recreation Center gym與Harlem Globetrotters superstars切磋球技!也計劃可能在2027年成為第一個最年輕的小花式籃球員。
---
2016年小記者開心籃球回顧: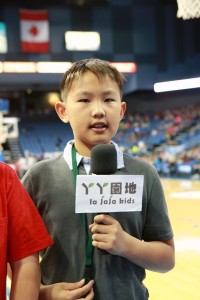 Kyran Lin
Ever seen the Harlem Globetrotters play? Millions have. Harlem Globetrotters' amazing basketball skills, they turned sports into entertainment! On February 21,2016, three Lajaja Kids junior journalists(Aaron, Kyle and I) went to the Harlem Globetrotters basketball game at Citizens Business Bank Arena Stadium.
When we arrived at stadium, we received our magic Passes; this pass allows us to have the access to meet and greet with the players. We are the only media used the Magic Pass. I got a autography from one of the player. They are so tall I look like a midget standing right next to them. We also had chance to dress up like a Globetrotter. That was amazing! We got to interview with the players after 20 minutes of playing and exploring. I found many interesting facts from the interview, such as how long have them been playing and their favorite tricks. After interviewing the players, we found seats. Our seats were at courtside!!!
During the game, they did so many ball tricks and interacted with audience. My favorite part was when Big Easy took chicken sliders from Aaron. That made me laughed so hard.
This was a great experience. I love to play basketball with my brother. Now I'm ready to practice some of their moves and tricks!
---
The Best Gift at the Harlem Globtrotters' Basketball Game
by Aaron Estrada
I enjoyed my evening at Harlem Globetrotters basketball game on Saturday, February 20, 2016 at the Citizens Business Bank Arena. I have never watched a basketball game with players so funny and skilled. This was the first live game I have been to except for the jr. basketball practice ones with my old team.  I have been on a jr. beginners basketball team a before, and I also play basketball at noon at school. The Harlem Globetrotters were the best players ever. They can make really long shots and tricks. My favorite move I saw them do was sliding and dribbling. That was my favorite move.
My night actually did not start out too great. When we got there at least thirty minutes early for the Magic Pass time, I had a really bad stomachache. I was not feeling well. We had to go find a restroom and we ended up arriving just in time to go in. This was the first time this had ever happen, but I survived. As soon as we stepped into the building, I already love it. The Magic Pass time was really awesome.  We got to get in different lines and learn tricks from the Harlem Globetrotter players. We also got to get their autographs. I enjoyed that part. Then we had to do the interview. Before the interview, I watched a lot of videos and prepared questions for five players I thought I was going to interview.  I also memorized the opening and questions. When the players came out, I was only familiar with TNT since the other two players were not on my list of assignment to research. I was also first up and had to make up questions as they were filming. Luckily the players were very nice and I asked the questions I can think about in that second. We interviewed Hacksaw, Flip, and TNT. You can see it in the video.
Then we were so lucky to get to sit in the front row bench seat right next to the basket. That was the coolest part ever. During the 3rd quarter Big Easy came over and ate my nugget. Then I got five bucks for that. That was cool and funny. But Big Easy was fouled and left. There were only five players remaining that are playing fairly. The rest were out.
In the end Globetrotters had 4 players, but then Big Easy came out and saw that the rule book was fake. So then all players were in and not out. However, they changed the score 87 to 91 so the other team could win. Finally the Globetrotters kept the other team at 91 and won by 4 points.  After the game, we got to get in line to have get more autographs from the Harlem Globetrotters. I had the most unlucky start in my night with a lot of things not going right, but felt the luckiest boy ever to see the Harlem Globetrotters play up front. We had a fun time! This was the best gift ever!
Thank you to lajajakids and to the Harlem Globetrotters!
---
My Interview with Harlem Globetrotters
by Kyle Chiu
On February 20th, 2016, we, the Lajaja Kids Junior Journalists, interviewed three players of the team ''The Harlem Globetrotters'' during their 90th year anniversary of playing their games in the Citizens Business Bank Arena (Ontario, CA). These players are famous for winning and breaking many world records. I cannot believe that I am lucky enough to get the chance to interview them! When we arrived, we went into the "Magic Ticket Time" for 15 minutes to meet and take picture with them.
            Then, we went backstage to interview the 3 players: TNT, Flip, and Hacksaw. Here are the questions I asked:
1)      Q: Why are you basketball players so tall?
A: I am tall because of my family relation and I eat very healthy. 
2)      Q: How do you know so many tricks?
A: Of course because we practice a lot of hours every day.
3)      Q: How long do you practice?
A: We practice hours during the time we aren't playing games.
 After the interview, I waited in line and got the teams autograph. Later on, we watched the game of The Globetrotters versus The All Stars. At the beginning of the game, the cheerleaders were performing and dancing to motivate the players.  The game was full of fun tricks and humor that made everyone laugh. In the middle of the action, one of the player even got his pants taken off! They also did many funny things with the audience like stealing French fries from another junior journalist. One player took the purse from one of the audience and gave it to the coach. Their mascot also came out to make entertainment. Sometimes the ball would fall into the audience. The teams had 2 free shots and the Globetrotters got two and the All Stars got 0 because at one part a Globetrotter was hiding behind and took off the pants of an All Stars member. When TNT gave him the ball, he shot but instead of falling into the hoop, it flew in the air, it was actually a balloon!
During the resting time, the team got a cup of water and his teammate slapped it out of his hand and sprinkled into the audience. When the players were resting they threw out their clothes to the audience as souvenir. They also sold balls at both ends of the court.
We had a wonderful time spending the night in the Arena. I have to start eating healthy and jump more often and one day, I may be as tall as Hacksaw and be a super basketball player too!
---
HARLEM GLOBETROTTERS WORLD TOUR COMES TO LA AREA
Celebrating decades of smiles, sportsmanship and service to millions of people worldwide, the world famous Harlem Globetrotters will bring their unrivaled family show to the Los Angeles area Feb. 11-19. It's a great family adventure of wholesome fun that makes for special memories.
Their one-of-a-kind show is unrivaled in the world of family entertainment with incredible ball handling, hilarious comedy and loads of fan interaction, including a post-game autograph signing.
For $7 off your tickets use the promo code: CALI when you visit: http://www.harlemglobetrotters.com/socal
Ontario at the Citizens Business Bank Arena on Saturday, Feb. 11, at 2 p.m., and 7 p.m.
Anaheim at the Honda Center on Sunday, Feb. 12 at 2 p.m., and Saturday, Feb. 18 at 1 p.m. and 7 p.m.
Mission Viejo at the Saddleback College Gym on Monday, Feb. 13, at 7 p.m.
Los Angeles at the STAPLES Center on Sunday, Feb. 19, at 12:30 p.m., and 5:45 p.m


---