Exclusive Chinese New Year Fortune Gift!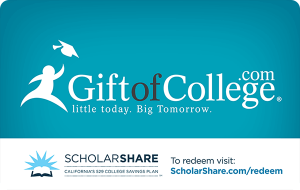 恭喜發財!丫丫小編們祝大家身體健康,小朋友們學業進步!上兩個禮拜已經有不同的新春活動囉,你們有去過了嗎?今年丫丫園地同樣有在不同的新年活動擺攤位,而不同的是,今年我們會在這個BLOG裡面的所有9個活動裡面現場各抽一個能獲得$200 ScholarShare 大學儲蓄計畫開戶禮物劵的幸運兒!想新一年有新的方向,為孩子做好準備?!我們的抽獎活動等你來拿!
小編偷偷告訴你們:參加抽獎的家長們,現場還有小禮物喔!你怎麼能錯過?
---
Monterey Park Chinese New Year Festival
雞祥如意迎春年節展 (1/28, 1/29)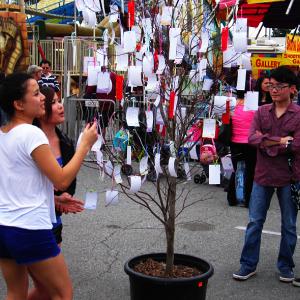 Address: City of Monterey Park on Garvey Ave. (Between Ramona Ave & Alhambra Ave)
Saturday, January 28, 2017, 10 a.m.-9 p.m.
Sunday, January 29, 2017, 10 a.m.-7 p.m.
Free admission
Seven blocks of entertainment, food, family activities and vendors
Downtown Monterey Park on Garvey Avenue between Ramona and Alhambra Avenues.
Event info, schedules, map, photo gallery, videos, sponsorship information and more at the event organizer's website 

www.LunarNewYears.com

 (external site)
Watch the Lunar New Year Festival press conference (external site).
Monterey Park's Lunar New Year festival features vendors offering unique gifts and specialty items, food booths with various types of delectable items, amusement rides, and lots of live entertainment. The traditional  New Year lion and dragon dancers along with firecrackers will kick-off the festival Saturday morning. Various types of entertainment will be featured on both days. A large carnival fun zone will be featured in parking lots at the corner of Garvey and Lincoln Avenues.
Past Lunar New Year events in Monterey Park have drawn crowds estimated at 50,000 to 100,000 visitors coming from all over the Southern California area. Plan on attending now for a full weekend of fun, entertainment, shopping and dining. The event is presented by the City of Monterey Park, the Monterey Park Downtown Business Improvement District Advisory Committee, and World Journal LA, LLC.
---
San Gabriel Lunar New Year Festival
聖蓋博新春園遊會 (1/28)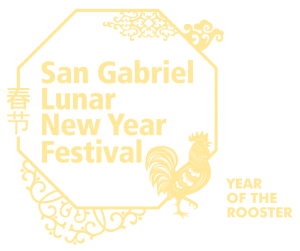 Free Admission!
Lunar New Year is the most celebrated holiday in Asia with many large festivals and events held around the world. The San Gabriel Lunar New Year Festival is unique in that it combines the traditional with the modern, creating a festival that is enjoyable for all.
The festival will feature a 30' outdoor stage with live performances, dance competition, food trucks, craft beer garden, kids zone, calligraphers, fortune tellers, chalk art contest, and art show to celebrate Asian cultures and the Lunar New Year. The festival will also feature newly designated areas such as Street Food Fair, Crafts Village and Dessert Land!
CHALK ART CONTEST
A Chalk Art Contest for the best drawing around the theme of 'Year of the Monkey' will be judged and photographed after 4 p.m. Cash prizes are 1st Place $300 and 2nd Place $100. Winners will be announced on the San Gabriel Lunar New Year Facebook Page on the Tuesday following the Festival. Check below for full contest rules and to apply for a space!
---
Diamond Bar Chinese School Chinese New Year Carnival
鑽石吧金雞迎春新年園遊會 (2/4)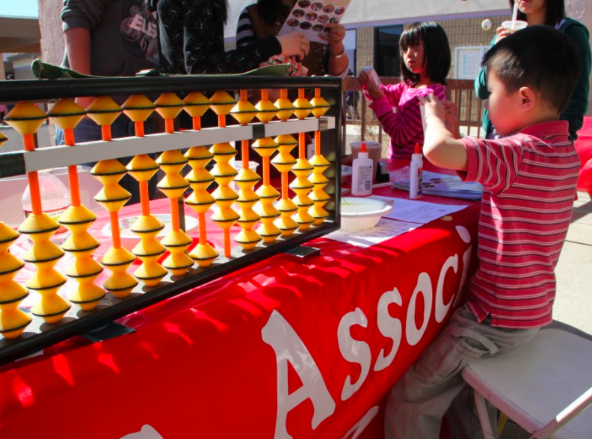 Saturday, 2/4
Time: 10am – 2pm
Address: Diamond Bar Chinese School, 21400 Pathfinder Rd, Diamond Bar, CA 91765
鑽石吧華人協會及中文學校將在鑽石吧高中舉辦金雞迎春新春園遊會,活動有豐富抽獎、地方小吃、精采節目、好玩遊戲、工商攤位,免費參加,歡迎大家來一起慶祝新年!
Fun games, delicious food booths, terrific performances, grand raffle prizes, business exhibit booths, free admission!
主辦、協辦單位:鑽石吧華人聯誼協會 Diamond Bar Chinese- American Association, 鑽石吧華協中文學校 (DBCS) 鑽石吧華協中文學校家長會 (DBPTA)
---
Chinatown Golden Dragon Parade & Festival
金龍遊行賀新春 (2/4)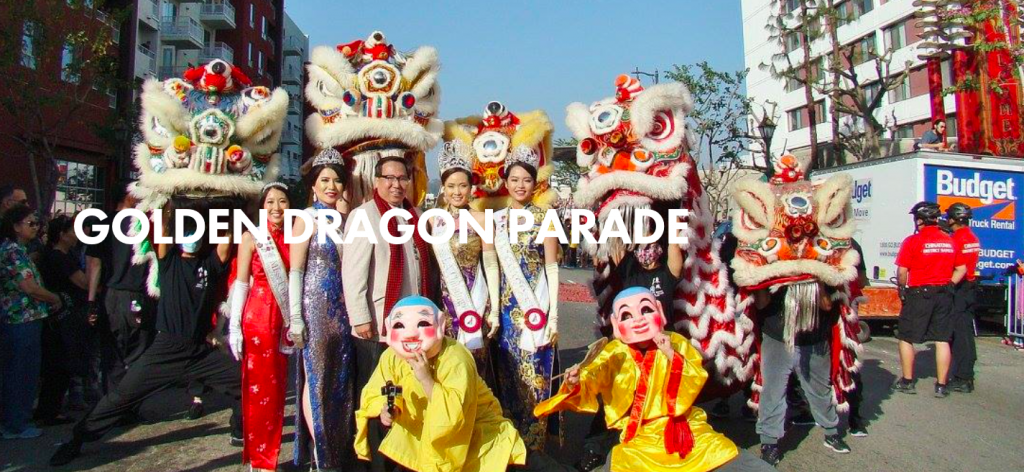 Address: Central Plaza, LA Chinatown (Golden Dragon Parade alongside)map
Website: ​www.ChinatownLA.com
Floats will line the streets of Chinatown during the 115th Annual Golden Dragon Parade with Los Angeles Mayor Eric Garcetti as grand marshal. Hundreds of spectacular floats, decked out cars, dancers and bands as they parade down the heart of LA Chinatown. The Chinese New Year Festival commences after the parade with cultural performances by some of the nation's best Chinese acts. Enjoy cultural workshops and eat your heart out with cooking demonstrations executed by Chinatown's favorite chefs, or sample the many gourmet food trucks at the event.
Since the mid-1980's, the Golden Dragon Parade has expanded to include almost two dozen floats, multiple marching bands, government officials, various dignitaries, entertainers, local business leaders and cultural groups. The parade's theme emphasizes ethnic diversity, Chinese Culture and exposure to Chinese-American businesses. The parade continues to be a rich and diverse experience for Angelenos of all ages and ethnicities.
---
Alhambra Lunar New Year Festival  
四海迎春新春園遊會 (2/11)

address: on Valley Blvd. in Alhambra from Almansor to Vega
website: http://www.alhambranewyearfestival.com
A large-scale Lunar New Year celebration in Southern California. It begins with a three-week art exhibit at the Alhambra City Hall . The main celebration is a one-day street festival on Valley Blvd. , the heart of the Chinese commercial district in the San Gabriel Valley . The festival's attendance has increased steadily over the years, now averaging 25,000. Corporate America utilizes this venue to reach out to the Asian communities.
---
L.A. Chinatown Firecracker 5/10K Run/Walk & Bike Ride 華埠農曆新年炮竹跑 (2/11-2/12)

洛城鞭炮鳴醒獅 齊來奔跑迎新春
Event begins with warm up exercises and a short discussion about exercising and the importance of reading. The course features a turnaround at Bishops Road, then back to the official finish line. Upon crossing the finish line, each runner will be given a commemorative finisher medal, and then directed to a carnival in the Kiddie Run area for all registered Kiddie Run participants from 7-11 AM, with carnival games, facepainting, petting zoo, puppet show, etc. A goodie bag awaits all Kiddie Run registrants.
Parents may accompany their child.
Event Highlights
All participants will receive an ultra-soft, ultra-comfy premium short sleeve t-shirt.
Opening ceremonies for the 5/10K Run/Walk and Bike Ride include the lighting of firecrackers.
5K and 10K runs are chip timed for fast & accurate results.
Medal to the overall male and female winners in the 5K and 10K runs.
Medal to the 1st, 2nd, and 3rd place finishers in each age category.
Finisher's Medal.
Free carbo load meal (Saturday, February 11, 2017).
Goodie bag.
Refreshments at the Start/Finish and along the Course.
Admission to the Firecracker Festival, featuring live entertainment and vendors.
Free bag check available to all bikers
Carnival games and petting zoo for Kiddie Run participants.
One free beer to all registered participants 21+ years of age.
---
El Monte Chinese New Year Lantern & Fireworks Festival 新春煙火嘉年華 (**FIRST YEAR!!**)
| | |
| --- | --- |
| Where | Arceo Park, 3125 Tyler Ave, El Monte, CA 91731, USA |
---
El Monte Chinese New Year Lantern & Fireworks Festival 新春煙火嘉年華 (**FIRST YEAR!!**)
---
Arcadia School District & Foundation Chinese New Year Gala 
---
Thousand Oaks CCCA Chinese New Year Celebration 康谷中華文化協會雞年新春晚會 (2/18)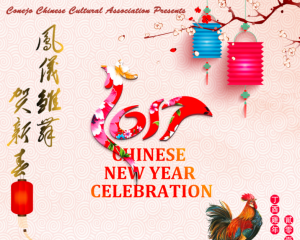 Address: Thousand Oaks Civic Arts Plaza, 2100 E Thousand Oaks Blvd, Thousand Oaks, CA 91362, United States map
Website: http://www.ccca-tocs.org/wp-content/uploads/2017/01/2017CNYP.pdf
康谷华人文化协会鸡年新春晚会正在紧锣密鼓地排练当中, 将于二月十八日晚七时在Fred Kavli Theatre 正式与大家见面!华协诚恳地邀请您加入我们康谷华人大家庭一年一度的农历新年庆祝活动。
请大家于一月十四日至二月十八日的周六在中文学校购票, 票价有 $35, $30, $25, $20 四种。让我们一起迎接和 庆祝二零一七鸡年新春吧!