Watch Leonardo DiCaprio's "Before the Flood" on National Geographic ~~ 10/30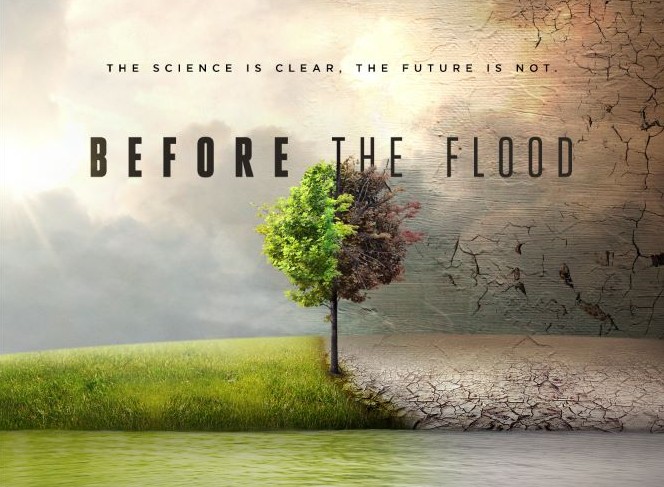 On the heels of Friday's theatrical release of the climate-change feature documentary Before the Flood in New York and Los Angeles, National Geographic today announced plans to premiere the project commercial-free across its digital and streaming platforms worldwide.
Before the Flood includes interviews with President Barack Obama, former President Bill Clinton, Secretary of State John Kerry, U.N. Secretary-General Ki-Moon and Pope Francis as well as top NASA researchers, forest conservationists, scientists, community leaders and activists. It was an official selection at the Toronto Film Festival, London Film Festival and Hamptons Film Festival, and screened at the White House as part of the South by South Lawn event October 3 and at the UN on October 20. The film is screening at more than 250 colleges and universities nationwide and being made available to churches and religious institutions via Interfaith Power and Light.
"There is no greater threat to the future of our society than climate change, and it must be a top issue for voters this election season," DiCaprio said in a statement. Added Stevens, "The level of support National Geographic is providing to create awareness about climate change is exactly what Leo and I were looking for when we made this film."
Produced and directed by Fisher Stevens and Leonardo DiCaprio, Before the Flood will be made widely available beginning the same day as its global television premiere, at 9 PM ET Sunday, October 30, on National Geographic Channels in 171 countries and 45 languages.
Before the Flood will be made available for free across a record number of digital and social platforms for seven days, from October 30-November 6. Nat Geo TV Apps (iPhone, iPad and Apple TV, Roku, Android phones, Xbox One and 360, Samsung Connected TVs), iTunes, Hulu, YouTube, Facebook, Twitter, Amazon, Sony PlayStation, GooglePlay and more.
In addition, at the end of the film, viewers will get a five-minute sneak peek at Nat Geo's Mars, a series from executive producers Brian Grazer and Ron Howard about the quest to colonize Mars. It premieres November 14 in the U.S. and November 13 globally.