"The Science Behind Pixar" Exhibition Opens at California Science Center ~ 10/15

Starting 10/15, come visit California Science Center and you can explore the science and technology behind some of the most beloved animated films and their characters. This 12,000 sq. ft. interactive exhibition showcases the science, technology, engineering, and math (STEM) concepts used by the artists and computer scientists who help bring Pixar's award-winning films to the big screen.
The newest exhibit at the California Science Center, The Science Behind Pixar offers a unique, first-time look into the Pixar filmmaking process.

With more than 40 interactive exhibit elements, the exhibition's eight sections each focus on a step in the filmmaking process to give you an unparalleled view of the production pipeline and concepts used at Pixar every day. Museum goers participate in fun, engaging hands-on activities, listen to firsthand accounts from members of the studios' production teams, and even come face-to-face with re-creations of favorite Pixar film characters, including Buzz Lightyear, Dory, Mike and Sulley, Edna Mode, and WALL•E!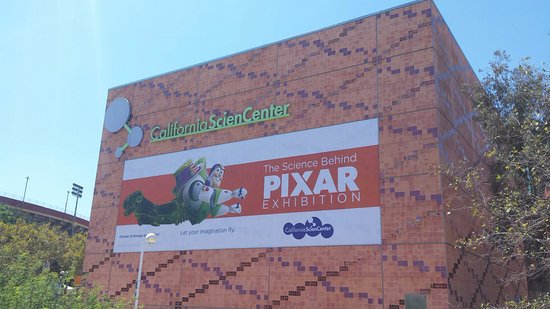 Date: 10/15/2016 – 4/9/2017
Location: California Science Center, 700 Exposition Park Dr, Los Angeles, CA 90037
Tickets: Science Behind Pixar tickets are timed; advance ticket purchase is recommended.
Bonus: Admission to Space Shuttle Endeavour is included when you visit The Science Behind Pixar exhibition. Display your The Science Behind Pixar ticket at the Samuel Oschin Pavilion entrance, where Endeavour is on display.
The exhibition features 40 exhibit elements which demonstrate the production pipeline at Pixar. They are divided into eight sections, each one focusing on a step in the filmmaking process:
Modeling
Rigging
Surfaces
Sets & Cameras
Animation
Simulation
Lighting
Rendering
Before entering the exhibit, visitors go into a theater to watch a five-minute introductory video. In the video, Pixar technical artist Fran Kalal and story artist Alex Woo briefly explaining Pixar's production pipeline. It also features Mr. Ray and Rozgreeting the visitors and providing them safety precautions for the theater. Roz appears again at the end of the video to say that she will miss the visitors once they leave the theater.
Characters
Human-sized statues of some of Pixar's characters appear at the exhibit.
Buzz Lightyear
Dory
Mike Wazowski
James P. Sullivan
Edna Mode
WALL•E
Dory
Mike Wazowski
James P. Sullivan
Edna Mode
WALL•E
---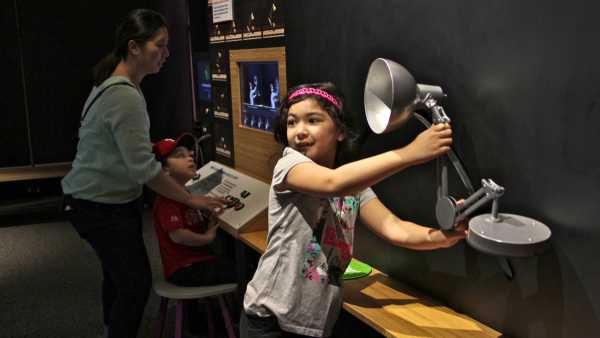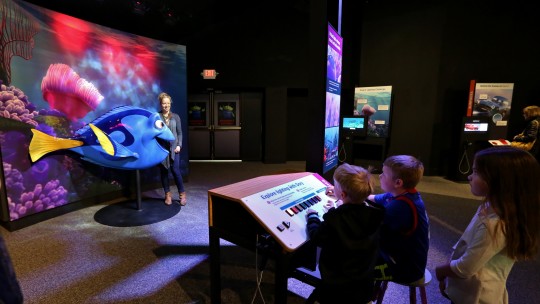 ---