Pasadena Colorado Street Bridge Party
You've probably driven across the Colorado Street Bridge more times than you can count, but how many times have you actually walked on it? Thanks to Pasadena Heritage's biennial Colorado Street Bridge Party, now is your chance!
This is the night of a lifetime for you and your family as "Pasadena's largest block party."
Date: Saturday, July 16, 2016
Time: 6 p.m.-11:30 p.m.
Location: The Colorado Street Bridge, 532 W. Colorado Blvd., Pasadena, CA 91105
This year, there are vintage cars and silent disco to wow attendees. And the magic of being atop the Colorado Street Bridge is something you never forget. The bridge is hardly ever closed, so this is a rare occasion to be celebrating while standing over the Arroyo and watching the sunset.
In between enjoying the endless entertainment options, attendees can nibble on local culinary treats. There are a wide range of food vendors who will be offering everything from vegan popsicles, funnel cakes, BBQ ribs and burgers to dumplings and paella.
As for the kids? No need to book a babysitter; there will be plenty of activities for your little ones to enjoy including a dr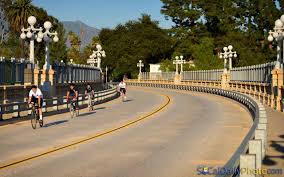 um circle, arts and crafts, face painting, balloon animals and much more!
CHILDREN'S ACTIVITIES:
A variety of free activities and entertainment will be offered from 6:00 to 9:00 PM in the Defenders Park, featuring balloons, face painting, cookie decorating, drum circles, Rock Theatre, and more.
MUSIC:
Enjoy live music on three stages and a silent disco! The featured music ranges from rock to americana music.
FESTIVE FOOD AND BEVERAGES:
A variety of food boothes in the park and along the bridge will offer delicious choices for all palates. Soft drinks, craft beers, wine, and cocktails will be available at five bar locations. (No Host)
CARS: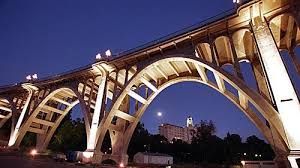 There will be a variety of vintage cars on display during the party for you to gaze upon!
ADVANCED TICKETS (before 7/15)
Adult $18; Children 7-12 $9; under  7 – Free
Event Day:
Adult: $20, Children 7-12: $10; under 7 – Free
Web: www.pasadenaheritage.org/bridge