Beach Front Cinema at Huntington Beach
BeachFront Cinema is the premier outdoor movie experience, which takes place on the beautiful sandy beaches of Southern California. This one of a kind event consists of a reserved, premium area on the California State Beach, featuring one of the largest inflatable, outdoor movie screens in California. With top end production elements including theater quality projection and sound, BeachFront Cinema also features plush, jumbo beanbags, food vendors, live bands, beach bar, contests, games and some of the most amazing sunsets on the West Coast.
With the huge success that BeachFront Cinema experienced with its launch at Huntington State Beach in 2015, we are excited to announce a full series of dates starting in mid May through October! Summertime has never been so sweet in Orange County.
Be sure to join us this summer for a truly unique experience…..See you on the beach!
Dates:many Saturdays throughout summer (see below schedule)
Time:5 PM – 10 PM
Location:Huntington State Beach, Lifeguard Tower 14 Huntington Beach, CA
Tickets:$15,$45 for family of 4
---
JURASSIC WORLD — May 14, 2016
Jurassic World has been running with great success for more than a decade in the wake of the disaster that haunted the island 22 years ago. The park's geneticists have once again broken scientific and ethical boundaries in order to raise attendance for the park, now experiencing a decline in happy customers. Convinced that the new attraction will bring in many more people, but having crossed the line once again, the results may be devastating.
ALMOST FAMOUS — May 29, 2016
This heart-felt movie is a semi-autobiographical story concerning William Miller, a 15-year-old kid hired by Rolling Stone magazine to tour with and write about Stillwater, an up and coming rock band. This wonderfully witty coming-of-age film follows William as he falls face first while trying to confront life, love, and lingo.
INSIDE OUT — June 4, 2016
When a young girl named Riley is uprooted from her Midwestern lifestyle and moves to the busy and chaotic San Francisco, her emotions; Anger, Sadness, Disgust, Fear, and (her most important emotion) Joy, start to disagree on how to deal with this dramatic change, which causes problems up in Headquaters, the central living and working place for the five emotions.
TURNER & HOOCH — June 11, 2016
Scott Turner has 3 days left in the local police department before he moves to a bigger city to get some "real" cases, not just misdemeanors. Then Amos Reed is murdered, and Scott Turner sets himself on the case. The closest thing to a witness in the case is Amos Reed's dog, Hooch, which Scott Turner has to take care of if it's going to avoid being put down.
STAR WARS THE FORCE AWAKENS — June 25, 2016
30 years ago the Empire was defeated and now a new threat, the First Order has risen from the ashes of the Empire. A scavenger called Rey has come into contact with a droid that contains a map to the legendary Luke Skywalker, who has vanished. Rey and a rogue stormtrooper called Finn find themselves in a monumental conflict between good and evil, that will see faces old and new.
FORREST GUMP — July 2nd 2016
A simple-minded but kind-hearted Alabama boy grows up with his best friend – a beautiful girl called Jenny. He succeeds in life through a mixture of luck and destiny and thus influences and is present at some of the most important events in the second half of the 20th century. Throughout his life he is told by other characters what life is about and whether it's all random or destined to happen, but he comes to his own conclusion towards the end.
INDIANA JONES — July 16, 2016
Renowned archeologist and expert in the occult, Dr. Indiana Jones, is hired by the U.S. Government to find the Ark of the Covenant, which is believed to still hold the ten commandments. Unfortunately, agents of Hitler are also after the Ark. Indy, and his ex-flame Marion, escape from various close scrapes in a quest that takes them from Nepal to Cairo.
BRIDESMAIDS — August 6, 2016
Annie, is a maid of honor whose life unravels as she leads her best friend, Lillian, and a group of colorful bridesmaids on a wild ride down the road to matrimony. Annie's life is a mess. But when she finds out her lifetime best friend is engaged, she simply must serve as Lillian's maid of honor. Though love-lorn and broke, Annie bluffs her way through the expensive and bizarre rituals. With one chance to get it perfect, she'll show her bridesmaids just how far she'll go for love.
JAWS — August 27, 2016
A great white shark decides to make the small beach resort town of Amity her private feeding grounds. This greatly frustrates the town police chief who wants to close the beaches to chase the shark away. He is thwarted in his efforts by the town's mayor who finally relents when nothing else seems to work and the chief, a scientist, and an old fisherman with revenge on his mind take to the sea to kill the beast.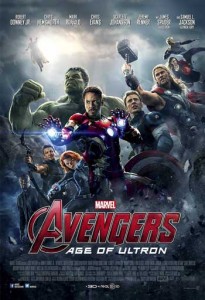 THE AVENGERS AGE OF ULTRON — September 3rd 2016
Tony Stark, a.k.a. Iron Man, and Bruce Banner the "Hulk," help restore a dormant project called the Ultron Program to protect the world from evil. When the peace-keeping program becomes hostile, the Avengers must go into action to try and defeat a virtually impossible enemy. Earth's mightiest heroes must come together once again to protect the world from global extinction.
THE WIZARD OF OZ — September 4, 2016
When Dorothy runs away with her dog Toto, a tornado appears and carries her to the magical land of Oz. Wishing to return, she begins to travel to the Emerald City where a great wizard lives. On her way she meets a Scarecrow who needs a brain, a Tin Man who wants a heart, and a Cowardly Lion who desperately needs courage. They all hope the Wizard of Oz will help them before the Wicked Witch of the West catches up with them.
* Movie titles and dates subject to change.