88bb – The Fun Kids App to Learn Chinese
Have your kids ever seen MomoKids, Chao Hu and Pleasant Goat? Do you want to find an app/TV/YouTube channel without ads for your kids to watch, dance and sing??
La JaJa kids just met a new friends, 88bb! They are a new app and mobile web destination aimed at bringing Chinese language, arts, history and culture to pre-school age children, is now being offered through a special partnership with LaJaJaKids of Los Angeles. 88bb introduces preschoolers to Chinese customs, music and dance through popular and entertaining videos in a fun, safe and private viewing experience.
Would you want to give it a try and watch with your kids?
EXCLUSIVE for La JaJa Kids readers,
NOW you can
 use LAJAJA coupon code to join the ranks of free trials , and your children cwill be able to experience 88bb Chinese teaching platform magical charm of it !
---

Special first month free for all La JaJa Readers
---
88bb is designed to occupy preschoolers with songs, dance, and lively images while simultaneously teaching them the basics of Chinese language. 88bb was created to offer parents an alternative to English language kids apps with shows for their kids to watch during the car drives, the trips to the supermarket, etc.
---
---
88bb was created with you – the parent – in mind. We know there are a lot of free videos online but 88bb is a SAFE environment where you know exactly what your kids are watching and they can't click outside our closed environment. All of our content comes from proven sources such as MomoKids, Chao Hu (coming soon), Little Sheep, etc.
---
For La JaJa Kids readers, 88bb is offering a special introductory discount of 1-month free subscription cost! Simply log in at www.88bb.tv from your computer or mobile device and put in the code LAJAJA when prompted.
Contact us at info@88bb.tv if you are interested in making 88bb available to your school or organization at a special discount of for use in fundraising efforts.
Using LAJAJA code instruction:
When you go to the website www.88bb.tv
Please click
And click    
When you go to "click to use coupon", please type "LAJAJA" and sign up your information,then your kids will be able to enjoy a one month free trial 88bb TV app!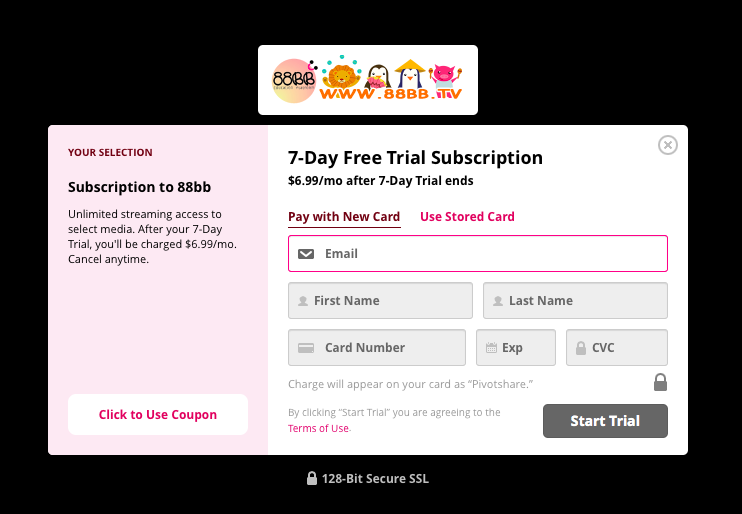 Enjoy!