Ultimate Chinese New Year Event Guide for Your WHOLE Family!!!
農曆新年轉眼就到,喜慶的鑼鼓聲漸漸響起,從這個週末開始直至三月,南加社區陸續會有大小不同的新春慶典,每個週末都有好玩親子去處!
你還在猶豫帶你的孩子去哪裡感受濃濃的過節氣氛?讓丫丫為你推介一連串最好玩有趣的親子新年活動吧!
---
2/6-2/7 Weekend
Disney Lunar New Year Celebration  迪士尼樂園中國新年慶典 (2/6-8)
Address: Disney California Adventure Park, 1313 S Disneyland Dr Los Angeles
Website: https://disneyland.disney.go.com/events-tours/lunar-new-year/
Live performances
Photo opportunities with select Disney Characters
Stunning scenic displays
Special event merchandise
Limited-time food and beverages items
Complimentary face painting
Sensational Sights
Monkeys and dumplings and fan
---
South Coast Plaza Lunar New Year Celebration 南海岸廣場慶祝農曆新年週末活動 (2/6-7)
Address: Metro Pointe at South Coast, 901 S Coast Dr, Costa Mesa, CA 92626, United States map
Website: http://www.southcoastplaza.com/events/lunar-new-year-events/
Children's Crafts
Bing Bing's Magic House Children's Performance
Strolling Stilt Performers
---
Andy's Attic Chinese New Year Carnival "玩出年味,學出趣味" (2/6)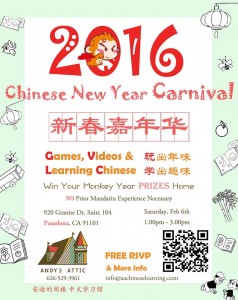 Address: Andy's Attic Chinese Learning Center, 920 Granite Dr. Suite 104, Pasadena, CA 91101(Street Parking)map
Free RSVP https://goo.gl/8wPvRL 626.529.3961; info@aachineselearning.com
獎品~~
新春紅包、Free Face Painting、大號悠嘻猴、One Month Free, 還有更多驚喜~
遊戲劇透~~~
中文還是英文?
漢字找不同
香蕉餵猴子
筷子夾餃子
頂氣球
學跳舞
恭喜發財 twister
找十二生肖
---
Family Art Day: A Monkey Celebration 諾頓西蒙美術館慶猴年親子美術活動 (2/6)

Address: Norton Simon Museum, 411 W Colorado Blvd, Pasadena, CA 91105, United States map
Website: http://www.nortonsimon.org/a-monkey-celebration/
Make a paper-bag monkey puppet or another animal puppet of your choice.
---
L A Waterfront Lunar New Year Festival 洛杉磯碼頭中國新年慶祝活動 (2/6)
Address: LA Waterfront, Downtown Harbor in San Pedro (Harbor Blvd. and 6th Street) map
Website: https://www.portoflosangeles.org/community/lunar_new_year.asp
• Cultural Entertainment
• Lion Dancers
• Crafts
• Petting Zoo
• Food
• Fireworks Finale
---
San Gabriel Lunar New Year Festival 聖蓋博新春園遊會 (2/6)

FESTIVAL STAGE & LIVE PERFORMANCES
Our huge 30′ Festival Stage will host a combination of traditional, community, and entertainment acts, featuring live music, DJs, and dance performances, co-presented and hosted by the Mission Playhouse.
CHALK ART CONTEST
A Chalk Art Contest for the best drawing around the theme of 'Year of the Monkey' will be judged and photographed after 4 p.m.
KIDS ZONE
Bounce houses, balloon artists, face-painting and games for families and children of all ages.
---
Thousand Oaks CCCA Chinese New Year Celebration 康谷中華文化協會猴年新春晚會 (2/6)

Address: Thousand Oaks Civic Arts Plaza, 2100 E Thousand Oaks Blvd, Thousand Oaks, CA 91362, United States map
Website: http://www.ccca-tocs.org/image/20160106172006735.pdf
康谷華人文化協會猴年新春晚會將於二月六日晚七時正式與大家見面! 華協誠懇地邀請您加入我們康谷華人大家庭一年一度的農曆新年慶祝活動。 票價有$35, $30, $25, $20 四種, 協會特別提供五元的會員優惠。 讓我們一起迎接和慶祝二零一六猴年新春吧!
---
Westfield Santa Anita Lunar New Year Celebration
亞凱迪亞西野商場中國新年慶祝活動 (2/6)
Address: Westfield Santa Anita, 400 S Baldwin Ave #231, Arcadia, CA 91007 map
Event site: https://www.facebook.com/events/777192795748171/
Traditional entertainment, live calligraphy, lion dance, arts & crafts, giveaways and more! Ring in the Year of the Monkey at Westfield Santa Anita as we celebrate with:
▪ Lion Dance
▪ Calligraphy
▪ Face Changing Performance
▪ Live Entertainment
▪ Arts & crafts
▪ Games
▪ And More!
---
Bowers Museum Chinese New Year Festival 寶爾博物館中國新年慶祝活動  (2/7)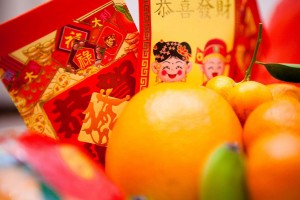 Address: Bowers Museum 2002 North Main Street Santa Ana, CA 92706 map
Website: http://www.bowers.org/index.php/programs/family-programs/event/126-chinese-new-year-festival
Face painting, art projects (Paper Lantern Painting and Foil Dragons and Monkeys) Fortune cookie and Almond cookie tasting
12:00 – Lion Dance by JC Culture Troupe
12:40 – Dance with Cheer, Traditional Chinese Dances
1:15 – Sunshine Academy String Ensemble plays under the guidance of Mr. Leonard Liu
1:30 – Red Shoes Dance Studio of the South Coast Chinese Cultural Center
2:00 – A Little Dynasty Chinese School Traditional Chinese Orchestra
2:30 – "Changing Faces," by Master Zhong Wei Qi
---
Chinese New Year Midnight Temple Ceremony 華埠天后廟除夕祭拜  (2/7)
Address: Thien Hau Temple, 756 Yale St , Los Angeles map
Website: http://www.timeout.com/los-angeles/things-to-do/chinese-new-year-midnight-temple-ceremony
Chinatown welcomes the Year of the Monkey with a midnight ceremony at the Thien Hau Temple. Crowds begin to gather on the eve of the Chinese New Year to make offerings to the deities, awaken the spirits with firecrackers and burn incense for good fortune. Join lion dancers and monks starting at 10pm, and feel free to return to the temple throughout the week.
---
Pacific Asia Museum Lunar New Year Festival 亞太博物館歡樂春節  (2/7)

Address: Pacific Asia Museum, 46 North Los Robles Avenue, Pasadena, ca 91101map
Website: http://www.pacificasiamuseum.org/_calendar/index.aspx
USC Pacific Asia Museum's 6th annual Lunar New Year Festival celebrating Year of the Monkey with performances, crafts, a puppet show, artist demonstrations and access to the museum galleries. Admission is free and open to the public. A full schedule is available at
Experience how the Lunar New Year is celebrated in China, Korea and Cambodia. At this year's Festival, celebrate with music, dance, art making, storytelling, and a host of other family-friendly entertainment that explores the arts and cultures of Asia and more. Families of all backgrounds welcome! Event is free!
---
Year of the Monkey Book Signing 猴年童書作家見面簽名會 (2/7)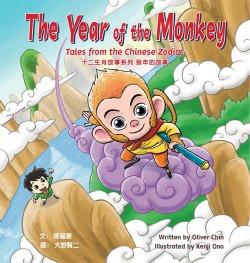 Address: Kidspace Museum, 480 North Arroyo Blvd. Pasadena, CA 91103map
Website: http://www.kidspacemuseum.org/events/event-list/year-monkey-signing
Stop by the Busy Bee Learning Store to meet Kenji Ono, illustrator of Year of the Monkey: Tales from the Chinese Zodiac. As a story artist at DreamWorks and a picture book illustrator, Kenji will demonstrate character drawing and help kids show-off their own artistic abilities. He will also read from the book and autograph purchased copies.
2016 is The Year of the Monkey! Meet Max, the son of the famous Monkey King and Queen, and join in this new adventure.
This latest Tales from the Chinese Zodiac follows the Sheep (2015), Horse (2014), Snake (2013), Dragon (2012), Rabbit (2011), Tiger (2010), Ox (2009), Rat (2008), Pig (2007) and Dog (2006). Each book features a special animal representing each year in the Chinese lunar calendar. Each creature symbolizes unique qualities and has a personality that people identify with.
What animal are you?
---
2/13 – 2/14 Weekend
OC Tet Festival & Parade 小西貢越南新年慶典 (2/12-14)
Address: OC Fair & Event Center 88 Fair Dr. Costa Mesa, CA 92626map
Website: http://tetfestival.org/
The Tết Festival of Southern California is recognized as the world's largest Tết Festival outside of Vietnam. Helping preserve Vietnamese culture, the Tết Festival boasts about the attraction of over 100,000+ audiences and hundreds of booths in a span of a three day weekend event. Visitors are immersed with a vibrant array of traditional foods, live entertainment, festive games, and customs celebrating the Vietnamese Lunar New Year.
---
117th Golden Dragon Parade & Festival 金龍遊行賀新春 (2/13)
Address: Central Plaza, LA Chinatown (Golden Dragon Parade alongside)map
Website: ​www.ChinatownLA.com
Floats will line the streets of Chinatown during the 115th Annual Golden Dragon Parade with Los Angeles Mayor Eric Garcetti as grand marshal. Hundreds of spectacular floats, decked out cars, dancers and bands as they parade down the heart of LA Chinatown. The Chinese New Year Festival commences after the parade with cultural performances by some of the nation's best Chinese acts. Enjoy cultural workshops and eat your heart out with cooking demonstrations executed by Chinatown's favorite chefs, or sample the many gourmet food trucks at the event.
Since the mid-1980's, the Golden Dragon Parade has expanded to include almost two dozen floats, multiple marching bands, government officials, various dignitaries, entertainers, local business leaders and cultural groups. The parade's theme emphasizes ethnic diversity, Chinese Culture and exposure to Chinese-American businesses. The parade continues to be a rich and diverse experience for Angelenos of all ages and ethnicities.
---
Alhambra Lunar New Year Festival  四海迎春新春園遊會 (2/13)

address: on Valley Blvd. in Alhambra from Almansor to Vega
website: http://www.alhambranewyearfestival.com
A large-scale Lunar New Year celebration in Southern California. It begins with a three-week art exhibit at the Alhambra City Hall . The main celebration is a one-day street festival on Valley Blvd. , the heart of the Chinese commercial district in the San Gabriel Valley . The festival's attendance has increased steadily over the years, now averaging 25,000. Corporate America utilizes this venue to reach out to the Asian communities.
---
Diamond Bar Chinese School Chinese New Year Festival 鑽石吧華人協會金猴迎春新春園遊會(2/13)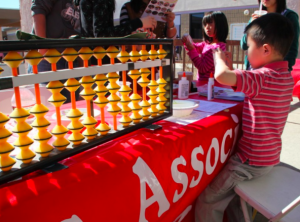 Address: Diamond Ranch High School, 100 Diamond Ranch Rd, Pomona, CA 91766, United Statesmap
主辦、協辦單位:鑽石吧華人聯誼協會 Diamond Bar Chinese- American Association, 鑽石吧華協中文學校 (DBCS) 鑽石吧華協中文學校家長會 (DBPTA)
---
2/20 – 2/21 Weekend
Huntington Library Chinese New Year Celebration 亨廷頓圖書館農曆新年慶祝活動 (2/20-21)

Address: Huntington Library, Art Gallery and Botanical Gardens, Oxford Road, San Marino, CA, United Statesmap
Website: http://www.huntington.org/WebAssets/Templates/calendardetail.aspx?id=20999
Celebrate the Lunar New Year at The Huntington as the Year of the Monkey begins. This two-day family event includes lion dancers, plus crowd-pleasing mask-changing performances, martial arts demonstrations, Chinese music, calligraphy and brush painting demonstrations, displays of penjing (Chinese bonsai) and scholar's stones, and more. General admission.
PERFORMANCES
Lion Dancers
10:30 a.m., 12:30 p.m., 2:30 p.m., 3:30 p.m.
Mask-Changing
11 a.m., 1 p.m., 3 p.m.
Martial Arts
11 a.m., 12:30 p.m., 1 p.m., 2:30 p.m.
Chinese Music
11 a.m.–1 p.m., 2–4 p.m.
---
38th Annual L.A. Chinatown Firecracker 5/10K Run/Walk & Bike Ride
華埠農曆新年炮竹跑 (2/20-2/21)


洛城鞭炮鳴醒獅 齊來奔跑迎新春
Bike Ride on the 20th (Saturday) 10am – 3pm
Run/Walk on the 21st (Sunday) 6:30am – 12pm
Event begins with warm up exercises and a short discussion about exercising and the importance of reading. The course features a turnaround at Bishops Road, then back to the official finish line. Upon crossing the finish line, each runner will be given a commemorative finisher medal, and then directed to a carnival in the Kiddie Run area for all registered Kiddie Run participants from 7-11 AM, with carnival games, facepainting, petting zoo, puppet show, etc. A goodie bag awaits all Kiddie Run registrants. Parents may accompany their child.
Event Highlights
=========================
All participants will receive an ultra-soft, ultra-comfy premium short sleeve t-shirt.
Opening ceremonies for the 5/10K Run/Walk and Bike Ride include the lighting of firecrackers.
• 5K and 10K runs are chip timed for fast & accurate results.
• Medal to the overall male and female winners in the 5K and 10K runs.
• Medal to the 1st, 2nd, and 3rd place finishers in each age category.
• Finisher's Medal.
• Free carbo load meal (Saturday, February 20, 2016).
• Goodie bag.
• Refreshments at the Start/Finish and along the Course.
• Admission to the Firecracker Festival, featuring live entertainment and vendors.
• Free bag check (only for Metro riders who show valid Metro Pass or TAP card).
• Carnival games and petting zoo for Kiddie Run participants.
• One free beer to all registered participants 21+ years of age.
Kiddie Run General Pricing:
========================
Early: $15 (thru 9/7)
Regular: $20 (9/8 – 12/20)
Late: $25 (12/21 – 2/14)
On-Site: Starting at $25 (2/20 – 2/21)
About Kiddie Run: http://www.firecracker10k.org/kiddie-run/
Register here: http://bit.ly/2016FirecrackerRegister
---
Segerstrom Center Chinese Lantern Festival 塞格斯仲音樂廳元宵燈會

Address: Renee & Henry Segerstrom Concert Hall, 600 Town Center Dr, Costa Mesa, CA 92626, United States
Time: 3 – 6 p.m. in the concert hall lobby (before "Turandot")
Website: https://www.pacificsymphony.org/tickets/concert/Lantern_Festival
太平洋交響樂團為配合將在塞格斯仲音樂廳開演的歌劇「杜蘭朵公主」,今年首度與南海岸中華文化協會攜手推出慶祝元宵節的燈會,2月20日下午3時起在塞格斯仲音樂廳安排了猜燈謎(中、英文)、中西音樂演奏、舞蹈表演等節目,下午5時30分由爾灣中文學校舞龍隊壓軸,在音樂廳外的廣場帶領提燈籠隊伍遊行。
Lantern Festival Performances and Activities:
===========================
• Dragon Dance
• Chinese Folk Dance
• Chinese Instrument Performances
• Chinese Adult Chorus
• Pacific Symphony String Quartet
• Pacific Symphony Youth Quartet
• Lantern making with Bowers Museum
• Riddles
• Photo booth
• Chinese paper cutting
• Food
• Lantern parade
Bring the entire family and join us for Pacific Symphony's first-ever Lantern Festival, celebrating the Year of the Monkey! The Lantern Festival, which can be traced back 2,000 years, takes place 15 days after the Lunar New Year—on the first full moon night in the Chinese calendar—and marks the return of spring, representing the reunion of family. The act of lighting and appreciating lanterns is a way for people to let go of the burdens of their old selves and express their best wishes for themselves and their families for the future.
---
~~ONGOING CHINESE NEW YEAR EVENT AFTER CHINESE NEW YEAR~~
Universal Studio Hollywood Chinese New Year Celebration 好萊塢環球影城歡慶猴年春節 (1/30-2/14)
Address: Universal Studio Hollywood map
Website: http://www.universalstudioshollywood.com/lunar-new-year/?__source=social
> Come face-to-face with Mandarin-speaking Megatron from TRANSFORMERS™ against an all-new photo op backdrop
> Take photos with our beloved monkey, Curious George, dressed for the festivities in traditional Chinese attire
> Be sure to share your new year wishes at the Wishing Trees
> Find your zodiac animal to see if your personalities match
> Plus, enjoy food and activities for this unique cultural experience.
---
Beverly Center Lunar New Year Celebration 比華利山商場農曆新年慶典 (2/1-29)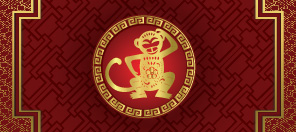 Address: Beverly Center, 8500 Beverly Blvd, Los Angeles, CA 90048, United States map
Website: http://www.beverlycenter.com/events
SHOP.
In the tradition of starting a new beginning, Guests will receive a red envelope as a gift with same day purchases of $500 or more during Beverly Center's Lunar New Year celebration.
Guests who spend $500 or more will receive a $25 Beverly Center Gift Card; Guests who spend $1,000 or more will receive a $50 Beverly Center Gift Card.
WISH.
Lunar New Year celebrations will launch on February 1 with an enchanting Wishing Tree in Center Court where guests are invited to write their wish for joy, luck and prosperity. In the Chinese culture, placing wishes on the Wishing Tree will make the wishes come true.
WIN.
All Guests are invited to enter-to-win a $500 shopping spree at Guest Services.
SHARE.
Guests can share their moment at the Wishing Tree on Facebook, Twitter, Instagram, Weibo and WeChat, and tag #beverlycenterstyle.
---
Lunar New Year at Seaworld  聖地牙哥海洋世界迎中國新年 (1/30  – 2/21)
Celebrate Lunar New Year at SeaWorld San Diego. Enjoy riveting performances from Chinese acrobats inside Mission Bay Theater®. Be awed by lion dancers and take in the beautiful scenery and décor. Fill your appetite with Asian-inspired food and drinks. Start a new tradition at SeaWorld's Lunar New Year.
 
Free Admission for Those Born in the Year of the Monkey
Lucky guests born in 1920, 1932, 1944, 1956, 1968, 1980, 1992, or 2004 enjoy one free single-day admission to experience Lunar New Year at SeaWorld San Diego.
To redeem this offer, show your valid form of ID at Tickets and Reservations Feb. 6, 7, or 8. Click here for more information.
 
Chinese Acrobats of Hebei
During 25-minute shows held four times a day at SeaWorlds Mission Bay Theater, several acts will be performed including lion dancing, plate spinning, hoop diving, hat juggling, contortion, and chair stacking.
 
Asian Inspired Culinary Offerings
Jan. 30 – 31
SeaWorld's Lunar New Year Festival area will be brimming with Asian-inspired food choices.
 
Community Stage
At SeaWorld's Lunar New Year Festival area, the community stage will be brimming with cultural entertainment including taiko drummers, lion dancers and fan dancers.
---
Chinese American Museum Lantern Festival 華美博物館中國元宵節慶典 (3/5)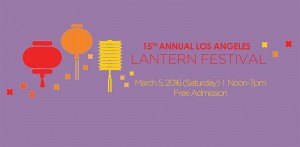 Address: Chinese American Museum, 425 N Los Angeles St, Los Angeles, CA 90012, United Statesmap
Website: https://www.facebook.com/events/1270013619681170/
Join Angelenos beneath Chinese lanterns in the vibrance of Downtown L.A. for the 15th Annual Los Angeles Lantern Festival. Our free signature event culminates the Lunar New Year festivities with engaging community booths, museum tours, live entertainment, music, arts & crafts, and food trucks.