7 Fun Ice Skating Rinks This Holiday
Dashing through the snow, In a one horse open sleigh. Over the fields we go, Laughing all the way . . .
今年的聖誕鐘聲早在感恩節火雞還未下肚前就已響起,似乎急著要讓大家快快進入假日的歡樂心情。現在就讓丫丫們率先為你介紹洛城的各種冬日好去處吧!
---
7 Best SoCal Ice Skating Rinks this Holiday
Ice Skating is the most popular winter sports for Americans, and this winter it is even more easier to get to a skating rink to slide your way to icy bliss, as there will be even more options open for you to select from. Here are 7 wonderful choices for you and your family to enjoy this holiday!
南加州今年的氣候有點冷,很多地方都開始可以滑雪了~~不想去Big Bear那麼遠但又想有冬日的氣氛?丫丫們假日的至愛活動~~戶外溜冰;今年的戶外溜冰場選擇特別多,除了大家熟悉多年的老地方外,更新添了一些新地點,為社區帶來點點心意。

1) 東區首個戶外冬日溜冰樂園
Rowland Winter Wonderland: First Ever Outdoor Skating Event in Rowland Heights!!

平時在室內溜冰場練習,又怎比得上在聖誕佳節和一班朋友到戶外溜冰場一同玩個痛快?
今年冬天一定要來一趟東區首個的戶外溜冰場,在 Rowland Ranch Plaza 享受星空或陽光下溜冰的樂趣 !
冰上世界開放時間是 12月 24日到27日,每日下午兩點到10點,除了大人小孩都玩得投入的真雪溜冰外,還有一系列特別活動:浪漫的灰姑娘馬車、聖誕老人和公主講故事時間、還有現場音樂表演和每日幸運抽獎呢!
Bring your friends and family to the delightful ice-skating event in the East San Gabriel Valley for the first time! Join us for the marvelous Cinderella's Carriage, Santa Claus, and Princesses. Don't forget to make a wish for the upcoming 2016!
https://www.facebook.com/events/714737575293809/

December 24th – December 27, 2015
2:00pm to 10:00pm
Rowland Ranch Plaza
18901 Colima Road,
Rowland Heights CA 91748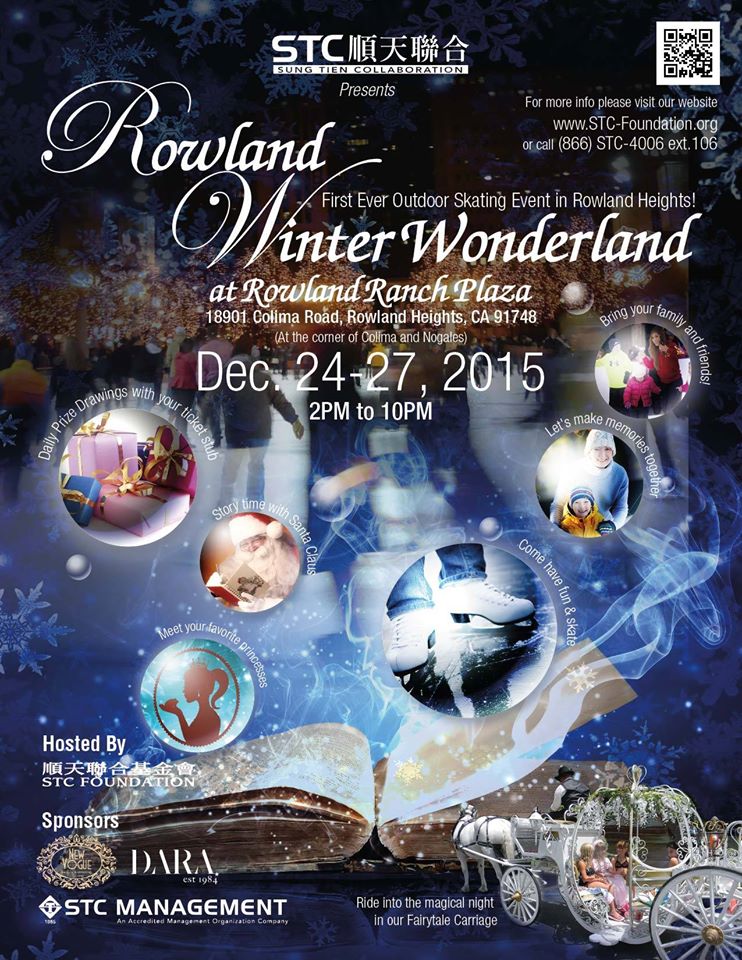 ---
2) The Rink in Downtown Burbank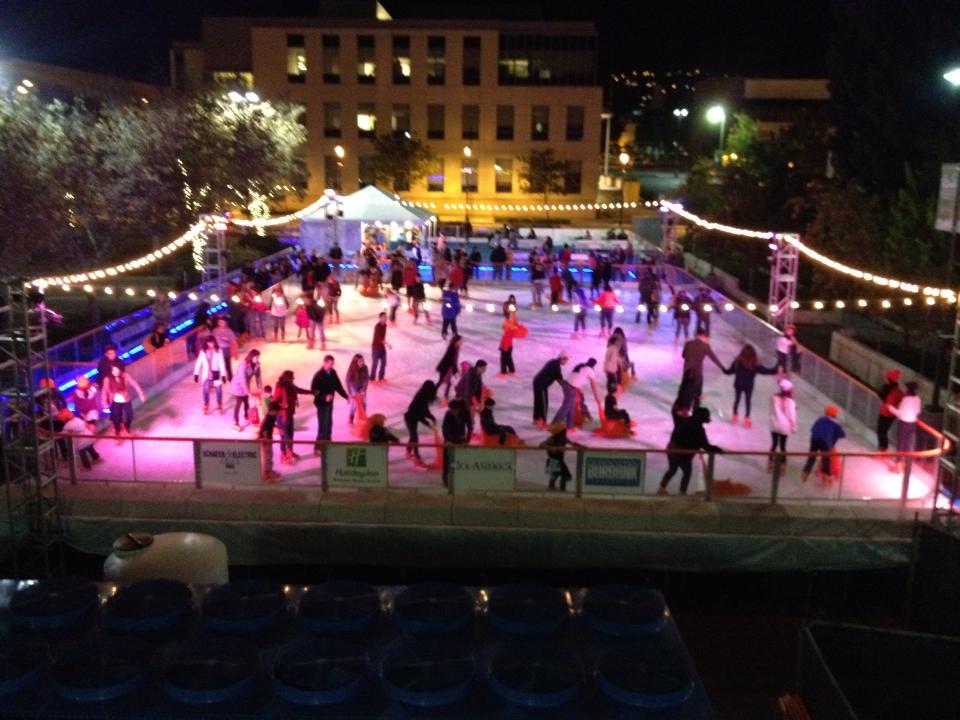 The Rink in Downtown Burbank is pleased to announce the 2015 special events schedule including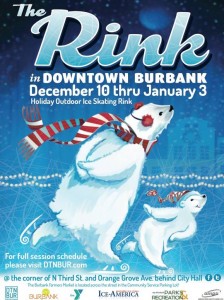 outdoor ice skating, fundraising activities, and performances. Now in its third year and just steps away from hundreds of shops and restaurants decorated for the holiday season, The Rink makes for a joyful family outing and memorable getaway.

December 10th, 2015 – January 3, 2016
Hours of operation are Sunday through Thursday from 10:00 AM to 10:00 PM, and Friday and Saturday from 10:00 AM to 11:30 PM.
Admission is $10 and skate rental is $4, and Bobby the Seal rentals are $6.00.
Location: At the corner of N 3rd Street and E Orange Grove Avenue (behind Burbank City Hall).
web: https://dtnbur.com/?s=ice+rink
---
3) ICE at Santa Monica


洛杉磯的海灘也能溜冰? 在享受完冬日美麗的夕陽後直接驅車前往聖塔莫尼卡市區,在海邊享受星空或陽光下溜冰的樂趣! 聖塔莫尼卡的冰上世界開放時間從11月1日到明年1月18日,每天都有不一樣的的主題活動等著你的加入!還有機會可以跟LA Kings學習他們專業的滑冰技巧!千萬不要錯過這個溜冰的好機會哦!!
Every holiday season, Downtown Santa Monica brings a little ice skating to the beachside community and transforms the corner of 5th Street and Arizona Avenue into ICE at Santa Monica, a premier outdoor ice skating rink. The 8,000 square foot rink by the beach offers residents and visitors a little taste of winter without the bite.
A great location to celebrate the holidays, ICE at Santa Monica is the perfect place to hang out with friends and family, throw a party in a private event cabana, enjoy a first date or sign up for skate lessons. Join the fun and visit Downtown Santa Monica this season to experience ICE.
Dates: November 1, 2015 — January 18, 2016
Admission with Skate Rental: $15
General Hours of Operation
Monday-Thursday: 2:00pm – 10:00pm
Friday: 2:00pm – Midnight
Saturday: 10:00am – Midnight
Sunday: 10:00am – 10:00pm
Downtown Santa Monica, 1324 5th Street Santa Monica, CA 90401
web: downtownsm.com/ice

---
4) LA Kings Holiday Ice at LA LIVE
L.A. Kings Holiday Ice brings outdoor ice skating to Nokia Plaza at LA LIVE! The rink is large and the atmosphere is awesome, festive and filled with entertainment and great restaurants for the whole family. A giant tree in the center of the rink gets you in the holiday spirit! You can make an entire evening of it with the Supper & Skate special, which includes a prix-fixe dinner at a participating L.A. LIVE restaurant (Lawry's, Rock N' Fish, Trader Vic's), ice skating and skate rental. The package is $30 for adults, $20 for children! Not a bad deal!
November 28-December 31
DECEMBER 14 – DECEMBER 31**MONDAY – SUNDAY (3 SESSIONS)

3PM – 7PM
7:30PM – 9:30PM
10PM – Midnight

602-705-5148
L.A. Live, 800 West Olympic Boulevard, Los Angeles Directions
---
5) CHILL at the Queen Mary

2012年首次登場的瑪麗皇后號冰雕節大受歡迎,今年第四度重臨洛城,當然會有更多新增的特色遊戲和活動!13000呎的場地規模好大,主角當然是 靈感來自哈爾濱的繽紛冰雕節,今年的冰雕主題是英國文豪狄更斯的聖誕名著《聖誕述異》,又名《小氣財神》,友超過兩百萬磅冰雪雕塑而成,讓你看得好過癮! 而今年全新登場的北極雪球大戰相信會讓小朋友陷入瘋狂狀態吧!
另外,六千呎戶外溜冰場、六條冰滑梯、聖誕老人村、全球最大的搖搖馬,還有新增的冰雪酒吧等,當然還有每天都出現的聖誕老人和他的好幫手小矮人囉!
Our giant dome – once home to the legendary Spruce Goose – will be frozen over and transformed into a giant igloo and home to The Ice Kingdom – an awe-inspiring 13,000 sq ft walk-thru exhibit featuring larger-than-life ice creations some towering over 2.5 stories tall and made using over two million pounds of ice. But don't forget to grab a parka and gloves – temperatures drop to a numbing 9-degrees inside the Ice Kingdom.
In addition to the enchantment of The Ice Kingdom , CHILL will also feature Ice Tubing , Ice Skating*, live music, holiday carolers and so much more.
Experience the frozen magic that will bring holiday celebration, wonderment and North Pole temperatures to families across sunny Southern California.
November 20nd – January 10th
1126 Queens Highway, Long Beach
Experience CHILL and it's incredible 13,000 square foot Ice Kingdom – A Christmas Carol, Ice Tubing, CHILL village and access to The World Famous Queen Mary.
ADULT GENERAL ADMISSION
$34.99 – Nov 23-26; Dec 1-3, 8-10, 14-17 ($39.99 day of and at the door)
$39.99 – Nov 20-22, 27-29; Dec 4-6, 11-13, 21-24, 28-31; Jan 7-10 ($44.99 day of and at the door)
$44.99 – Dec 18-20, 25-27; Jan 1-3 ($49.99 day of and at the door)
Ice Skating is available as a $15 upgrade.
Upgrade to the E.L.F (Express Lane Fast) Pass, available for an additional $15 online. Limited quantity.
Ice Skating is available as a $15 upgrade.
CHILD ADMISSION (4-11)
**Children 3 and under are free.
$24.99 – Nov 23-26; Dec 1-3, 8-10, 14-17 ($29.99 day of and at the door)
$29.99 – Nov 20-22, 27-29; Dec 4-6, 11-13, 21-24, 28-31; Jan 7-10 ($34.99 day of and at the door)
$34.99 – Dec 18-20, 25-27; Jan 1-3 ($39.99 day of and at the door)
Ice Skating is available as a $15 upgrade.
web: queenmary.com/chill
---
6) Irvine Spectrum Center Holiday on Ice

Irvine Spectrum Center will be transformed into a winter wonderland when the festive outdoor Holiday Ice Rink returns to Giant Wheel Court this holiday season. The Irvine Spectrum Center Ice Rink is a favorite seasonal tradition for both Orange County residents and visitors alike, with over 25,000 skaters altogether.
Skating Season: October 2, 2015 – February 15, 2016 (**Hours are varies)
ADULTS/CHILDREN: $19, includes skate rental / $15, bring your own skates
TODDLERS: $15, includes double-blade ice skate rental (sizes 8T – 12T only)
670 Spectrum Center Dr, Irvine, CA 92618
web: http://www.shopirvinespectrumcenter.com/Skate
---
7) Disneyland Olaf's Frozen Ice Rink 迪士尼溜冰場
喜愛溜冰的小朋友又多了一個好玩的去處:迪士尼樂園為配合新作 Frozen 電影公映,特別新建了一座以電影裡面可愛小雪人 Olaf 命名的溜冰場,而且11月13日起更會推出冬日節慶裝飾和遊樂活動,地點就在迪士尼樂園入口 Downtown District 區內。
Lace up your skates for way-cool family fun—then let it go at this Frozen-themed ice rink in the center of our picturesque village. Show off your slick moves as you whirl and glide around the ice beneath a towering 30-foot-high Christmas tree—decorated from trunk to tip.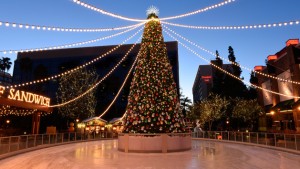 November 13, 2015 through January 3, 2016
Location:
Between AMC Downtown Disney 12 Theatres and ESPN Zone in Downtown Disney District
Hours of Operation
Sunday through Thursday
3:00 PM to 10:00 PM
Friday and Saturday
3:00 PM to 11:00 PM
Prices
Adults – $17
Children (ages 3 to 9) – $15
Active Military – $10
Annual Passholders: Adults – $15; Children (ages 3 to 9) – $13
Guests of the Hotels of the Disneyland Resort: Adults – $15; Children (ages 3 to 9) – $13
web: https://disneyland.disney.go.com/entertainment/downtown-disney-district/winter-village-ice-skating/