Junior Journalist: Siarra Huang
8sian Media TV Anchor Workshop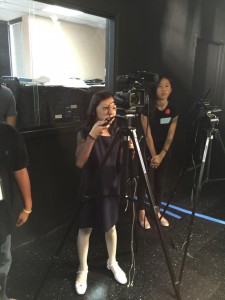 It's where you live, it's where you eat, it serves in the cities Los Angeles, San Francisco, New York and it's heading your way, Chicago. That's right it's the 8sian restaurant TV station! And guess what?! The La Ja Ja junior journalist were there, too. The La Ja Ja kids junior journalists went to see the behind the screen action. We got a hands on experience as a news host, a camera person, and even the editor. All of our hosting scripts we did will be collected and turned into a mini series and the best part is that it's going to be played at the restaurants. A green screen, fast computers, and a set of sharp watching cameras, that what you need for an 8sian broadcast.
Camera, Lights, Action! La JaJa junior journalists are on TV. The 8sian channel that is. On October 3, 2015, we had chance to make to know what it's like to make a video into broadcast worthy material. We had three groups; groups A, B, and C. We took turns reading our hosting scripts, videotaping, and editing.  I was in group A and we all read our scripts in front of a green screen first. We also used a tiny clip- on microphone while the others were either the camera crew or the audience. After our group was finished we went to edit. We all used computers to make the green screen look like the news's channels back round.  Our names were put on too. Then group apple went to our last station, videotaping.  There were two jobs, being camera crew or the floor manager. The floor manager says 3, 2, 1, and points to tell the cameras when to start taping and to tell the person when to start talking. A TV station is a perfect place to be a junior journalist.
---
Rise of Jack O Lantern
By Siarra Huang
What lights up the Halloween night sky more than one Jack o' Lantern, so how about 5,000 hand carved ones.  This Sunday October 18, three junior journalists including me, went to the event Rise of the Jack o' Lantern in Santa Anita Park, Arcadia. It's only lighting up in New York, Los Angeles, and San Diego this year. We got press passes and interviewed one of the carvers, Greg. The assistant producer, Allie, gave us a tour of the Jack o' Lantern show, but interviewing Greg is what we went for. Greg was doing a preshow of how to carve a Jack o' Lantern for people and showing his creations. He carved around 10 Jack o' Lanterns to exhibit and 2 more to use for showing people how to make a Jack o' Lantern. His steps are: 1) Grab a pumpkin. Houdin pumpkins are especially grown for carving. Greg told us to get one pumpkin that the orange skin was not too heavy, so the orange skin is not too thick to carve. 2) Paint it to make an outline, so when
you carve, it will slowly take shape. 3)  Gut it out or take out the insides. 4) Light it. 5) Carve it and let it take shape. 6) Display it. Pumpkin carving is much like sand sculpting and the tools that Greg uses are clay sculpting tools. He also uses napkins because it will get juicy. His first pumpkin he carved took about 6 hours, but practice makes perfect. Now it takes him 2-3 hours to make a Jack o' Lantern. Greg lets the pumpkin tell him what it should look like. The more detailed he gets, the smaller his tools get.
After interviewing Greg, The assistant producer Allie gave us a tour of the show. We walked one third miles where along the path, over 5000 Jack o' Lanterns are placed on both sides. All these pumpkins are carved and decorated into many kinds of themes such as the dinosaurs, safari animals, cars, Disney cartoons and the love sections, etc. There is a Jack o' Lantern with a sentence carved on it "Carolyne will you marry me?" A real love is related with it. Two people got engaged in the love section of the show and this pumpkin was carved to remember their love. A 50 feet long dragon is placed there, it's a very special and huge Jack o' Lantern display that impressed many people. It contains hundreds of carved pumpkins. Every Jack o' Lantern in the show is really amazing. Remember to go to the Rise of the Jack O' Lanterns next year. Don't miss it.
At last, being a junior journalist, we did the broadcast at the entrance of the park. Hope you can see our interview and tour on TV.