Family Art Stops at the Getty
7/2
|
Recurring Event
(See all)
An event every 1 week(s) on 星期六 that lasts 0 day(s) and 0 hour(s) with no end date
Free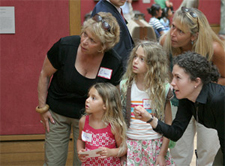 every Saturday at 2:30 pm & 3:00 pm
FREE
You want to enjoy the museum, and introduce the kids to the art. But you're not quite sure where to start and what to do. Ta da! Family Art Stops has a plan for you:
A gallery teacher will greet you in the Museum Entrance Hall and lead you to a family-friendly work of art. You might meet a Renaissance oil painting, a 45-foot-tall steel sculpture, or an opulent tapestry adorned with scampering exotic animals. You and your family will look and learn together as you participate in fun activities such as puzzles, drawing, role-playing, and even an artistic version of Mad Libs. Activities and works of art change frequently, making each visit a new experience.
The tours are free, but you need to sign up at the Information Desk beginning at 2:00 pm for the 2:30 pm program and at 2:30 pm for the 3:00 pm program on the day you'd like to participate.