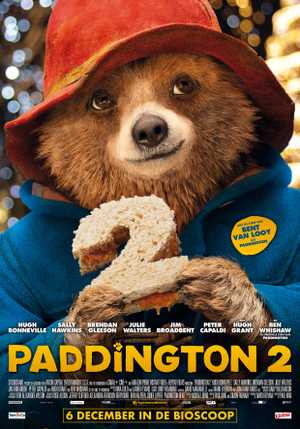 知名的英國兒童文學角色柏丁頓小熊再度登上大銀幕,這次小熊帕丁頓碰上了大麻煩,它辛辛苦苦替鄰居擦窗賺錢,打算買一本珍貴的倫敦風景立體書給嚮往倫敦的姑姑,可是書本被盜,帕丁頓竟然被懷疑是盜書賊,被關進監獄去了!彬彬有禮、待人以善的小熊如何在監獄生存?它又如何為自己洗清罪名?布朗一家大小又如何幫忙?整部電影充滿了純真的童心和溫情,讓人看得好舒心,還讓觀眾更愛上倫敦的景、物、人,絕對是今年值得推薦的優秀兒童電影!
一起來看看小記者 Jaslyne 對《帕丁頓熊 2》的觀後感~~
How many people would absolutely KILL to see a little bear in a pink outfit? Well that dream has become a reality in Paddington 2.
The story was happy, yet sad at the same time. I guess that is what some may call: bittersweet. I was so pleased about how Aunt Lucy got to come and see Paddington, but I had a wave of bittersweet tears, and I just felt pleased yet melancholy at the same exact time. When the whole neighborhood arranged for her to come, and she got to experience what she had waited almost her whole life for, I just felt so happy.   
There are also many fun jokes, that are what I've heard are, "British humor". I didn't know there was a difference between American and British humor, but I'll probably never know. The jokes will get a good, hearty laugh even out of the most serious of people
Anyway, back to the movie, the main villain, Phoenix, played by Hugh Grant, deserves a round of applause because his acting was superb, as well as his humorous lines. I especially loved the end, where Phoenix, in prison, sings a fun song with lights, pink jail outfits, and joyous guards. It was extremely funny.
Finally, I enjoyed the animation of Paddington. The bear looked like it was right   there, on the street, and with people interacting with Paddington. The actors also must have devoted a significant amount of effort to acting like Paddington was there, as a bear, with them.
All in all, this film deserves, (in my professional opinion), an 8.5 out of 10. I hope that people of all ages can come and watch this spectacular movie.
Paddington 2
In theaters: January 12, 2018
Cast: Ben Whishaw, Hugh Grant, Hugh Bonneville, Sally Hawkins
Director: Paul King
Studio: Warner Bros.
Genre: Family and Kids
Topics: Book characters, Wild animals
Character strengths: Compassion, Empathy
Run time: 103 minutes
MPAA rating: PG
MPAA explanation: some action and mild rude humor