Family-Friendly Volunteering at Thanksgiving Holiday

感恩節快要來臨了,也是學校放假的時候,想好了長假期要去哪裡玩嗎?
其實,除了出外旅行遊玩,留下來到社區做義工,親身給小孩示範如何幫助身邊不認識卻需要幫助的人,過一個更有意義的感恩節,也很不錯喔!
當然,最近南北加州的多處山火造成的人命和財產損失,以及對大自然環境的破壞,也是讓我們都感到非常關切,想對被山火摧毀家園的家庭提供協助,以下的社區和慈善機構名單,讓你選擇最適合的捐助對象,將愛心分享出去。

---
Turkey Trot Los Angeles 5K & 10K 
• Have some fun before the feast on Thanksgiving morning, Nov. 26, at the annual Turkey Trot in downtown Los Angeles!
• Runners ten and up can compete in scenic 5K or 10K races in festive Turkey Day attire, which take runners along Spring St. by the historic Disney Hall and MOCA.
• You can bring the little ones for the Widdle Wobble (ages 2-12), as part of a family friendly post event festival in front of City Hall, also featuring a 20 ft. tall turkey!
• Turkey Trot LA benefits Midnight Mission, and funds raised will help remove obstacles to self-sufficiency and provide the accountability and structure that people who are experiencing homelessness need to rejoin their communities.
• The race is produced by Generic Events, which brings the community together beyond the finish line.
Date: November 21
7am – Registration
8am – 5K Start
8:30am – 10K Start
10am – Widdle Wobble Start
Website: http://www.turkeytrot.la/
Location: Los Angeles City Hall, 200 N Spring St, Los Angeles
---
親子義工感恩節 Westside Thanksgiving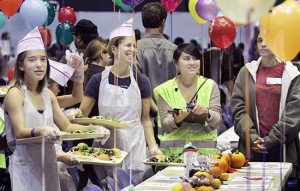 感恩節的意義絕不止是吃喝遊玩和購物,其實小朋友也應該學會捐獻,不一定是金錢,可能是花一點點時間去做義工,為有社會上有需要的老人家、無家可歸或低收入人士去盡一分力!
Dates:
Wednesday, Nov. 20 cooking and set up, 9am-6pm
Thanksgiving day, Thursday, Nov. 21, starting at 6am
** All children under 18 MUST be accompanied by a responsible adult at all times.
Website: www.westsidethanksgiving.org
Info:  (310) 394-3153 ** please be sure to call ahead to register first
Location: West Los Angeles Veterans Administration Campus, West LA Civic Center, 1645 Corinth Ave., 90025, 4 blocks west of 405, 1 block south of Santa Monica Blvd.
---
Food On Foot
任何一個星期天,義工們都在致力幫助向位於 Hollywood 區的窮人和無家可歸者,分發食物和衣物。 歡迎 6 歲及以上的兒童參加成為義工!只要走出一步,就能去幫助 600多個無家可歸或低收入人士。
Food on Foot distributes food (chicken, fruit and vegetables, granola bars, milk, etc.) and gently used clothing, shoes and blankets every week in Hollywood.  They are dedicated to providing the poor and homeless of Los Angeles with nutritious meals, clothing, and assistance in the transition to employment and life off the streets. By volunteering on Thanksgiving, you will help 600 homeless and poor people receive new sleeping bags, a bag of bus tokens, and a healthy, nutritious meal. You can expect to work for approximately 3 hours and there is a cost to volunteering at Food on Foot for this event, a $250 per person donation, including children.  It may be a little expensive, but it will be worth it in so many ways.  If you financially just can't do $100 per person for Thanksgiving they also have volunteer opportunities every Sunday throughout the year for a donation of your time and $20 per person.
Where: The serving will take place on Thanksgiving Day at 1625 N. Schrader Blvd. in Hollywood.
When: Thanksgiving Day, Nov. 21, 2:00pm to 5:00pm,
Website: www.foodonfoot.org
Special Thanksgiving Sponsorship Program: (online registration)
https://www.foodonfoot.org/thanksgiving-sponsorship/
---
Dinner in the Park 2018: UNION STATION HOMELESS SERVICES
For four decades Union Station Homeless Services has hosted Holiday Dinners-in-the-Park on Thanksgiving and Christmas Day. This incredible community event provides thousands of holiday meals and hope for all who attend, including homeless men, women, children, seniors, low-income families, and those with no place to go during the holidays. The impact of this event in the community is huge!  You can choose to donate a pie by shopping online from The Village Cookie Shoppe, or go USHS's website and check out the grocery wish list for items needed to make this event happen.  You're invited to donate your time on Thanksgiving Day too!  Volunteer registration is needed in advance and a $10 donation from each volunteer is suggested.
Date: November 21, 10:00am – 2:00pm
Location: Central Park, Pasadena
Phone: 626-240-0720
---
ONE INCREDIBLE FAMILY

One Incredible Family serves the elderly; homeless; children whose lives have been impacted adversely by HIV/AIDS; and children who are abused, neglected, abandoned or orphaned; runaways; learning-disabled people; and at-risk or disadvantaged people. This organization comes together to prepare meals and deliver them to different shelters in West LA. On November 29th (as well as other times throughout the year!), you can donate your time throughout the day, for a minimum of 3 hours.  There are many jobs that need to be filled, including preparing meals in the morning hours, assembling, delivering and serving at shelters and, of course, clean up is always needed at the end of the day!  You can also choose to cook a turkey at home and deliver it to them or donate pies, rolls, juice boxes and water bottles. Please go to their website to register in advance. The suggested fee for those who participate and volunteer is $10 (minimum).  The minimum age for children to volunteer is 6 years.
25th Annual Homeless Feeding & Banner Creation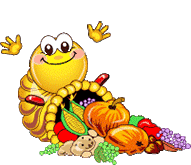 Help open cans, stir, cut, chop, mash, slice, bake, ladle, draw, color, be artistic, package, deliver, serve and INSPIRE!
Saturday, November 23
6:30 am – 8:00 pm
Westchester Masonic Center
7726 West Manchester Avenue, Playa Del Rey
West of Lincoln Blvd., Just east of Saran Avenue
Enter via parking lot behind center
PREPARATION OF MEALS & BANNER CREATION: 6:30 AM – 1:00 PM
(Continental Breakfast Provided)
ASSEMBLY & PACKING: 1:00 PM – 4:00 PM
DELIVER, SERVE & CLEAN-UP: 4:00 PM – 8:00pm
The following items are needed:
TURKEYS Cooked at your Home! (Well-cooked, 18-25 lbs.) delivered to us (minus drippings please!)
Pies, Rolls, Juice Boxes & Waters
Event Participation Fee : Minimum Donation = $ 5
Website: www.oneincrediblefamily.org
Online Registration: https://www.laworks.com/opportunity/a0C1N00000GFmsLUAT
---
Airbnb: The company has expanded its Open Houses program to help displaced residents and relief workers of the Woolsey and Hill fires to Nov. 29. Program is recruiting hosts who are able to offer temporary free housing. Hosts do not have to be an existing Airbnb host to help. www.airbnb.com/woolseyfire
American Red Cross money donations: www.redcross.org/about-us/our-work/disaster-relief/wildfire-relief.html
American Well: Free video visits, until Nov. 26, with board-certified physicians and therapists for those impacted by the Woolsey wildfire. Health questions include: sinus and respiratory infections, asthma, rashes and therapy for anxiety, panic attacks and depression and bridging prescription refills. Download American Well's Amwell app from your mobile device app store for 24-hour, seven-days a week help. amwell.com
Bank of America's California Wildfire Client Assistance: 855-729-1764.
Chabad Center: Accepting donations of new/great condition clothing for adults and children, children's play items, phone chargers, gift cards, hotel/motel vouchers and toiletries. Also, a distribution center for those in need. Hours: 9 a.m.-6 p.m. 30345 Canwood St., Agoura Hills. 818-991-0991. Email: rabbi@chabadconejo.com. www.chabadconejo.com; bit.ly/2PuMyXt
Disaster Distress Helpline: The 24-hour, seven-days a week line, sponsored by the Substance Abuse and Mental Health Services Administration, offers confidential, multilingual counseling for those who are experiencing psychological distress as a result of natural or man-made disasters and incidents of mass violence. 800-985-5990. Also, by Text: TalkWithUs to 66746. disasterdistress.samhsa.gov
Fire Family Foundation: Financial aid to firefighters and their families due to disasters, illness and death. Donations: www.firefamilyfoundation.org
Humane Society of Ventura County: Donations needed to help the society's efforts providing shelter for displaced cats, dogs, horses and other animals. The shelter is located at 402 Bryant St., Ojai. 805-646-6505. hsvc.org
JQ International: Helpline for support and resources for LGBTQ+ Jews, their families and allies. 855-574-4577. Email: helpline@jqinternational.org
Los Angeles County Animal Care Foundation: Accepting donations through the Noah's Legacy Fund. 562-728-4610. lacountyanimals.org/way-to-give/disaster-relief
Los Angeles County Animal Care and Control: Request for donations of alfalfa and hay to temporary animal shelters at Hansen Dam (11127 Orcas Ave., Lake View Terrace) and Pierce College (7100 El Rancho Drive, Woodland Hills). lacounty.gov/woolseyfire
Los Angeles County Fire Department Foundation: Accepting donations. www.lacfdf.org
Los Angeles County's information on the Woolsey Fire: Find information on evacuations, animal and human shelters, road closures and tips on what to do before,during and after the fire. www.lacounty.gov/woolseyfire
Los Angeles Fire Department Foundation: Accepting monetary donations, especially for hydration backpacks (check their Twitter account for updates). Donate money at: supportlafd.orgtwitter.com/lafdfoundation
Los Angeles Rams: Select Rams players auction off their game-worn jerseys, against the Seattle Seahawks, with proceeds benefiting the American Red Cross Southern California Wildfire Relief, and also the Conejo Valley Victims Fund for victims of the Borderline victims in Thousand Oaks (check website, under jerseys and Los Angeles Rams, for days left to bid). The Los Angeles Rams train at California Lutheran University in Thousand Oaks. bit.ly/2FhWdMj
Lyft: Partnering with United Way and 2-1-1 offering Relief Rides in Los Angeles and Ventura counties.
Pet Food Express: Free self-service pet washes through Nov. 18 (may be extended). Check website for locations. www.petfoodexpress.com
RedRover: Provides emergency animal shelters to animals displaced by wildfires. Donations needed for the emergency shelters, and also wildfire evacuees can find pet evacuation shelters at redrover.org/news/cafires
Roman Catholic Archdiocese of Los Angeles Wildfire Fund: Questions about donating. Donations to www.archla.org/fires
Salvation Army: The organization needs donations as they work with government agencies to provide food, personal necessities, and shelter to victims and first responders. bit.ly/2ROyyEy
State Farm: Contacting your agent to file a claim when it is safe to do so: 1-800-732-5246 ( 1-800-SF-CLAIM); statefarm.com; or the mobile app.
T-Mobile: For questions about your account: www.my.t-mobile.com; www.t-mobile.com/news/cal-wildfire
Uber: Promo code for discounted trips to and/or from evacuation shelters: VENSAFE1018 (expires on Nov. 17). Download the Uber app; create an account with your email address, phone number and credit/debit card; enter the promo code in the Payment section under Promotions. Shelters include: Taft Charter High School (5461 Winnetka Ave., Woodland Hills) and Palisades High School (15777 Bowdoin St., Pacific Palisades and Rancho Santa Susana Recreation Center (5005 Los Angeles Ave., Unit C., Simi Valley.
U.S. Postal Service: Malibu postal customers may pick up mail at Los Angeles Main Post Office (7101 S. Central Ave., Los Angeles; hours: 10 a.m.-6 p.m. Monday-Friday; 10 a.m.-3 p.m. Saturday). Topanga postal customers may pick up mail at Pacific Palisades Post Office (15243 La Cruz Drive; hours: 10 a.m.-5 p.m. Monday-Friday; 10 a.m.-3 p.m. Saturday). Residents of Malibu and Topanga may inquire about resumption of mail delivery, 323-586-1460.
United Way: Accepting monetary donations for fire victims in Los Angeles and Ventura counties. unitedwayla.org
Ventura County Community Foundation: The foundation has set up the "Hill Fire/Woolsey Fire Sudden and Urgent Needs Effort Fund" to help those affected by the fires. The fund will help the immediate needs of community nonprofit organizations. For those in need of this assistance call Stephanie Bertsch-Merbach, 805-330-6667. Emergency information: www.vcemergency.com To donate: www.vccf.org