住在氣候溫和南加真幸福,可是孩子們都很想到真雪地裡玩?每年12 月底,位於 Pasadena 的 Kidspace 童樂館都會從山上運來 60 噸皚皚白雪,讓小朋友盡情玩雪~~堆雪人、做雪天使、滾雪球、打雪仗,想怎麼玩就怎麼玩!
現場還有許多關於雪的自然科學知識,和冬日小手工和曲奇餅裝飾活動,最適合興趣多多的小朋友。玩完以後還可以到旁邊的玫瑰花車停泊地點預覽一下明年的巡遊花車陣容,拍照打卡,真是太開心了!
---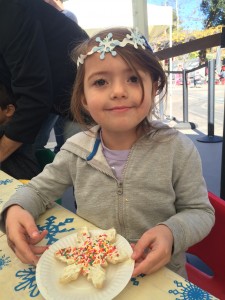 Play in REAL snow, build your own snowman friend, perfect your snowball making skills, add your mark to our collaborative winter art installation, and make snow angels. Continue to celebrate the season with live performances each day, winter-themed art, and the science of snow.
Cookie decorating will also be available for an additional $3 fee, other activities are included with museum admission.
Break out your mittens, boots, and snow hat for a day of winter wonderland fun!
Public Event Hours
9:30am – 5:00pm, Wednesday to Friday, December 26-30
10:00am – 5:00pm, Saturday & Sunday, December 30
When visiting Kidspace during December 26 through December 31, please prepare for heavy traffic throughout the Rose Bowl and follow directions of the parking attendants to the first available general parking lot. For your safety, cross streets at designated crossing areas only.
每日精彩表演 Performance Schedule –
Daily at 1:00pm in the Stone Hollow Amphitheater
Performer Schedule
Wednesday, December 26 – Children's Choir
Keep the holiday spirit going with traditional carols.
Thursday, December 27 – Shakti Circus
Always a crowd favorite, Shakti Circus is an interactive show with hula hoops and stilt walking!
Friday, December 28 – Snow Princess
Sing-along with some of our favorite winter tunes, then stay for a meet and greet after the songs.
Saturday, December 29 – Rene's Marionettes
Enjoy a classic marionette performance with Joe Selph and his beloved puppet characters.
Sunday, December 30 – Wildlife Learning Center
It's a live animal show where you can meet a fox, rabbit, owl, and other winter animals.