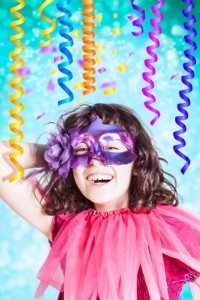 小朋友也能玩除夕倒數跨年?除夕好玩親子活動一覽!
聖誕雖然過了,但是節日歡樂氣氛停不了,轉眼又快到2017年了!講到新年,大家最期待的當然是除夕夜的倒數跨年活動,不過因為時近午夜,大部分小朋友(也就包括家長)都很難參與 . . .
其實在南加,好幾個兒童活動中心和城市都會在白天舉行適合一家大小參加的新年倒數活動,從中午到黃昏傍晚,讓小朋友也能玩除夕倒數跨年,一起迎接2017年度到來!
以下是丫丫園地為你蒐羅的除夕好玩親子活動,大家好好研究一下吧 . . .
---
Legoland Kids' New Year's Eve Celebration
樂高樂園兒童新年慶典
Location: Legoland California, 1 Legoland Drive, Carlsbad
Time: 9 a.m. to 7 p.m. ((**Fireworks at 6pm))

FEATURING SHOWS 精彩節目
The grand finale of Holidays at LEGOLAND® California Resort is the annual Kids' New Year's Eve party! This lively party begins with special musical performances from kid favorite groups Twinkle Time and Lucky Diaz and the Family Jam Band on Fun Town Stage and in Heartlake City. Then, for the first time, the party moves to San Francisco in Miniland U.S.A. where like the famous Times Square party, guests gather for the countdown followed by a huge LEGO® brick dropping 22 feet into 2017 and spectacular fireworks at 6 p.m. to end the night just in time for curfew.
---
Discovery Cube Noon Year's Eve
少年版跨年慶祝活動
Location: Discovery Science Center 2500 N. Main St. Santa Ana, CA 92705
Time: 10am – 5pm
FEATURING SHOWS 精彩節目
This year's party is superhero themed, so be sure to come dressed in your favorite superhero costumes! Activities include:
– Superhero Dance Party
– Countdowns & Balloon Drops (12pm & 2pm)
– Ginger Ale Toasts
– Green Screen Photo Booth Pictures
– Hats & Horns to help celebrate the new year!
---
Kidspace Noon Year's Eve Balloon Drop
兒童遊樂館迎新年慶祝派對
Location: Kidspace Children's Museum, North Arroyo Boulevard, Pasadena, CA, United States
Time: 10:00 am to 3:00 pm
FEATURING SHOWS 精彩節目
A Kidspace tradition! Count down to the "noon" year at 12:00 p.m. as we celebrate with streamers, sparkling cider, live music and a balloon drop. A fun way to ring in the "noon" year with young children.
---
Pretend City Annual Noon-Year's Confetti Countdown
兒童迎新年跨年慶祝派對
Location: Pretend City, 29 Hubble Irvine, CA 92618
Time: 10am – 5pm
FEATURING SHOWS 精彩節目
There will be a confetti countdown 4 different times to celebrate the new year in Bangladesh, Dubai, Athens, and London, as it turns to midnight in these different cities! We will also have New Year's activities and art for our little ones to enjoy: Smart Art, Noise Makers, Party Hats, Clock Making, Math Matters
10:00 a.m. (Dhaka, Bangladesh)
12:00 p.m. (Dubai, United Arab Emirates)
2:00 p.m. (Athens, Greece)
4:00 p.m. (London, England)
---
LA Zoo Family New Year's Eve
動物園親子除夕慶典
Location: Los Angeles Zoo, 5333 Zoo Drive, Los Angeles, CA
Time: 6pm
FEATURING SHOWS 精彩節目
Celebrate the new year in style with express entry to L.A. Zoo Lights, a dinner buffet that includes soft drinks and dessert, a carousel ride, games, DJ dance party, and live broadcast of the Times Square ball drop.
---
Long Beach New Year's Eve Celebration
長灘市跨年慶典
【丫丫評語】
Location: Waterfront, Pine Ave at Shoreline Dr. between Gladstone's and PF Chang's.
Time: 6:00 PM – 10:00 PM

FEATURING SHOWS 精彩節目
The City of Long Beach is hosting a free, family-friendly event down in Rainbow Harbor from 6PM to 10PM with incredible free live music and entertainment. And come 9PM, when the East Coast will be ringing in 2017, the sky will be lit up with a 10-minute fireworks spectacular from the Harbor's lighthouse peninsula.This event includes a trackless train and free face painting!
---
"NYELA" Celebration at Grand Park 
格蘭公園除夕街頭大派對
【丫丫評語】洛杉磯市最大型的跨年活動,由市府舉辦,投入極多人力物力,一家大小建議提早進場,但跨年倒數還是留給年輕人吧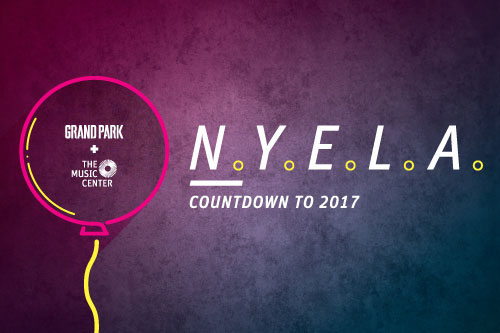 Location: Grand Park, 200 N. Grand Ave., Los Angeles
Time: 8pm – 1am
FEATURING SHOWS 精彩節目
PROJECTIONS  & 3-D DIGITAL VIDEO MAPPING on City Hall.
3 MUSIC STAGES
INFLATABLE ART
PHOTO BOOTH
FOOD
---
My Dream Shining into 2017 New Year Countdown
"超夢幻時代"夜市廣場跨年活動
【丫丫評語】華人社區最大型的跨年活動,舉行時間直至午夜,但假如你家住得夠近,絕對是最佳選擇!

Location: Yes Plaza, 1745 Fullerton Road, Rowland Heights, CA, United States
Time: 7pm – midnight
FEATURING SHOWS 精彩節目
> Free Admission 免費入場
> Free Poncho/Hand Warmer 免費漂漂風衣及愛心暖暖包
> Let's do Karaoke
> Disney "Mulan" Procession
> Winter Wonderland Fairytale
> Royal Sing Along
> Music and K-Pop Dance
> Free chance of big winnings 免費機會贏大獎
> FREE SHUTTLE 免費接駁車  6:30PM – 12:30AM