LEGOLAND 樂高樂園 NINJAGO 園區5月5日全新開放

今年的暑假真是開心,大家要做好開車到Carlbad 的準備喔,因為 LEGOLAND 又有全新園區要開幕囉!在上星期的大型開幕典禮,更有真正的忍者出沒呢!小朋友們,練好你的飛標忍者術了嗎?練好了的話就要跟爸媽和朋友們去一下樂高樂園比武一下,看看誰才是最強的忍者 !
---
With drums beating, smoke misting, fire blazing, ninjas soaring and ceremonious confetti blasting through the air, LEGO® NINJAGO® World , the newest land at LEGOLAND® California Resort was opened up for the media to explore today. LEGOLAND® California Resort welcomed hundreds of media to be the first to launch lightning, fireballs, ice and shock waves on NINJAGO® The Ride during the press preview of LEGO®NINJAGO® World before the new land officially opens to the public on May 5, 2016.
During an opening ceremony, a Sensei introduced the four main ninja the area is created around: Kai, Jay, Cole and Zane, and they each entered the Asian themed courtyard representing each of their elements: fire, lightning, earth and ice.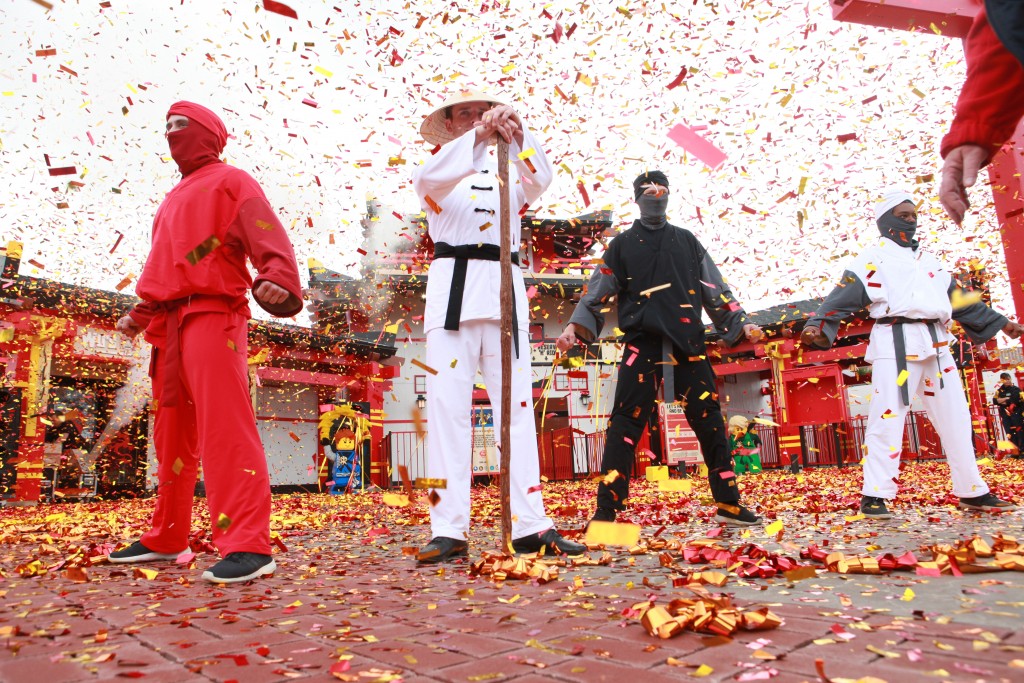 NINJAGO World features five attractions all designed to test guests balance, agility, speed and creativity:  Zane's Temple Build, Kai's Spinners, Cole's Rock Climb, Jay's Lightning Drill and NINJAGO The Ride. At Zane's Temple Build, guests can free build with LEGO bricks around an ornate LEGO Monastery created out of 859,554 LEGO bricks that stands nine-feet high in the center of the courtyard. Next to the monastery stands a 500 pound LEGO model of ninjas Nya and Zane created out of 73,600 LEGO bricks that took four Model Builders 550 hours to build. The model depicts Nya (ninja of water) hurling water at Zane (ninja of ice) who turns the water to ice in midair as part of their training. At Kai's Spinners, guests can test their balance as they stand on a spinning platform and twirl. At Cole's Rock Climb, kids can test their agility as they scale a rock wall built alongside the main temple. And guests can test their speed by pushing the lit up buttons in a timed speed cage at Jay's Lightning Drill. All of this training prepares them for the ultimate ninja experience…NINJAGO The Ride!
For the first time in any theme park in North America, NINJAGO The Ride enables guests to demonstrate ninja skills by simply using their hands instead of a hand-held device. The Maestro hand gesture technology is manufactured by Triotech, the world leader in media based interactive attractions, and enables guests to throw fire balls, shock waves, ice and lightning to defeat villains. Riders collect points for their training and battle efforts throughout the ride and scores are displayed when their quest is completed. Effects such as heat, smoke and wind are incorporated throughout the adventure, giving guests the ultimate interactive 4D experience. "The 4D elements are installed at key moments around the ride to accentuate the scenes and enhance the sense of immersion," said LEGOLAND California Resort's Project Manager Chris Brzezicki.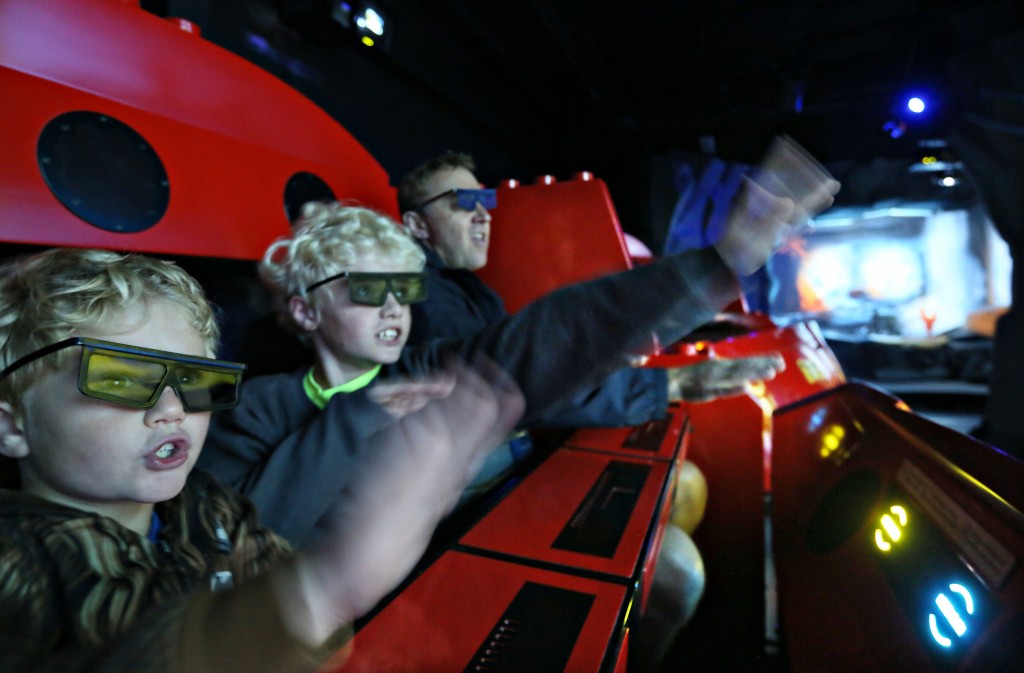 Up to four guests sit in each ride vehicle and are guided through 13 different scenes beginning with a quick introduction by Master Wu who welcomes guests to his training dojo and gives instructions on how to practice and prepare to battle together, using the elements and only using their hands to launch them at the enemies. The enemies encountered in the next scenes include snake tribes, skeletons, ghosts, Lord Garmaddon (king of the Skulkuns) and ultimately, The Great Devourer…a giant serpent who can only be defeated by all of the ninja riders working together and using all the elements.
"We've really taken LEGOLAND California's principle of 'hands on, minds on' to a whole new level," said General Manager of LEGOLAND California Resort Peter Ronchetti. "We're firing the imagination to another degree taking the idea of using gestures to propel fire, ice, etc…it has never been done before and it's bridging the gap between the old way of using physical props, bricks, and the like, with the new world of virtual technology."
Other new additions to NINJAGO World include a new retail outlet, Wu's Warehouse and a dining option, Ninja Kitchen, where LEGOLAND chefs have put a special twist on Asian street food with Banh Mi sandwiches on fresh baked baguettes or steamed Bao Buns with crispy pork belly, lemongrass chicken or baked sweet chili tofu.
And of course, a new land means more LEGO models; 22 new LEGO models can be found in NINJAGO World including two five-foot guardian dragons protecting the entrance built from 77,280 LEGO bricks, models of Master Wu, ninjas Jay, Lloyd and Kai plus swords of the four elements.
NINJAGO World opens May 5, 2016 and is included in admission to LEGOLAND California Resort. For more information, log onto www.LEGOLAND.com or call (760) 918-LEGO (5346).