【小記者報導】迪士尼冰上世界 Mickey's Search Party 精彩開演
等了好幾個月,迪士尼冰上世界全新溜冰秀 Mickey's Search Party 《米奇的尋人派對》終於來到 LA 和小朋友見面了。今年的表演除了大熱的 Moana、美女與野獸、小美人魚、魔雪奇緣、Toy Story、阿拉丁等精采卡通人物外,還有全新上場的 Coco 電影人物,是許多小朋友的至愛呢!
兩位丫丫小記者 Phoebe 和 Langie 興奮參加了 Disney on Ice 位於 Staples Center 的首場演出,想知道這場既感人又搞笑的溜冰秀有多精彩?一起來看看她們的感受和現場報導吧!~~
這次的全新演出將給觀眾帶來與過往迪士尼冰上世界不同的感受。特殊旋轉式佈景舞台設計營造出四個精彩場景、令人驚心動魄的空中表演、可愛詼諧的表演元素、炫麗奪目的視覺燈光效果、節奏快速並隊形複雜多變的冰上表演和動人心弦的迪士尼音樂。從燈光、佈景、音樂、編舞、到服裝,迪士尼冰上世界《米奇的尋人派對》將帶來神奇而難忘的視覺饗宴,是每年不容錯過的精彩演出 !
Have you ever wondered what it was like to see Disney characters on ice? Well today, me and my co-interviewer, Langie Tsang, went to the Los Angeles Staple Center to see DISNEY ON ICE. This year's theme is Mickey's Search Party. Disney on ice, wants you to take out from this performance to create an unforgettable memories and to become part of the story when Disney on ice presents Mickey's Search party. This brand new immersive ice skating experience brings the magic closer to the fans and for them to engage to the show. These performers achletism mixes with acrobatic and aerial stunts to bring in ice skating skills to new heights. These adventures is told through multi leveled performances  that immerse fans into the fantastic worlds of Disney. The Disney movies that are in this show is the Disney pixar's Coco, Frozen, Moana, Beauty and the Beast, Aladdin, Toy Story, and The Little Mermaid. This all new show will be skating into the Southland playing L.A, Anaheim, Long Beach, and Ontario, from December 12th-January 5th.
As I just walked into the Staple Centers, I realised that there would be lots of people going to this show. It looked like there were about thousands of people. As I walked in the stadium, I saw Disney characters skating, and the first one I saw was Coco. I was really amazed about how good they were because if I tried to skate like that, I would just fall. I was so happy and excited to be there because it was so fun to watch the story and how they ice skate. My favorite part is when in the Coco part, there were people going up the bar, and they were swinging all over the place, even though it looked really hesitating to look at but it was really amazing. I also liked when Elsa entranced the door with the main song.
by Langie Tsang (age 12)
Today, we went to Disney on Ice Mickey's Search party at the Staples Center. Here, you can watch many Disney characters perform on the ice. This event will happen from December 12 to January 5. Some of the movies that were in the show were Coco, Frozen, Toy Story, The Little Mermaid.
    One of the things I liked about the show was when they bring back the beginning song from Frozen 1," Frozen Heart", about the ice workers that take the ice cubes out of the ground. In my opinion, Disney on Ice made it even better by doing incredible flips on slide-like blocks. For a finishing touch, they added a big flip with Kristoff flipping off all the ice cube props stacked very high. I think that was one of my favorite moments of the show.
    Another one of my favorite parts was when Ariel and Prince Eric did some acrobatic moves in the air with a rope. Their moves definitely would need lots of practicing and the two would need to trust each other. Ariel did a
scorpion on the rope for more than five seconds! They both did unimaginable moves in the air and twists. One of the most wonderful things you have to remember about this show is that all of the dancers are doing their dancing on ice which probably makes it harder to dance and balance. Honestly, I think the show this year was better than last year's show. Don't forget to check out this amazing event!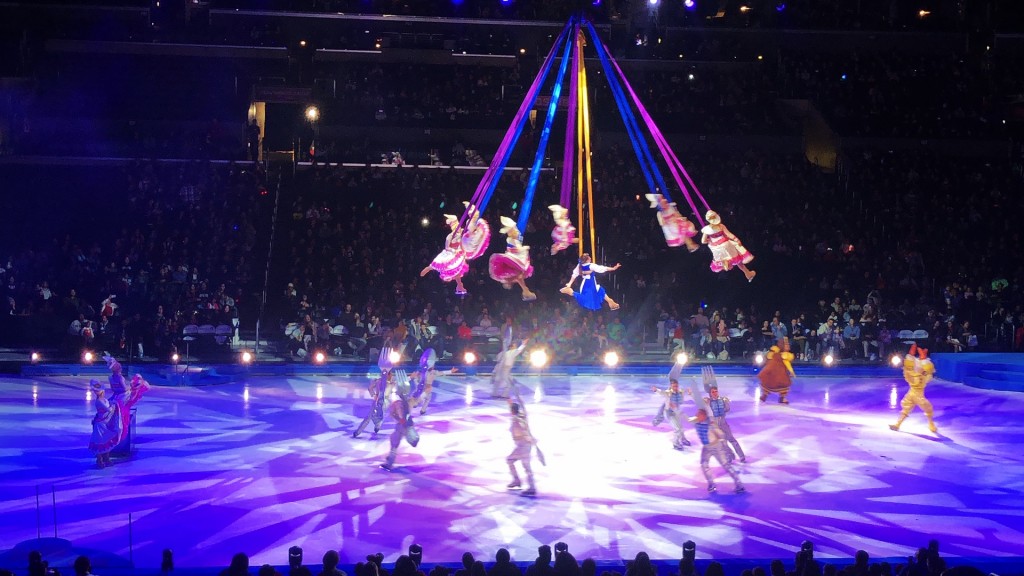 \
迪士尼冰上世界溜冰秀 DISNEY ON ICE Mickey's Search Party 南加巡演
L O S   A N G E L E S
WHEN: Thursday, December 12 – Sunday, December 15
Thursday, December 12 7:30 PM
Friday, December 13 7:30 PM
Saturday, December 14 11:00 AM, 3:00 PM & 7:00 PM
Sunday, December 15 11:00 AM, 3:00 PM & 7:00 PM
WHERE: STAPLES Center – 1111 South Figueroa Street, Los Angeles, CA 90015
A N A H E I M
WHEN: Thursday, December 19 – Monday, December 23
Thursday, December 19 7:00 PM
Friday, December 20 3:00 PM & 7:00 PM
Saturday, December 21 11:00 AM, 3:00 PM & 7:00 PM
Sunday, December 22 11:00 AM, 3:00 PM & 7:00 PM
Monday, December 23 11:00 AM & 7:00 PM
WHERE: Honda Center – 2695 E. Katella Avenue, Anaheim, CA 92806
L O N G B E A C H
WHEN: Thursday, December 26 – Monday, December 30
Thursday, December 26 7:00 PM
Friday, December 27 3:00 PM & 7:00 PM
Saturday, December 28 11:00 AM, 3:00 PM & 7:00 PM
Sunday, December 29 11:00 AM, 3:00 PM & 7:00 PM
Monday, December 30 7:00 PM
WHERE: Long Beach Arena, 300 E Ocean Blvd, Long Beach, CA 90802
O N T A R I O
WHEN: Wednesday, January 1 – Sunday, January 5 
Wednesday, January 1 7:00 PM
Thursday, January 2 7:00 PM
Friday, January 3 7:00 PM
Saturday, January 4 11:00 AM, 3:00 PM & 7:00 PM
Sunday, January 5 11:00 AM, 3:00 PM & 7:00 PM
WHERE: Citizens Business Bank Arena – 4000 Ontario Center Parkway, Ontario, CA 91764