千呼萬喚,中國彩燈節終於在上星期隆重開幕了,一千多個手工造型彩燈點亮了 Pomona 的夜晚,開幕週末人潮熱鬧得很,兩位丫丫小記者 Carissa 和 Ryan 這晚興奮來到了彩燈節的開幕禮,與活動公關 Jennifer Becker 進行了專訪,又親身體驗了彩燈節裡各種精彩活動和展示,玩得好開心呢!一起來看看當晚小記者的採訪報導吧!~
這裡的所有彩燈都出自中國自貢的彩燈大師之手。自古以來中國自貢的燈會都非常有名,如今,自貢的彩燈藝人將傳統彩燈技藝與現代工藝結合,所有彩燈都由鋼架框製成,再以人造絲包成「皮膚」,裡面由 LED 燈照亮,再以裝滿各種彩色液體的小瓶子組成類似馬賽克一般的藝術圖形。讓人耳目一新,好像置身夢境一般。
活動現場還有精彩的功夫表演、皮影戲、傳統手工藝如拉糖、剪紙、捏麵人、刺繡、中式美食,還有由三千多個廚具推砌而成的四座現代陶瓷大象,造型非常吸睛,絕對是秋日夜晚打卡拍照的好去處!
小記者遊記 ~~ by Carissa Yu, age 11
    Have you ever thought about seeing dinosaurs, killer whales, giraffes, and camels close up and life-sized?  Well, I just did! Ryan and I went to the first ever Chinese Lantern Festival at Fairplex Pomona as Junior Journalists for La JaJa Kids.  We were able to see over 1,000 different handmade paper lantern animals that glowed in the dark. It was a blast!
Chinese paper lantern making is an important ancient form of art started over 2000 years ago. The Chinese stretched paper over a frame-shaped into something, like an animal, then dyed with color.  For the final touch, a candle or is put inside (now we use LED lights). Pretty cool, right? Imagine a place full of those lanterns.
When we first arrived, we were greeted by a large intricate arch with a proud looking tiger on top and the words "The Wild". They were all paper lanterns. Right after that, we passed between two rows of paper lanterns dolphins and fish flying in the tree above. It was the first few minutes and I was already awestruck, so I couldn't wait for the upcoming surprises. To the left of the dolphins and flying fish, a herd of enormous elephants waived their trunks to us as we passed by.
We strolled past butterflies, ladybugs, and all other sorts of insects until we saw the display and my jaws dropped to my knees. It was so magnificent and beautiful.  Different colored bright coral encircled jellyfish that almost reached the trees. To add to the undersea vibes, the paper lanterns were put in the middle of a lake! I saw a colony of penguins and squealed in delight, penguins are my favorite animals!  I ran further hoping to see more of these amazing lanterns when I went face to face with a cheetah! There were actually a lot of them, along with zebras, giraffes, hippos, rhinos, and more! It was like a safari with all the animals in life-like postures.
 We headed back just in time for the Kung Fu performance.  I noticed that the stage backdrop was also a huge paper lantern!  The Kung Fu performers kicked, flipped and sliced with their weapons across the stage.  Behind us was a jumper for the younger ones and giant inflatable balls which you could go inside of.
At the other side of the festival, a large crowd watched a man as he twisted and sculpted dough into dragons, birds, and even Hello Kitty and Mickey Mouse onto a stick.  Besides these unique figurines, Chinese art, double-sided embroidery fans, and other handmade crafts attracted attention to the booth. Ahead of us was another large group of people gathering to watch a Chinese shadow puppet master, making the crane come alive behind the silk screen.  
We were almost to the end when we went back in time.  We didn't, but it seemed like it anyways. Paper lantern dinosaurs roamed the place and one T-rex even bent low and opened his mouth for you to take a selfie!  That's not the end, there are giant dinosaurs offering young kids a ride and the parents a picture opportunity. But sadly, this was the end of our adventure. Right before we left, we saw a building disguised as a Chinese food takeout container where you can purchase food for dinner.  We said goodbye to the white Indian elephants at the exit and left satisfied with this wonderful experience.
You too can experience the magical Chinese lanterns at Fairplex Pomona from now to January 6, Thursday through Sunday from 5:30 to 10 pm.  Don't miss out!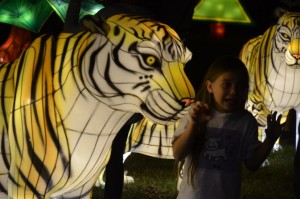 Chinese Lantern Festival
Evening skies will be ablaze with color and light at the Glade, Picnic Hill and Lagoon of  Fairplex, California. Experience an incredible, authentic and amazing larger than life handcrafted lanterns, live entertainment and food. Enjoy elements of culture such as Chinese folk artists demonstrating their ancient crafts, all with the ambiance to reconnect with nature and to create lifelong memories with friends and family. A fully immersive multicultural experience that you will love to enjoy and make new memories. If you're looking for a unique place to snap a few stunning Instagram worthy photos, then this is the place.
Over 1000 Handcrafted Lanterns, covering of Glades, Picnic Hill, and Lagoon
Live Kung Fu / Chinese Martial Arts Performances
Free Kung Fu coaching on stage with the performers!
Dinosaur Rides for children and play area
Variety of Asian Cuisines
Dates: November 15th – January 6, 2019 (Open Thursday Through Sundays, and Holidays) \
Time: 5:30 p.m – 10:00 p.m. (Last admission at 9:20 p.m.)
Location: Pomona Fairplex, 1101 W. McKinley Ave., Pomona, CA 91768
Tickets: $13-$21
Website/Ticketing: www.ChineseLanternFestival.com
---
This Year's Theme – "The Wild" 
Let the wonders of illuminated animals guide you through the Lantern Festival. As you visit each location, the animals change and transport guests to experience from throughout the world.
Witness cheetahs, jumping koi fish, majestic cranes and travel back in time with our dinosaurs. Travel the globe by walking through America, Oceania, Asia, Antarctica, and Africa.
From modest origins of paper and silk, the Chinese lantern has evolved into wondrous shapes and sizes — turquoise and aqua-marine giant jellyfish, brilliant straw-colored and black-spotted cheetahs, glowing orange and green praying mantis, and ladybugs the size of small children.
Take home your uniquely hand-crafted keepsake from the mainland Chinese artisan area – wonderful holiday presents!