瓦格斯小丑馬戲團巡演 The Greatest of Ease
8/13/2019

-

8/25/2019

Free - $72
Event Navigation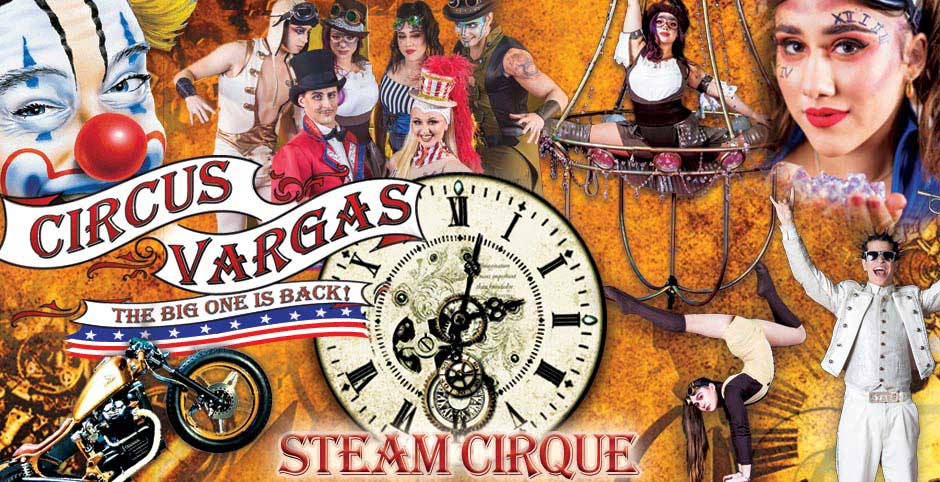 Circus Vargas 瓦格斯小丑馬戲團 2019 年最新作品 " The Greatest of Ease " 已經在進行巡演囉!結合科技及雜耍,劇中包含:雜技演員,冒險家,飛行藝術家,雜耍演員,柔術演員,喜劇演員,小丑,摩托車等等,帶給觀眾一場全新的冒險世界,不要錯過這一場趣味、魔幻的冒險之旅 ~
貼心小提醒,提前45分鐘到場,小朋友可以親身學習一些馬戲團的技巧喔!
The Circus is in town! Circus Vargas is raising its tent at Torrance Del Amo Mall.  Circus Vargas' 50th anniversary extravaganza is an homage to the golden era of circus in America.
The new show for 2019, The Greatest of Ease, is a high-energy, animal-free extravaganza under the Big Top, with death-defying stuntmen, flying aerialists, exhilarating acrobats, and uproarious clowns under a music-filled, blue and yellow Big Top.
Kids who arrive early can go into the center ring for a tutorial on circus life, where they can learn such circus skills such as juggling, feather balancing, and hula-hooping. The show then begins with acrobats, trapeze artists, and aerialists to thrill and amaze.
Free Interactive Pre-Show!
Don't miss this great opportunity to meet and mingle with the cast of Arlequin! Arrive 45 minutes early for an exciting, interactive pre-show where children (of all ages) can create their own magic under the big top!
Ringside Reserved: $57-47 (*handicapped accessibility only)
– Ringside seats are individual chairs that are along either side of the performance ring.
Arena: $37-27 (General Admission – first come, first served)
– Arena seats are in front of the bleachers.
Bleacher Seating: $27-17 (General Admission – first come, first served)
– Bleachers are wooden benches located in the uppermost few rows.
*Age Requirements:
================================
*Children's prices apply to those 2-10 years old. Under 2 is free (child must sit on adult's lap).
11 and over must buy an adult ticket.
60 and over can purchase senior tickets.
Related Events