加州樂高樂園 20 週年慶生日大派對 Legoland California Celebrates 20th Anniversary
11月1日的南加聖地牙哥 Legoland 好熱鬧,在 7 呎高的巨型生日蛋糕和許多樂高積木人物的陪伴下,加州樂高樂園慶祝了開幕 20 週年的生日大派對,也同時宣佈了一連串2019年的新活動和優惠,包括為所有12歲以下小朋友在生日當天提供免費入場的慶生優惠,還有更多,一起來看看吧!
Legoland California, the theme park that's built for kids, is giving children 12 and under a free admission on their birthday in celebration of LEGOLAND California's 20th birthday! Confetti, balloons, streamers and a massive LEGO® cake, standing seven- feet tall and created out of more than 51 thousand LEGO® bricks, were some of the party decorations used by LEGOLAND®California Resort to kick off its yearlong party. After sharing the success of 2018 with the openings of LEGOLAND® Castle Hotel and LEGO® City Deep Sea Adventure submarine ride, General Manager Peter Ronchetti took a look back at the Resort's achievements through the years before the five things to celebrate 2019 were announced.
"Having a chance to reflect on the last 20 years ahead of next year's birthday celebration, it's incredible to think about all we've accomplished during that time and the amount of kids we positively impacted through their experiences at the Resort," said Ronchetti. "I'm excited to see what new adventures we take our guests on in the future as there are no creative boundaries holding us back in the LEGO® universe."
Interactive rides such as the new LEGO® City Deep Sea Adventure submarine ride and the fan favorite LEGOLAND® Water Park, featuring the newest ride Riptide Racers, are two areas adding inspiration for the yearlong birthday celebration as LEGOLAND® California turns 20 years young!  Since opening in 1999 with 12 rides and Miniland U.S.A., the Resort has grown into a multi-day destination offering more than 60 rides, shows and attractions with SEA LIFE® aquarium, LEGOLAND® Water Park, LEGOLAND® Hotel and the new LEGOLAND® Castle Hotel.
Next year's festivities start with The LEGO® Movie™ Days on February16-17 and 23-24, aseveryone's favorite LEGO® heroes of Bricksburg return to LEGOLAND California in celebration ofThe LEGO® Movie™ 2: The Second Part feature film!The LEGO® Movie Days are filled with fun activities for guests to enjoy including photo opportunities with the movie's famous cast of costume characters, a themed scavenger hunt and a LEGO build activity inspired by the blockbuster film. Plus…an exclusive attraction that will be coming to LEGOLAND California next year in conjunction with the movie opening in February – more details to come!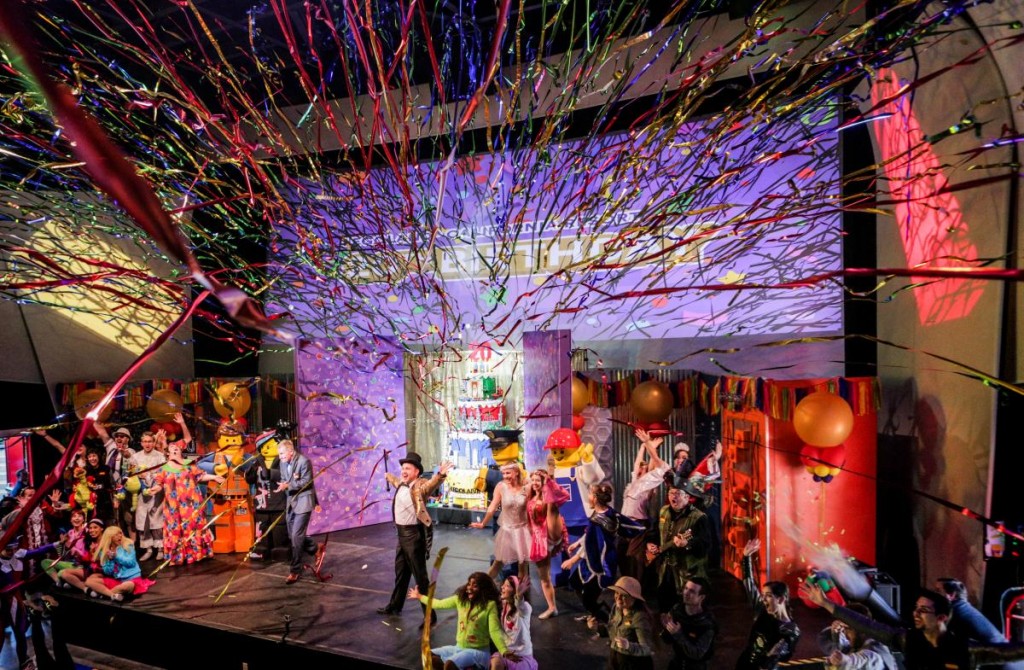 Just in time for spring break, minifigures and maximum adventure will come to life in the world of LEGO® City with "LEGO® City 4D- Officer in Pursuit", a new 4D film debuting at LEGOLAND California's LEGO Showplace Theater. The new short will combine dazzling 3D computer animation with 4D real-world effects in the Park's latest quest to save the city.  The movie is exclusive to LEGOLAND Parks and features tons of action and laugh out loud moments that will appeal to everyone.
LEGOLAND has a treat for its youngest guests as the Resort recreates the popular DUPLO® Playtown, adds a new LEGOLAND Express train and reopens in the most scenic area of the Park.  In this new location, kids will be able slide, hide, and ride throughout the interactive play area and board the new mini-locomotive for a fun-filled ride, giving more options to families with toddlers who are making their first visit to  the theme park.
There's even more to celebrate in 2019 with an all new LEGO® Friends Live Show and Character Dance Party at the new Miniland Stage.  Guests will be invited to sing along to new songs, learn new dance moves plus interact with some old friends who will be there to help get the party started.
Website: www.legoland.com