迪士尼與皮克斯聯手製作的動畫電影 Coco 再一次擄獲所有大人小朋友的心,電影告訴我們,原來死亡不一定是黑暗、可怕、冷酷、殘忍的,雖然生離死別會痛,但這是生命中必然經歷的,透過合家歡的歷險和領悟,給小孩來一次重要的生命教育,它將成為迪士尼的經典動畫之一。小記者 Shawn 分享了他的電影觀後感,一起來看看他的看法和感受吧!
About Coco the movie
Coco is a 2017 American 3D computer-animated musical fantasy film produced by Pixar Animation Studios and released by Walt Disney Pictures. Based on an original idea by Lee Unkrich, it is directed by Unkrich and co-directed by Adrian Molina.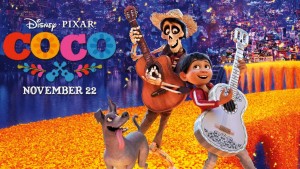 Movie Review of Coco
By: Shawn Lo (age 10)                       
The movie Coco is about the miraculous journey of Miguel Rivera, who is searching for his great, great grandpa in the land of the dead.  Miguel is a 12-year old boy in Mexico whose greatest desire is to be a musician like his idol Ernesto de La Cruz.  By accident, Miguel enters the world of the dead and needs his ancestor's blessing to come back.   He also wants his great, great grandpa to show him how to express joy and emotion through music.  For generations Miguel's family have always thought music was a curse because of his great great grandfather's decision of leaving family for music.
The people who help Miguel achieve this goal is his trusted dog, Donte. Donte is a loyal, and protective guardian who not only is Miguel's pet but also his guarding angel. Another person who helps Miguel, is Hector, a rowdy  boisterous  but cheerful and funny  skeleton. Hector teaches Miguel how to express music, and how to sing.
Will Miguel be able to come back from the world of the dead? Will he able to find his great, great grandpa?  The movie Coco is full of wit, music, color. It even turns death into an amusement-park ride!   What I also love about this movie is the movie talks about death not with fear but with intimacy.   To Mexicans, and also to Chinese, death is sacred.   Many Mexican and Chinese have altars in our homes with candles, fruits and flours next to the photos of our ancestors.  The film also points out the importance of cherishing our own family members, especially the elders, rather than our idols.   This movie is a must see, and a perfect movie to watch with family.  Just remember to bring tissues!