父親節親子活動推介
【Happy Father's Day】Place to Go with Dads
因為有點擔心很多媽媽及孩子都忘了父親節(真有可能嗎?),所以丫丫小編代替爸爸們提醒一下大家,父親節快到囉,就在6月18號~!嘻嘻!想借父親節在週末陪陪父親大人?小編已經為你做好功課,這個週末有超棒的親子活動,個個都非常有特色,無論爸爸愛動還是愛靜,都會有一項適合你!
溫馨提示:記得早上可以做個愛心早餐,讓爸爸開心一下喔…

---
Natural History Museum Sleepover 自然歷史博物館過夜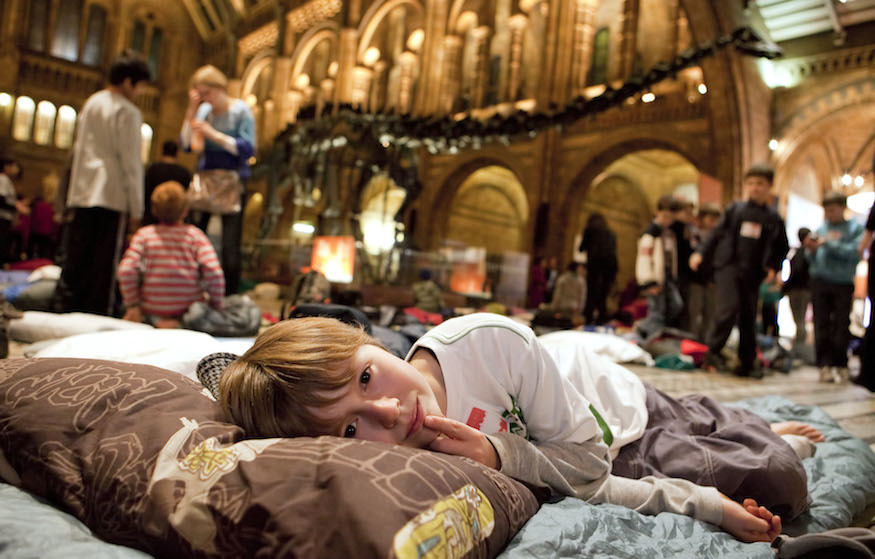 父親節睡在父親旁邊,抱一抱他,就是世界上最好的禮物啦~!又可以睡在Museum 裡面,這麼酷,一定要試試看!
Ever wonder what it's like to spend the night at a Museum? Grab your family and friends and get ready to have a night to remember. Become a nighttime paleontologist, solve the mysteries of the Museum, or travel back in time to the Ice Age while sleeping among the collections at the Natural History Museum or the La Brea Tar Pits and Museum.
Date: June 18, 2017
Father's Day Special Themed Sleepover
Insects have families too! In this special Father's Day Sleepover, you'll join environmental educator Richard Smart to learn the inside buzz on the insect world's best fathers. Dad jokes welcome; open to all parents.
All Sleepover experiences include:
• The once-in-a-lifetime opportunity to sleep alongside our world-famous exhibits
• Programming designed for the whole family • After-hours self-guided exploration time, and much more!
For more info: https://tickets.nhm.org/WebStore/shop/ViewItems.aspx?CG=sleepovers&C=sleepoversjune18
---
Visit LEGOLAND and See the Life-Size LEGO BatMobile 到樂高樂園看真人尺寸蝙蝠車
如果爸爸孩子都是動漫和 LEGO迷,這個活動就太適合了,用上了 34萬塊LEGO 砌出來的真人尺寸蝙蝠車,定必讓樂高迷和 Batman 迷愛不釋手。父親節當天入場的首4000名來賓還會獲贈整套蝙蝠車樂高積木(連父親節禮物也搞定了!)What's built with more than 340,000 LEGO bricks, measures 17 feet long and was inspired by "The LEGO Batman Movie"? It's the life-size LEGO Batmobile from Chevrolet and it will be on display at LEGOLAND California Resort from June 13 – July 4!
As a special tribute to dads…On Father's Day, Sunday, June 18, the first 4,000 Park guests will receive miniature LEGO Batmobiles to build at home!
Check out some fun facts about the super-cool LEGO Batmobile:
Weighs 1,695.5 pounds
Each tire is just over 100 pounds
Is 83 inches (6.92 feet) high, 204 inches (17 feet) long and 111 inches (9.25 feet) wide
The interior frame is made from more than 86 feet of square tube aluminum and weighs 282.5 pounds
Is built using 344,187 LEGO bricks
Uses 17 LEGO colors
Took 222 hours to design and 1,833 hours to build
Was designed and assembled in the LEGO® Model Shop in Enfield, Connecticut by LEGO® Master Builders
Exhibit Period: June 13 – July 4
LEGOLAND California Resort
---
Father's Day BBQ 父親節燒烤派對
喜歡吃的爸爸們可以這裡慶祝父親節喔~!
Treat your Dad to a memorable Father's Day at the Aquarium. The celebration includes admission, a delicious meal, and crafts for the kids. Space is limited so reserve your spot today and take advantage of this great value. All day Aquarium admission is included.
Menu
Bourbon-Braised Short Ribs
Raspberry Honey Chipotle-Glazed Bone-in Chicken
Cherry Balsamic Grilled Vegetables
Deli Mustard & Egg Potato Salad
Parmesan Ranch Farm Fresh Garden Salad
Strawberry Apple Fruit Salad
House-made Peach Cobbler
For More Info: http://www.aquariumofpacific.org/events/info/fathers_day_bbq/
---
Father's Day Father-Kid Beach Volleyball Tournament 父親節沙灘排球慈善賽
Fathers and Daughters. Fathers and Sons. All for Family! All for Fun! 
愛動的爸爸和兒子女兒們,要不要來場父子/父女排球賽?不會打不要緊,看球賽、吹吹海風,海邊走走,過個愉快的週日!
Fathers and daughters. Fathers and sons. All for charity. All for fun. Join us for this great family fun event! Each participant will receive a T-shirt.This is a recreational tournament with pool play only.
DIVISION–
10 and under (short court)
11 to 14 (short court)
15 to 18 (short court)
19 and up (short court)
Four Person – All Ages (long court)
All participants will receive a t-shirt, and other giveaways! This is a recreational tournament with pool play only. Proceeds go to Project Fatherhood.
Date: Sunday, June 18, 2017
Time: 9:00 AM to 12:00 PM
Price: $50 (18 and Under Divisions) • $100 (Four Person – All Ages)
Location: Manhattan Beach Pier- South Side, 100 Manhattan Beach Boulevard, Manhattan Beach, CA 90266
---
Father's Day Adventure at Sea  和爸爸出海去
Treat Dad to a day at Sea 給愛海上活動的爸爸們 ~
先享受豐富早餐,再登上復古帆船一同出海,迎著海風駛向碧藍,這是個多麼美好的體驗喔~!
Sign aboard for an exciting voyage on a real tallship! First, you and dad will enjoy breakfast burritos, fresh fruit, and a beer (for dad) and juice on our Historic Maritime Wharf. Once we set sail on the Spirit of Dana Point, you and dad can join the crew in handling lines and raising sails. You may help steer the ship, or just sit back and enjoy being out on the open ocean. This thrilling sail will create memories you'll never forget!
Sail Date: Sunday, June 18
Time: 10:00am to 11:00am- Breakfast; 11:15-1:45 pm
Sail Prices $80/adult (18 & up) $60/child (17 and under; minimum age 4)*
Ticket purchase includes admission to the Ocean Institute Education Center the day of the sail. Members:  Receive a 10% discount; enter your Member ID # in the "Enter Promotional Code" field to receive your discount. *Children under 18 must be accompanied by an adult. Must be at least 4 years old to attend.
---
Magic Show by Grand illusionist Gary Peterson 神奇"魔幻"秀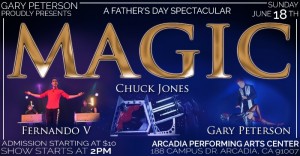 Sun, Jun. 18, 2017 2:00pm
Arcadia Performing Art Center, 188 Campus Dr, Arcadia, CA 91007
大魔術師加里·彼得森(Gary Peterson)的最新製作"魔幻"即將改變阿凱迪亞表演藝術中心!"魔幻"不僅僅是一種魔術表演,更是一次記憶歷程的體驗,並將維加斯大都會的魔幻與紐約百老匯的表演融為一體。 "魔幻"將由傑出的魔幻大師加里·彼得森(Gary Peterson)攜手剛從新西蘭巡歸來的費爾南多·維(Fernando V),以及好萊塢世界著名魔術城堡魔術師,傑出魔術表演獎獲得者查克·瓊斯(Chuck Jones),連闕表演十幾個大型魔幻藝術節目,最後的"死亡之桌"的魔術表演將讓你驚到靈魂出竅!
Grand illusionist Gary Peterson's latest production "MAGIC" is transforming the Arcadia Performing Arts Center! More than a magic show, "MAGIC" is an experience to be remembered integrating Vegas-scale illusions with Broadway-caliber showmanship. "MAGIC" will feature more than a dozen large-scale illusions, multiple dancers, and not just one, but THREE outstanding master illusionists. Joining Gary Peterson are the up-and-coming Fernando V back from his New Zealand tour and the amazing Chuck Jones, recipient of the prestigious Performing Fellowship Award from Hollywood's world-famous Magic Castle. The death-defying "Table of Death" finale will have you on the edge of your seat!
Tickets: $10 Dress Circle and Mezzanines, $20 Rear Orchestra, $30 Front Orchestra; $10 Students Flat