你喜歡吃巧克力嗎?
說到巧克力,相信沒有人沒聽過 M&M's 吧!
原來這種讓人吃到停不下來的巧克力豆今年正慶祝誕生 75 週年,所以,就讓我們一起認識有關 M&M's 的故事吧!
M&M's 的誕生,要從二次世界大戰說起~~
二次大戰開戰前,美國上校 Paul Logan 要求製造一種軍用巧克力,作為應急物資配給士兵們。它除了熱量要夠高,能快速為士兵補充體力外,還要高度抗熱,避免溶化,而且「不能比煮熟的馬鈴薯好食太多」
為什麼?因為如果太美味的話可能太快就會被吃光。
這時,Forrest Mars 在西班牙內戰期間,見過當地士兵吃一種被硬糖包住的巧克力,啟發他製造出在高溫下也能不會融化的糖衣巧克力。所以他找上了當時 Hershey 的少東 Bruce Murrie 一起投入研發,在 1941 年終於生產出世上第一粒 M&M's ,並開始供給他們的唯一客戶~~美軍。
耐熱不易溶而又容易攜帶的M&M's 完全符合 Logan 上校的要求~~唯一的「缺點」,就是它比煮熟的馬鈴薯好吃太多了!
名字的誕生~~
兩位創辦人 Mars 加上 Murrie,就成為 M&M's 名字的來源。最初的 M&M's 是以紙筒包裝,1948年後才改為袋裝。
二戰結束後,由於 M&M's 巧克力在戰場上成功抓住了軍人們的胃,讓凱旋回國的美軍對它念念不忘,徇眾要求下 M&M's 巧克力在 1947 年開始才在市面發售。
最初的 M&M's 是以紙筒包裝,1948年後才改為袋裝。經歷了75年的風光,M&M's 仍然十分受歡迎,如今每年全球銷售額高達 10 億美元。
---

M&M's 75週年慶祝活動
1) M&M's 專屬的流行歌「Candyman」
Since 1941, M&M'S have been bringing colorful fun to the lives of consumers all around the world. And in 2016, the Brand's 75th Anniversary, M&M'S is gearing up for its most fun year yet. By partnering with cultural icons and phenomena of today, M&M'S will reinforce its enduring iconic status through a year-long celebration and will invite all of America to join the fun and "Celebrate with M".
The calendar year will be filled with promotions and innovations leveraging the iconic brand and the M&M'S Characters – America's most beloved "Spokes Creatures." M&M'S is the #1 global confectionery brand and is growing twice as fast as the category.
M&M'S To-Go Bottles


New M&M'S Brand To-Go Bottles make it easy for consumers to take America's favorite candy everywhere they go. The innovative, re-closable and reusable bottles each contain 3.5 ounces of M&M'S Brand Candies. Available in two varieties — M&M'S and M&M'S Peanut – the bottles are adorned with the smiling faces of beloved M&M'S Characters Red and Yellow.
M&M'S "Vote For Your Favorite Peanut"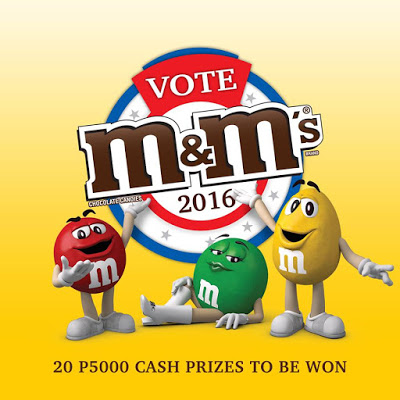 M&M'S adds colorful fun to the 2016 election season!
Four M&M'S Peanut varieties – Chili Nut, Honey Nut, Coffee Nut and Original Peanut – will go head-to-head in a consumer promotion to determine America's Favorite Peanut. Throughout the voting period of March 1 to June 17, consumers are encouraged to purchase each flavor and vote for their favorite via text and the M&M'S Facebook page. The winning flavor will be available as open stock in August 2016 and in mixed display cases in early September 2016.
M&M'S Movie Ticket Mania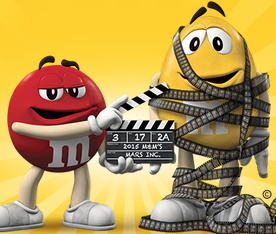 Just in time for summer's peak movie season, M&M'S and SNICKERS, MILKY WAY and TWIX together host the Movie Ticket Mania to give away up to $600,000 in movie prizes with two ways to win ~~
1) You can purchase three M&M'S  Medium Bags to get one free movie ticket, or
2) win instantly by purchasing select M&M'S, TWIX, SNICKERS and MILKY WAY Singles and texting to win tickets and movie rewards.