丫丫微信號送你新春好禮 ~ 驚喜小紅包天天抽 
丫丫園地的微信號第一個星期的優勝者終於誕生了!
快快看這個星期中獎了沒!See if you are a winner at our red envelope giveaway:

我們這個星期將會送 $5 星巴克的禮品卡給優勝者
快快看這個星期中獎了沒!See if you won our red envelope giveaway:
1. Letitia
2. 同舟共济
3. amoon 筱钰
4. 平淡是真
5. niki
得獎者請到我們其中一個新年活動領獎!下一期我們會送 Yogurtland 的禮品卡喔!
---

2016 Asian American Lunar New Year Festival
日期 / 時間

1 月 24 日(星期日)10AM – 7PM

地點:
Downtown ArcadiaSantaAnita Ave.與Huntington Dr. 交叉
金猴獻桃,猴年大吉,1月24日星期日在亞凱迪亞市中心,鷹龍傳媒舉辦的《2016美亞新春嘉年華》將隆重開幕!

舞龍舞獅等精彩表演、充滿年味年貨攤位、各國美食小吃、抽獎全天不間斷獎品大贈送!

10AM 開幕舞龍舞獅喜迎春!抽獎全天不間斷,獎品包括達美航空洛杉磯上海來回機票,賽普特LED大電視等等!

全天連台表演,大廚現場教你煮私房菜、中國功夫、國樂、群舞等精彩表演!充滿年味年貨攤位、各國美食小吃!快帶您的寶寶一起來吧!

免費入場、免費停車

Arcadia Park 預留車位(Huntington Dr. side), Santa Anita Park 預留車位,並設穿梭巴士來回接送;及衆多街泊。
*** 這裡有 CHILDREN'S PLAYGROUND , 有小朋友最喜歡的跳跳溜滑梯和大型充氣越野墊 ,  快帶您的寶寶一起來吧 ~!**

---
2016 Lunar New Year in Monterey Park
日期 / 時間

1 月 30 日(星期六)10AM – 9PM
1 月 31 日(星期日)10AM – 7PM

地點:
Downtown Monterey Park on Garvey Avenue between Ramona and Alhambra Avenues.
Free admission
Seven blocks of entertainment, food, family activities and vendors
Monterey Park's Lunar New Year festival features vendors offering unique gifts and specialty items, food booths with various types of delectable items, amusement rides, and lots of live entertainment. The traditional New Year lion and dragon dancers along with firecrackers will kick-off the festival Saturday morning. Various types of entertainment will be featured on both days. A large carnival fun zone will be featured in parking lots at the corner of Garvey and Lincoln Avenues.
---

日期 / 時間

2 月 6 日(星期六)11AM-11PM

地點:
Mission District, 320 S Mission Dr, San Gabriel, CA 9177611AM-11PM
FREE Admission
FESTIVAL STAGE & LIVE PERFORMANCES
Our huge 30′ Festival Stage will host a combination of traditional, community, and entertainment acts, featuring live music, DJs, and dance performances, co-presented and hosted by the Mission Playhouse.
CHALK ART CONTEST
A Chalk Art Contest for the best drawing around the theme of 'Year of the Monkey' will be judged and photographed after 4 p.m.
KIDS ZONE
Bounce houses, balloon artists, face-painting and games for families and children of all ages.
---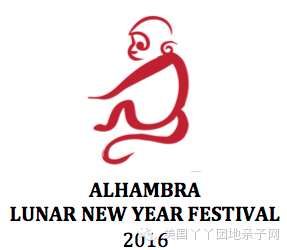 日期 / 時間

2 月 13 日(星期日)10AM – 5PM




地點:
on Valley Blvd. in Alhambra from Almansor to Vega
A large-scale Lunar New Year celebration in Southern California. It begins with a three-week art exhibit at the Alhambra City Hall . The main celebration is a one-day street festival on Valley Blvd. , the heart of the Chinese commercial district in the San Gabriel Valley . The festival's attendance has increased steadily over the years, now averaging 25,000. Corporate America utilizes this venue to reach out to the Asian communities.
---

38th Annual L.A. Chinatown Firecracker 5/10K Run/Walk & Bike Ride
Join us on February 20-21, 2016 to celebrate the Lunar Year of the Monkey with the running/walking and cycling of the annual L.A. Chinatown Firecracker!
Kiddie Run Information
Event begins with warm up exercises and a short discussion about exercising and the importance of reading. The course features a turnaround at Bishops Road, then back to the official finish line. Upon crossing the finish line, each runner will be given a commemorative finisher medal, and then directed to a carnival in the Kiddie Run area for all registered Kiddie Run participants from 7-11 AM, with carnival games, facepainting, petting zoo, puppet show, etc. A goodie bag awaits all Kiddie Run registrants.
Parents may accompany their child.
Event Highlights
All participants will receive an ultra-soft, ultra-comfy premium short sleeve t-shirt.
Opening ceremonies for the 5/10K Run/Walk and Bike Ride include the lighting of firecrackers.
5K and 10K runs are chip timed for fast & accurate results.
Medal to the overall male and female winners in the 5K and 10K runs.
Medal to the 1st, 2nd, and 3rd place finishers in each age category.
Finisher's Medal.
Free carbo load meal (Saturday, February 20, 2016).
Goodie bag.
Refreshments at the Start/Finish and along the Course.
Admission to the Firecracker Festival, featuring live entertainment and vendors.
Free bag check (only for Metro riders who show valid Metro Pass or TAP card).
Carnival games and petting zoo for Kiddie Run participants.
One free beer to all registered participants 21+ years of age.
Kiddie Run General Pricing:
Early: $15 (thru 9/7)
Regular: $20 (9/8 – 12/20)
Late: $25 (12/21 – 2/14)
On-Site: Starting at $25 (2/20 – 2/21)