Evelyn Sun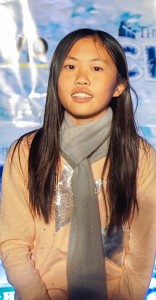 Situated at Long Beach, California, the Queen Mary Chill is the annual holiday celebration that you for sure do not want to miss. You will find fun activities for the whole family including food, live holiday performances, an enchanted forest, an ice igloo, a glacier glide, polar paintball cozy cabanas and an ice-skating rink, ice-sculptures in a part of the ice-kingdom that is 7 degrees, a giant rocking horse, a swingin' sleigh ride, and ice slides. All these places were awesome. You should come here and have fun.
The blue carpet was our first stop and there, we saw many celebrities such as Miss Long Beach 2016. After, we got to interview the commodore of the Queen Mary. He told us that he had loved the Queen Mary when he was little and to always follow your heart. And then, we went into the ice-kingdom and were greeted by the glacier glide. It was SO FUN sliding down the ice with the tube. In the beginning, I was a little nervous but I turned out loving it and kept going on it. After, we went on to get parkas for we would be going to the ice part where it was freezing cold at 7 degrees. The parkas were large and blue, providing warmth. We went into a photo booth to take pictures.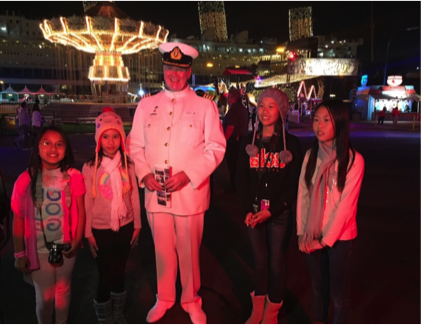 When we went into the ice kingdom, it was breathtaking. It was like a freezer with beautiful ice sculptures and fun things to do. We walked by, admiring the artwork of the pure ice went to the ice slides. We sat down, and sledded down the pure ice. Lastly, there was an igloo that was pretty long, also made of pure ice.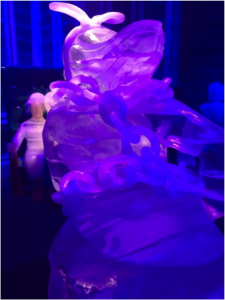 We decided to go to the giant rocking horse next. Unlike any other rocking horse, it was huge and hand rocked. It also could seat more than one person. We sat with four people. It was very cool.
Getting hungry, went to the cozy cabanas to get food and sit. There were chips, hamburgers, lemonade, hot chocolate, soda, and many other things. Suddenly out of nowhere, two sky-divers came out of a helicopter, flew right above the crowd, and landed perfectly in the middle of the crowd. IT was really cool how they didn't mess up or anything and both landed on the same place. The ice-skating rink was right next to the Cozy Cabanas so we went ice skating. It was my first time and I fell down many times but I still loved it.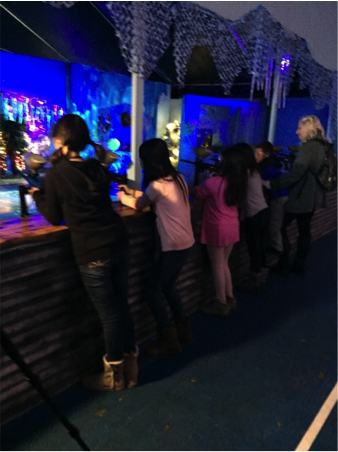 We went to play polar paintball. This was the story: Yetis stole Santa's candy! We had to help get it back by shooting the yetis. So, we shot the yetis and helped Santa.
Lastly, we went to the swingin' sleigh ride which was really fun. The swing flew up and around.
I had a glorious and great time here. My favorite part of the place was the ice kingdom because of the ice sculptures, the glacier glide, and the ice slides. So, this was how awesome the Queen Mary Chill was and YOU should definitely come here and have fun. Bye!