Junior Journalist: Jaslyne QQ
Jaslyne QQ, Age 9
Rose Parade Write Up
Have you ever been to the  Rose Parade? Even if you haven't, you would probably know that parades have lots of amazing floats. But who makes these floats? Well I can tell you a company, Paradiso Floats!  They make amazing floats that are magnificent to the eyes. We went to go meet Paradiso and see all their beautiful floats to learn more about these amazing floats. We split it to 2 episodes.
 1 at the Paradiso headquarters in Irwindale where we got to meet Mr. Charles Meier and Ms. Gwen Robertson and  interview them. We learned a lot about the floats and how they were made. We saw how they looked before they we finished. It was very cool to see the floats before they were finished so you can see how they work! It was an amazing experience. We couldn't wait to see the floats all finished up at the Rose Parade. Well, guess what? We got to saw them BEFORE the Rose Parade. Amazing right? Well that's where Episode 2 comes in.
    We got to go to the Rose Bowl to see the almost finished product of the Paradiso floats! We couldn't wait to go in! Inside we got to see 3 famous celebrities from Fresh off the boat,Hudson Yang, Ian Chen, and Forrest Wheeler. We also did 2 challenges. Our first challenge was to try to draw the Singpoli float Dragon as fast and best as we could, with only 30 seconds to do it!!! We got into our teams, Jessica and Jaslyne(me), and Isabel with Jessie. The wonderful princess of Yang Dynasty came to judge our creations. In the end, my team (J and J) won by a slight mistake. Our second challenge was to guess the flower names by looking at the photos. Both teams got most flowers right so we figured it was a tie! We had a lot of fun completing this challenge and I can't wait to see the Rose Parade!!!

---
www.queenmary.com/events/chill/tickets
On November 20th, 2015, me , Karen, Isabel, and Evelyn went to Chill at the Queen Mary Long beach. It was an excellent day! We met a lot of celebrities on the blue carpet! I interviewed Jake Brennan the star of Richie Rich (netflix series). We even go to meet the Commander of the Queen Mary ship! It was AMAZING! We went to the GIANT ROCKING HORSE first. On the horse, it feels like you're going to fall off! After that, we went to the IGLOO. Inside the IGLOO we went on the Glacier Glide tubing slide. We went 5 times! After the amazing tubing fun, we went to the Ice Kingdom! Inside the Ice Kingdom, it was very cold! We heard it was only 7 degrees, or less! They give you HUGE blue parkas to wear to keep warm. Inside, there were ICE sculptures made of 2000 pounds of ICE! All the ice sculptures are based on Charles Dickens, A Christmas Carol. It is so amazing how people can make these excellent sculptures! My favorite part in the ICE kingdom is probably the WHALE slide! It was so fun to ride on the slide made of ICE!
After the ICE KINGDOM we went to the ICE SKATING RINK. Inside the ICE SKATING RINK, we ICE SKATED a lot and it was the best ICE SKATING day I have ever had. After a bit, they needed to clean the ICE up a bit so they had to close the rink. As we were waiting, two men PARACHUTED down onto the middle of the CHILL festivities! It was soo amazing! They finished polishing the ICE so we skated a bit more. After a while, we left to go to the POLAR PAINTBALL.Inside POLAR PAINTBALL we met Joseph (Who we named because he spent too much time in the mountains he forgot his name).Turns out, YETIS are stealing all of Santa's candy! Joseph's INVISIBLE friend Charlie helped distract the YETI'S so we could use our magical paintballs to get the candy back for Santa. We were all tired but still full of energy! Finally, we went on the SWINGING SLEIGH RIDE. It was soo fun! We even went a 2nd time. My favorite part of CHILL is probably the ICE KINGDOM. I think it is the best part because it is AMAZING how they made these ICE SCULPTURES look so excellent.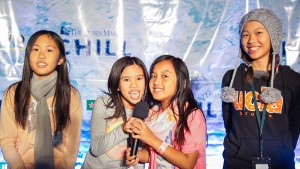 ---
PBS SoCaL Studio Tour
At PBS SoCal, we met our tour guides. Their names were Kristine and Allison. They showed the whole entire 1st floor to us. Did you know that the green room inside PBS SoCal actually has a Dressing Room and Makeup table? We then got to tour the actual studio where they shoot 2 of their adult shows! Did you also know that the cameras have glass panes that are on the cameras have the lines on them so the actors or actresses know what to say while they are still looking at camera?! There are hundreds of lights in the studio,just to have the actors or actresses be seen by the camera. At PBS SoCal, only 65 people work there. That is medium sized compared to other businesses.
I think the most interesting part of the tour was at the end, in the studio. I learned a lot about the equipment that they use to film and I also learned a lot about PBS SoCal itself because we asked our prepared questions. I learned about things like those facts above, and I also learned things like how the building is 6 stories tall, or that our tour guides are very new to PBS SoCal, or how PBS SoCal has just moved to Orange County from Costa Mesa! I learned a lot from this.
I had a really good time at Orange County at PBS SoCal. It was really fun getting to see all the computers and buttons and all the things that they use to make all of the cool shows that you see on TV. I enjoy watching PBS Kids a lot, so it was a very special treat to go to PBS SoCal and take a tour there.I was very interesting and I hope to have an experience like that again.