Jessie Sun
Rose Parade Float Write Up
My visit to the rose bowl was awesome. Me, QQ, Isabel, and Jessica had fun doing contests, interviewing, and looking at the floats. I saw that the workers had cut lots of oranges to put on the floats. I also saw seeds, flowers, other fruits, and rice being put on the floats. It was a whole lot of stuff. We had two days to do this so there will be two parts.
PART 1
First, we interviewed Mrs. Robinson. She gave us a tour after interviewing her and saw a dragon float, castle, monkey, and Lakers float. They were all not decorated yet so it wasn't much to see.
The dragon float was the hardest because it breathed fire and moved a lot. The castle float had a model of a castle and a front yard that will be full of flowers. The monkey was representing 2016 and the Lakers float had a basketball that would be spinning around a hoop and cheerleaders would be standing on it.
PART 2
We interviewed the princesses of Yuan Dynasty. Then, we did our challenges.! The first challenge was drawing a dragon and who could do it the best. The second one was guessing names of flowers. We were teamed up. QQ and Jessica, me and Isabel.
In the first challenge, the other team won because we forgot to draw feet for the dragon. We only drew one foot. We also forgot to color it in and put in details so the other team won.
In the other challenge, they didn't announce the winner but I was sure the other team won because they guessed more flowers than us though it was still fun.
Those two days were really fun and I was really impressed how they worked so hard and fast and finished the floats. The floats looked awesome and I couldn't wait for the Rose Bowl to come. I was going to watch it on TV. It would be very awesome. We also got a shot with Fresh off the Boat actors!!!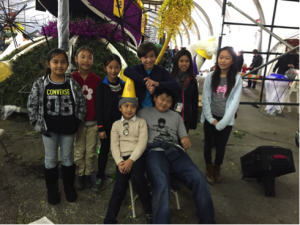 ---
My First Visit to 8sian Media and Being on T.V.
My first visit to 8sian Media was really fun. I got to be on camera for the first time with the light thing. Since I went on at least 3 trips, I didn't get scared anymore. It was actually fun.
Do you know many restaurants in this world has 8sian news? Some restaurants you go to might have 8sian news. 8sian pays for all the installation and the TV. After getting money, they split some for the restaurant their working with. They use the internet for sending the films. Their production center is here in LA. They produce the films with their group of workers. Their news has a wide detail of things. It has weather reports, updated news, and other interesting things. 8sian is very popular in YouTube, social media and other places.
At first, we were the audience. Group Apple said their scripts and Group Banana filmed them. Next, Group Cookie (the group I'm in) filmed Group Banana and Group Apple edited their films. Finally, when Group Apple finished editing their films, they filmed Group Cookie and we edited our films. At the end, we took a group picture and got certificates.
I think this opportunity was a great opportunity and I appreciated it. Thanks to LaJaJa Kids again and this was such a good opportunity that I will never forget it.
---
My First Awesome Visit and Interview at LEGOLAND
By Jessie Sun
My first visit to LEGOLAND on October 3rd 2015 was really fun and awesome. Aaron and I learned how the LEGOLAND crew workers made the rides and all the Lego stuff like the fake pumpkin that they made out of Lego. When I saw that pumpkin, I thought it was real but when I saw it up close, I found out it was made of Lego. I also saw planet earth. It was big and that made it an amazing sight because it was made of real, tiny, Legos!
Before we started doing the introduction, we went through the Candy Quest. Inside the Candy Quest, we got some candy. We also got some Legos to build which was cool. After that, we found a spot to do our introduction and did it. The introduction was actually pretty easy but I needed to speak louder.
The Candy Quest was actually added to the Blogger Experience this year and was new. Inside the Candy Quest, you have to find seven keys in different rooms. The keys are hidden very well and they are blue, red, yellow, green, white, and black. After you find it, you get candy. Sometimes you even get free Legos to build! When you find the key, you can't pick it up. You just find it and get candy/Legos. A thing that I found out was that they were going to add in Ninjago Lego next year. Lots of people including me are looking forward to it. I hope it turns out fine.
Before we did the interviewing, we did the conclusion which wasn't that scary. It was just like the introduction. Kind of easy. Just like everything else, I needed to speak louder.
Aaron and I interviewed some crew workers at the end of our visit. This part of the visit was the part I was mostly nervous and scared. When the camera man Mr. David announced it was time to do the interviewing, I thought I was going to explode with nervousness. After I interviewed one of the crew members, I thought that it wasn't actually that scary. I just had to ask questions.
After everything was done, my mom took me on 2 rides. They were awesome. I had wanted to go on more but there was no time left. The first ride I went to was the Fun Tower. For that ride, you have to pull yourself up on a thick rope and you get a freefall down the tower. The other ride I went on was Driving School. I got to drive on a mini Lego car and at the end, I got a LEGOLAND driving license. It was really awesome.
This visit to LEGOLAND with Aaron was a really fun visit. I hope I get to go to LEGOLAND another day with my siblings. I want to show them around. I also want to thank LaJaJa kids for giving me a good opportunity of going to LEGOLAND and having fun and everybody who helped me out I thank you too. This visit is a visit I will never forget!