Fireside at the Miles
Event Navigation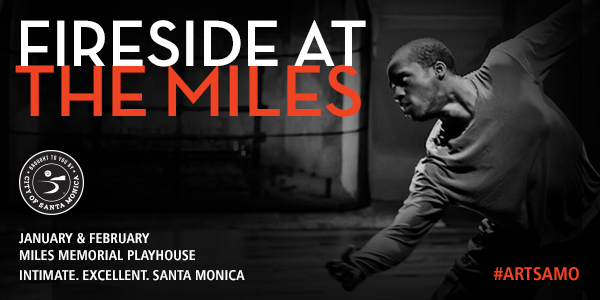 Welcome to our 10th Season of Fireside at the Miles!
Celebrating 10 years of eclectic cultural presentations, Fireside at the Miles brings a season of music, dance, storytelling and more. All are invited to sit back, relax, and enjoy organic snack and beverages with cozy performances in front of an open fire in Santa Monica's historic Miles Memorial Playhouse. 
Please Note: Seating is limited! Reservations are highly recommended! So if you see something you like it's never too early to make a reservation.
Tickets: All shows begin promptly at 8:05pm unless noted, doors open at 7:30pm. Reservations are released at 7:55pm 
Ticket Prices: $10 for Adults. $5 for Seniors (55 and up), Youth (18 and under) and Students of any age. (Show school ID) 
Reservations: We are now using an online ticketing service EVENTBRITE. 
LIKE us on facebook.com/milesplayhouse  
2019 Performances
Friday, Jan. 11: On Ensemble – Japanese Taiko Drum Fusion
Saturday, Jan 12: "Only Voices" – A Capella Night hosted by Tom Keyes
Friday, Jan 18:  Petty /Chavez – "One Last Look At the Stars" – Singer Songwriters
Saturday, Jan. 19:  Los Angeles Flute Orchestra
Friday, Jan 25: Orchestra Santa Monica Woodwind Quintet
Saturday, Jan 26: SHINE: Storytelling – "Last Call"
Friday, Feb 1: The Gregory Poree Band – World Music & Jazz
Saturday, Feb 2: "A Groundhog Day Musical Extravaganza"w/ Julie Pusch & Guests
Friday, Feb 8: Natalie Jacob – Jazz Quartet
Saturday, Feb 9: Suchi Branfman & Special Guests – Dance / Movement
Friday, Feb 15: Nick Mancini Collective
Saturday, Feb. 16: An Evening of Dance – Curated by Angela Todaro
Friday, Feb 22: Angie Wells – Jazz Quartet
Saturday, Feb 23: "Animal Monologues" One Woman Show w/ Amy Raasch
Related Events