Underwater Parks Day – Santa Monica Pier Aquarium
Event Navigation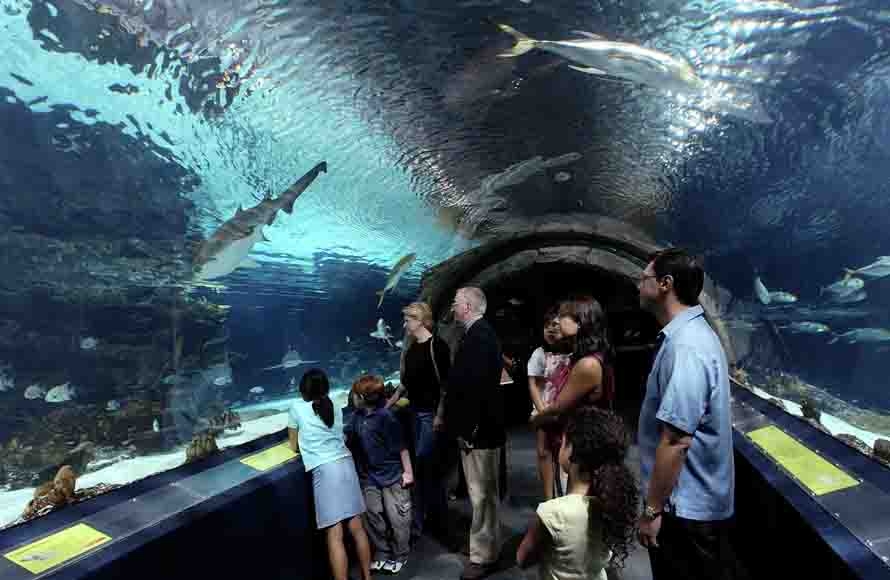 Have you ever wondered what lies beneath the surface of our big beautiful Pacific Ocean? Ever pondered what animals lurk in the deep, both big and small?
But there's just one hitch – you don't know how to SCUBA dive or have the nerve to brave its chilly waters.
Celebrating #UnderwaterParksDay with "Underwater Treasure"
Well, we've got you covered with a new virtual exhibit called "Underwater Treasure" – launching this Saturday, January 20 as a permanent installation – at our Underwater Parks Day celebration in Heal the Bay's Santa Monica Pier Aquarium. Families and friends of the sea are encouraged to come!
Our scientists will reveal the wonders of our local underwater paradises through a 360-degree video experience. Donning special goggles, guests will have the opportunity to dive into the Catalina Island Long Point marine protected area and explore its vibrant marine life without getting wet.
Visitors to our new virtual exhibit will be able to see the animals that call the waters off Catalina Island home, including a peek at the endangered giant sea bass – the so-called 'VW Bus of the Sea'. We thank our creative partner Alex Warham and his company Diatom Productions for making these astounding underwater images available to the general public.
As an added bonus, guests will be able to take selfies with underwater creatures at a free photo booth. Thanks to a partnership with The BOSCO – a leading creative photography installation company – we will be providing complimentary mementos to all visitors on Saturday, January 20. Participants will also be able to click on an Action Alert to protect these places when their media is emailed to them.
All special activities are included with Aquarium Admission.
Honoring Marine Protected Areas
In 2011, a network of marine protected areas, or underwater parks, became effective in Southern California, providing safe haven for ocean wildlife. Heal the Bay spent years working with partners and the State of California to identify areas for these special places to be strategically located for enhancement of marine life populations.
Marine protected areas are present in the waters off of Point Dume in Malibu, Catalina Island, and Palos Verdes' Abalone Cove and Point Vicente. We have continued on as guardians of our local marine protected areas through research, education, monitoring and advocacy programs.
Related Events