Register for Firecracker Kiddie Run 2017

華 埠 炮 竹 跑
Los Angeles Chinatown Firecracker Run – Register now!
洛城鞭炮鳴醒獅 齊來奔跑迎新春
On your mark, get set, GO!! 農曆新年最想做的事是什麼?小編就說想吃、吃跟吃了啦!但吃完也要做一下運動才夠健康~~所以一家大小到中國城報名參加一年一度的《炮竹跑》親子同跑活動就對了!!
立即報名,丫丫園地更送你網上報名折扣優惠代碼:LAJAJAKIDS  
除了讓你以健康的步伐為新春踏出第一步,當天活動更是極具特色,開步前先點燃上萬條鞭炮、加上大型舞獅、各類精彩新春活動和豐富禮物包,更有趣的是:你可以全家總動員一起穿costume。絕對能讓一家大小體驗一個活力充沛又精神飽滿的新春雞年,別忘記,當天也有適合大人的 5K 跑喔!
官網連結:http://www.firecracker10k.org/kiddie-run/
---

Kiddie Run Info
兒童組別的跑步大會一樣精彩,活動由熱身練習和一個簡短關於閱讀重要性的討論會揭開序幕,目的是想讓小孩明白讀書有時,活動有時,擁有一個健康的身體才能讀好書。所有參加的小朋友都能獲得紀念獎牌。跑步大會之後,還有各類兒童遊樂活動,讓小朋友過一個歡樂又有意義的新春!

Event begins with warm up exercises and a short discussion about exercising and the importance of reading. The course features a turnaround at Bishops Road, then back to the official finish line. Upon crossing the finish line, each runner will be given a commemorative finisher medal, and then directed to a carnival in the Kiddie Run area for all registered Kiddie Run participants from 7-11 AM, with carnival games, facepainting, petting zoo, puppet show, etc. A goodie bag awaits all Kiddie Run registrants.
Parents may accompany their child.

---
Event Highlights
All participants will receive an ultra-soft, ultra-comfy premium short sleeve t-shirt.
Opening ceremonies for the 5/10K Run/Walk and Bike Ride include the lighting of firecrackers.
5K and 10K runs are chip timed for fast & accurate results.
Medal to the overall male and female winners in the 5K and 10K runs.
Medal to the 1st, 2nd, and 3rd place finishers in each age category.
Finisher's Medal.
Free carbo load meal (Saturday, February 11, 2017).
Goodie bag.
Refreshments at the Start/Finish and along the Course.
Admission to the Firecracker Festival, featuring live entertainment and vendors.
Free bag check available to all bikers
Carnival games and petting zoo for Kiddie Run participants.
One free beer to all registered participants 21+ years of age.
---
General Pricing
5/10K Run/Walk or 20mi/30mi+ Bike Ride:
Early: $35 (thru 9/5/16)
Regular: $40 (9/6/16 – 12/04/16)
Late: $45 (12/05/16 – 2/05/17)
On-Site: Starting at $55 (2/11/17 – 2/12/17)
Kiddie Run:
Early: $15 (thru 9/5/16)
Regular: $20 (9/6 – 12/4/16)
Late: $25 (12/05 – 2/05/17)
On-Site: Starting at $25 (2/11 – 2/12/17)
---
T-Shirt Sizing (Unisex)
Rooster Design. Contemporary, slim fit. For a more relaxed fit, it is recommended to order a size up. Adult Chest Sizing*:
XS (31″ – 34″)
S (34″ – 37″)
M (38″ – 41″)
L (42″ – 45″)
XL (46″ – 49″)
2XL (50″ – 53″)
3XL (54″ – 57″)
Youth Chest Sizing*:
M (31.5″ – 33.5″)
L (33.5″ – 35.5″)
*All measurements are approximate.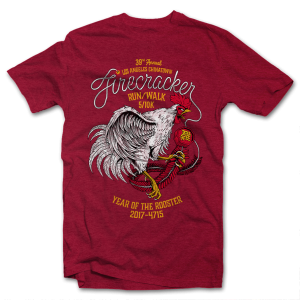 ---
Event Location
943 N. Broadway, Los Angeles, CA 90012 (For mapping purposes use)
---
Parking
Please observe the parking time limit on the parking meters in Chinatown on Saturday. The meters will be enforced. A better choice would be to come to the Ride on the Metro Gold Line. The Chinatown Metro Station is a block away from the start of the Ride. Bag check is free and will be available for all registered riders.
---
Refund Policy
All entry fees are non-refundable and non-transferable. You may not alter, reproduce, give or sell your number to another individual – doing so will result in your disqualification as well as the participant who uses your race number. The entry fee for this year's event will NOT transfer to next year's event, no exceptions. This policy stays in effect whether you are injured, have an unexpected business or family emergency, pregnancy, etc. There are NO exceptions. Any inquiry regarding this policy will be directed back to this page. There is NO rain date, We Go Rain or Shine.
---
CALENDAR OF EVENTS
SATURDAY February 20th, 2016

7:30 am      Bike on-site registration begins

9:00 am

     Opening Ceremonies include: Firecrackers, Lion Dancers

9:00 am      30 miles Bike Ride

9:15 am     

20 miles Bike Ride

10am-2pm Carbo-Load meal for registered runners

10am-3pm Firecracker Runner Packet Pick-up

10am-4pm

 Firecracker Festival* / **

*If you registered for

Sunday's

races there's a carbo-load lunch today that's included with your registration
SUNDAY February 21st, 2016



6:00 am      Late registration opens, Pre-registration pick-up

7:30 am       Opening Ceremonies include: 100,000 Firecrackers, Lion Dancers, Clippers Spirit Team, DJ Shy

8:30 am

      10k Run/Walk

9:00 am      5/10k Awards Presentation

9:45 am

     

1k Kiddie Run

8:15am-12pm Firecracker Festival**
---