Happy Family-Friendly Volunteering at Thanksgiving Holiday
一年一度的感恩節快要來臨了,也是學校放假的時候,想好了長假期要去哪裡玩嗎?其實,除了出外旅行遊玩,留下來到社區做義工,親身給小孩示範如何幫助身邊不認識卻需要幫助的人,過一個更有意義的感恩節,也很不錯喔!

---
Turkey Trot Los Angeles 5K & 10K 洛杉磯火雞慈善慢跑
2015 Turkey Trot Los Angeles 5K & 10K Thanksgiving Day Race:
• Have some fun before the feast on Thanksgiving morning, Nov. 26, at the annual Turkey Trot in downtown Los Angeles!
• Runners ten and up can compete in scenic 5K or 10K races in festive Turkey Day attire, which take runners along Spring St. by the historic Disney Hall and MOCA.
• You can bring the little ones for the Widdle Wobble (ages 2-12), as part of a family friendly post event festival in front of City Hall, also featuring a 20 ft. tall turkey!
• Turkey Trot LA benefits Midnight Mission, and funds raised will help remove obstacles to self-sufficiency and provide the accountability and structure that people who are experiencing homelessness need to rejoin their communities.
• The race is produced by Generic Events, which brings the community together beyond the finish line.
Date: November 26th
7am – Registration
8am – 5K Start
8:30am – 10K Start
10am – Widdle Wobble Start
Website: http://www.turkeytrot.la/
Location: Los Angeles City Hall, 200 N Spring St, Los Angeles
---
親子義工感恩節 Westside Thanksgiving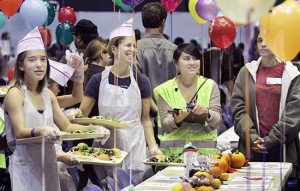 感恩節不單是遊玩,其實小朋友也應該學會捐獻,不一定是金錢,可能是花一點點時間去做義工,為有社會上有需要的老人家,無家可歸或低收入人士去盡一分力!
Date: November 26; Cooking and set up, 6am – 11am; Serving 11am – 2pm; Cleanup 4pm onwards
Kid-friendly Carnival 8am – 11am
Website: www.westsidethanksgiving.org
Location: West Los Angeles Veterans Administration Campus
---
Food On Foot
只要行走出一步,就能去幫助600多個無家可歸或低收入人士
小朋友和家長們可借此培養感情,牽牽手去將有營養的食物分發給有需要的人!
Date: November 26, 2016 2pm
Website: http://www.foodonfoot.org/
---
UNION STATION HOMELESS SERVICES' THANKSGIVING DINNER IN THE PARK
For four decades Union Station Homeless Services has hosted Holiday Dinners-in-the-Park on Thanksgiving and Christmas Day. This incredible community event provides thousands of holiday meals and hope for all who attend, including homeless men, women, children, seniors, low-income families, and those with no place to go during the holidays. The impact of this event in the community is huge! You can choose to donate a pie by shopping online from The Village Cookie Shoppe, or go USHS's website and check out the grocery wish list for items needed to make this event happen. You're invited to donate your time on Thanksgiving Day too! Volunteer registration is needed in advance and a $10 donation from each volunteer is suggested.
November 26, 11am – 3pm
626-240-4550 x 542
FOOD ON FOOT
Food on Foot distributes food (chicken, fruit and vegetables, granola bars, milk, etc.) and gently used clothing, shoes and blankets every week in Hollywood. They are dedicated to providing the poor and homeless of Los Angeles with nutritious meals, clothing, and assistance in the transition to employment and life off the streets. By volunteering on Thanksgiving, you will help 600 homeless and poor people receive new sleeping bags, a bag of bus tokens, and a healthy, nutritious meal. You can expect to work for approximately 3 hours and there is a cost to volunteering at Food on Foot for this event, a $100 per person donation, including children. It may be a little expensive, but it will be worth it in so many ways. If you financially just can't do $100 per person for Thanksgiving they also have volunteer opportunities every Sunday throughout the year for a donation of your time and $20 per person.
---
ONE INCREDIBLE FAMILY
One Incredible Family serves the elderly; homeless; children whose lives have been impacted adversely by HIV/AIDS; and children who are abused, neglected, abandoned or orphaned; runaways; learning-disabled people; and at-risk or disadvantaged people. This organization comes together to prepare meals and deliver them to different shelters in West LA. On November 29th (as well as other times throughout the year!), you can donate your time throughout the day, for a minimum of 3 hours. There are many jobs that need to be filled, including preparing meals in the morning hours, assembling, delivering and serving at shelters and, of course, clean up is always needed at the end of the day! You can also choose to cook a turkey at home and deliver it to them or donate pies, rolls, juice boxes and water bottles. Please go to their website to register in advance. The suggested fee for those who participate and volunteer is $10 (minimum). The minimum age for children to volunteer is 6 years.
Westchester Masonic Center, 7726 West Manchester Avenue, Playa Del Rey Directions
---
看看更多感恩節社區服務活動推介:
http://www.parentpick.com/blog/family-friendly-thanksgiving-events-places-to-volunteer-in-los-angeles/